Home > Movies > Bollywood News

Now starring Laloo Prasad Yadav!

Subhash K Jha | August 25, 2003 12:38 IST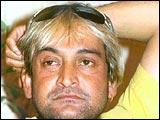 Filmmaker Mahesh Manjrekar is very excited.
He has just returned to Mumbai after shooting for his comedy, Padmashri Laloo Prasad Yadav, in Cape Town, South Africa.
The movie is about Suniel Shetty, Johnny Lever and Mahesh Manjrekar wooing a frail beauty called Padmashri (played by newcomer Masumi).
| | |
| --- | --- |
| | Have you checked out? |
| | |
Last month, Manjrekar took former Bihar chief minister Laloo Prasad Yadav's consent to go ahead with the film's title. Now, Manjrekar wants him to make a guest appearance at the end of the film, along with Suniel Shetty, Johnny Lever and Manjrekar himself. The trio play three characters called Laloo, Prasad and Yadav in the film.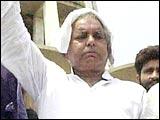 The politician has accepted Manjrekar's request. 
Manjrekar will soon fly down to Patna with Shetty and Lever to shoot the scene with Yadav, who is expected to say, "So you three have taken over my name? As for Padmashri, never mind. One day, I will get that too."
Yadav is not the only politician to have descended on the large screen. Samajwadi Party general secretary Amar Singh made a brief appearance in Satish Kaushik's Hamara Dil Aapke Paas Hai, starring Anil Kapoor and Aishwarya Rai, and says he is open to more offers from Bollywood.
Click here for More Features