Manu Kumar Jain, India head, Xiaomi, tells Sangeeta Tanwar how the Chinese smartphone maker won over the Indian market.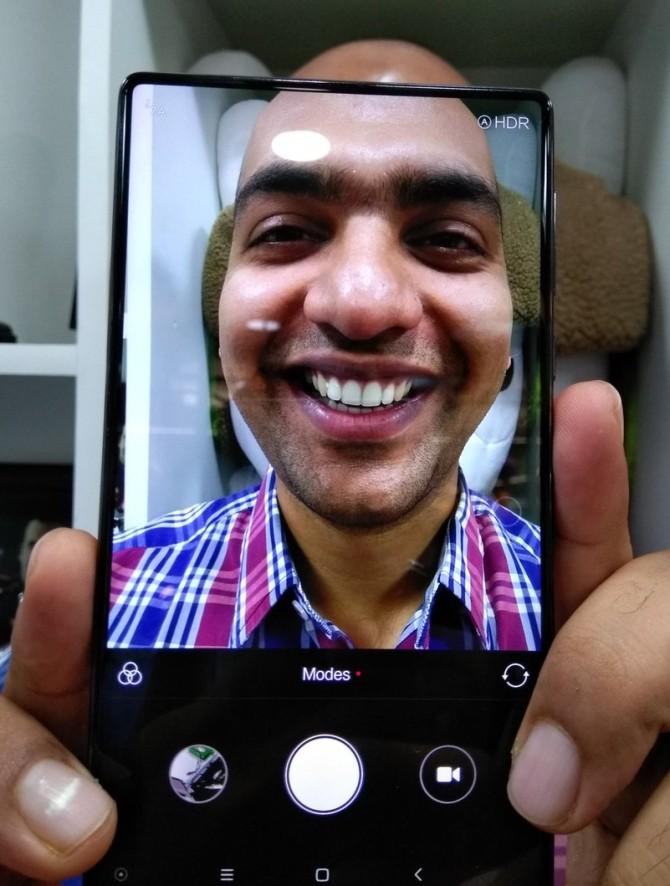 IMAGE: Manu Kumar Jain.
The meeting with Manu Kumar Jain, India head of Chinese smartphone maker Xiaomi, came through after a lot of back and forth on the venue and time.
He is flying down from Bengaluru to Delhi for a day. We decide to meet at The Taj Mahal Hotel, Mansingh Road, New Delhi, for a late morning tea.
I was looking forward to meeting Jain, knowing he would have a lot to talk about given Xiaomi's global success and the rapid strides it has made in the Indian smartphone market.
Indeed, Xiaomi has become so diverse in its product portfolio in China that it is almost unfair to call it a smartphone or even a tech company any more.
As I walk into the Emperor Lounge, the hotel's ground floor cafe, I receive a message that Jain's flight has been delayed due to fog. That essentially means I have an hour to kill.
By the time Jain arrives, I have finished my masala tea. Apologising profusely, he orders a glass of orange and carrot juice.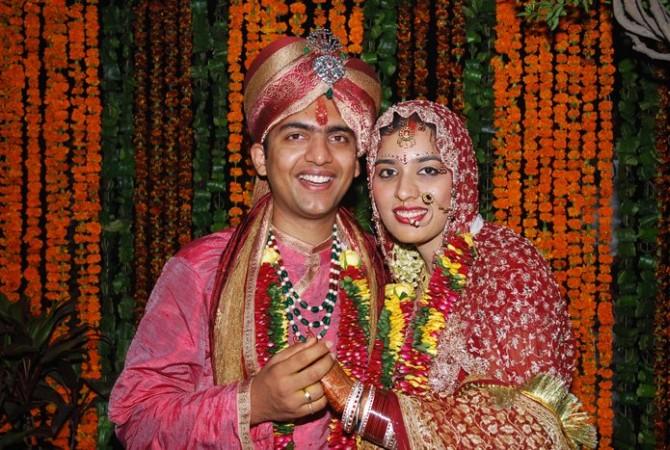 IMAGE: Ten years ago, they were best friends. Eight years ago, they got married.
Manu Kumar Jain with his wife Minu on their wedding day.
Sensing that he is a bit frazzled by the delay -- and the consequent changes in his schedule -- I open the conversation with an easy question: What led him to name his (now three-year-old) son Jordan?
Jain says it's after former US basketball star Michael Jordan, who is his favourite sportsperson.
"Even though I'm not a big sporty guy myself, I want my son to be active -- the name might just help him achieve that goal," Jain says with a smile.
Jain's personal and professional lives appear closely intertwined.
He moved out of online marketplace Jabong, which he co-founded, in 2014 when he and his wife Minu were expecting their first child.
He moved back to Bengaluru (from Delhi) to be with his wife and spent about a year figuring out his next move.
His wife's stint with phone maker Nokia and his own interest in e-commerce made him scout for opportunities in these sectors.
He had also been reading about Xiaomi at that time and had marvelled at the quick strides made by the brand in China.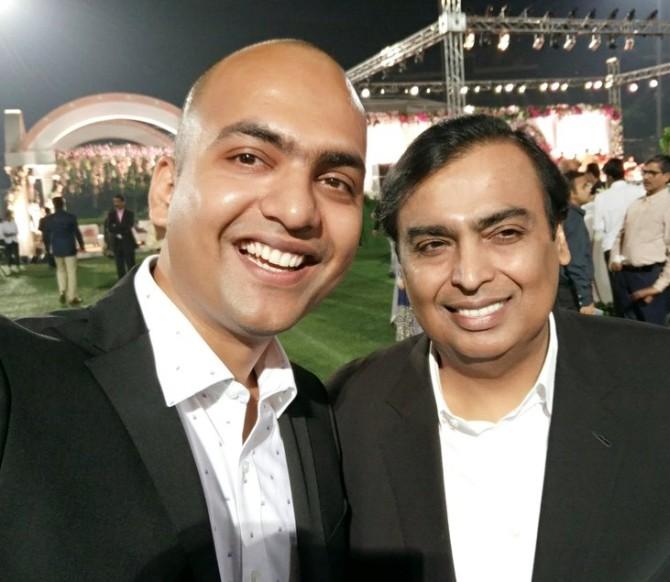 IMAGE: A selfie with the most powerful businessman in India, Mukesh Ambani.
Naveen Tewari, chief executive officer, InMobi, and an ex-colleague from McKinsey & Company, knew Xiaomi co-founder Bin Lin, and put the two in touch.
A short trip to China and a series of informal talks later, Xiaomi approached Jain to launch its India operations.
Xiaomi was a late comer. But it did catch up quite fast: The brand sold more than two million devices in India in the third quarter this year, which translates into a year-on-year growth of more than 150%. Jain announced that in a tweet last month.
That was also the highest sales Xiaomi has registered in India since it entered the market in July 2014.
So what did he and his team do differently to build such momentum?
Sipping his juice and taking a few quick bites of the cookies laid out on an immaculate tray before us, Jain says that when he sees an idea he asks two questions: Is it scalable? Is the idea sustainable?
If the answer to both these questions is yes, he takes up the idea as a challenge.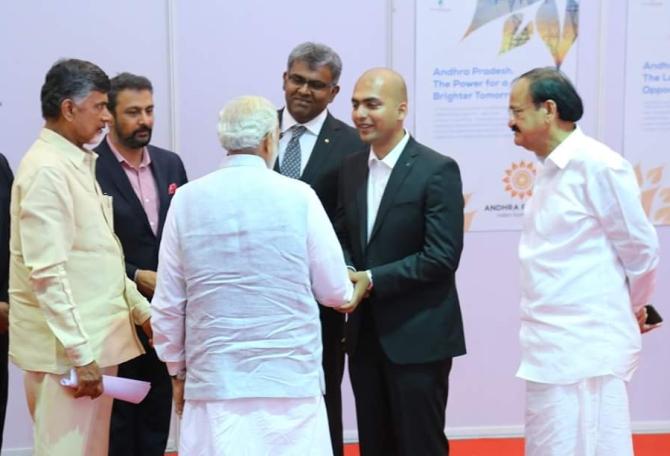 IMAGE: Meeting Narendra Modi.
Flanking the prime minister are Union Information and Broadcasting Minister M Venkaiah Naidu and Andhra Pradesh Chief Minister N Chandrababu Naidu.
Jain thinks Modi is 'one of the awesomest PMs ever'.
Xiaomi, known in India for its value-for-money mobile phones like the Redmi 3S and Redmi 3S Prime, started small in the country, restricting itself to the fast-growing online market.
It launched its products exclusively on Flipkart. Once it perfected the online sales model on the platform, the brand scaled up its operations and today sells through six e-commerce platforms.
"In most cases leaders only think about the scalability of an idea, missing the sustainability aspect. While taking a business decision one needs to ask, does the move lend itself to easy replication; will competitors be able to move in quickly and copy your template?"
The other thing any big brand would bet its shirt on is innovation.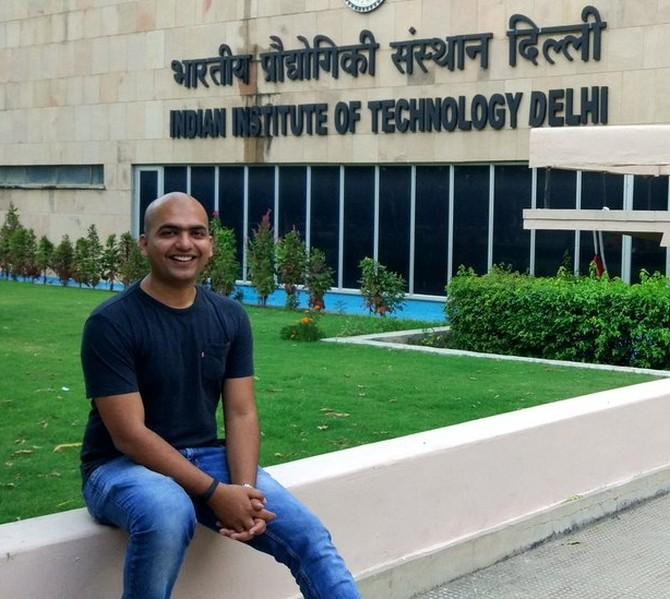 IMAGE: Earlier this year, Jain returned to the Indian Institute of Technology-Delhi.
This time, he wasn't a student. He was there to talk about the Internet and start-ups and how they had changed everyone's life.
"Early stage companies innovate on product and processes. Google and Facebook innovated with products. E-commerce companies pioneered new processes: You are still buying the same Nike shoe, but you are buying it in a new way. Similarly, Ola and Uber have paved the way for booking a cab differently by innovating on the processes."
Xiaomi, says Jain, innovates both on products and processes.
For instance, Xiaomi's latest and largest offering, Mi Max, comes without an earpiece, paving the way for wirelessly connected smart devices in a market where the earpiece is considered a standard design element.
His keen focus on these three -- innovation, scalability and sustainability -- he says, might be a by-product of his five-year stint at management consultancy firm McKinsey.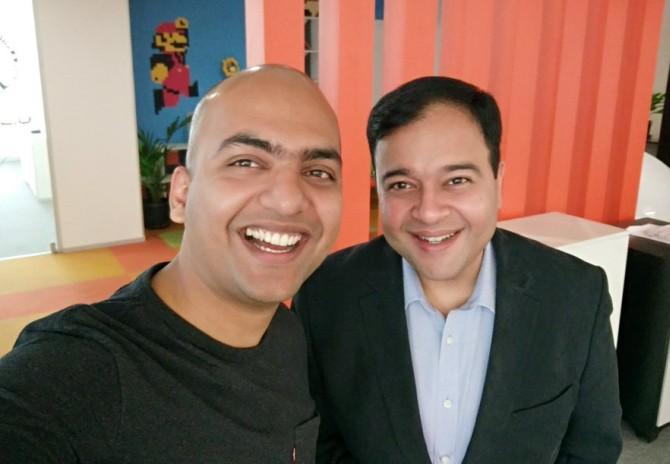 IMAGE: Facebook India and South Asia MD, Umang Bedi, drops in at the Xiaomi office.
At a time when investment banking was the go-to destination for most management graduates, Jain, an Indian Institute of Management-Calcutta alumnus, chose consultancy.
After graduating, Jain applied for a job at three companies -- McKinsey & Company, Boston Consulting Group and Bain & Company.
Back then, Jain recalls, people said he was being stupid as he was not even looking at a stint in an investment banking firm.
"Most people take up investment banking jobs over consultancy roles because the former pays a lot more," he says.
"I always wanted to be associated with things that are entrepreneurial in nature and hence chose to work with a consultancy firm, as it does a whole host of things all at the same time."
At McKinsey, Jain got to dabble in functions such as sales, marketing, finance and work with corporations from different industry segments including automobile, retail, mining, private equity and fast-moving consumer goods.
His stint at the consultancy firm provided him a "strong business perspective".
That experience also shaped the way he looks at himself as a team leader.
He is a hands-on boss, he admits, but knows when to let go. "To be successful, organisations need to build the right team."
When hiring people, therefore, he looks for people who can think differently.
"I hire people who are better than me -- he could be someone who I would like to have as my boss and not feel bad reporting to."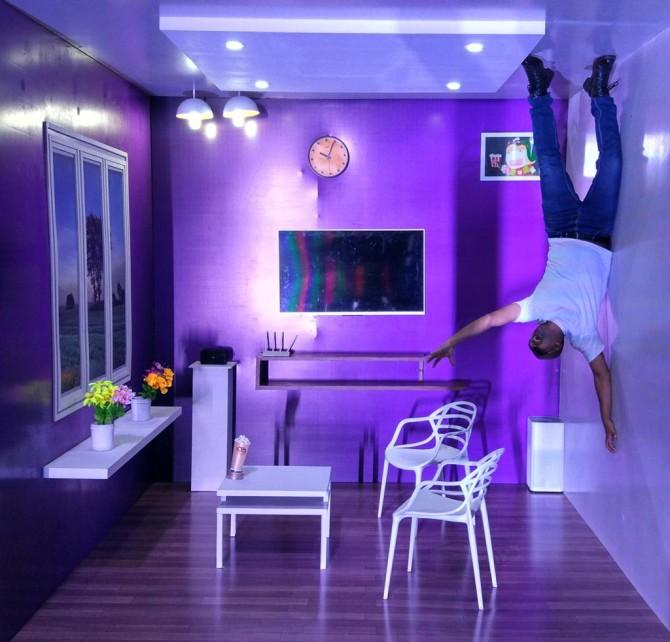 IMAGE: When it is time to have fun, Manu Kumar Jain clearly knows how to do it in style.
Jain grew up in Meerut and has fond memories of an extended family full of cousins.
As a child, he read up things outside the mandatory course books. He rattles off names of comic books and characters -- Asterix, Tintin, Nagarjuna and Super commando Dhruva -- firm favourites from his growing up years.
"Reading opens you to the world and helps develop a rounded personality."
He makes it a point to read a story to his son at bedtime every day. And he would like to keep Jordan away from television and movies as long as he can.
It is only this year that his son watched the movie Jungle Book on the home theatre and went crazy watching characters from a book come alive on the screen.
With a job that keeps him on his toes 24X7, I ask Jain, does he believe in the idea of work-life balance.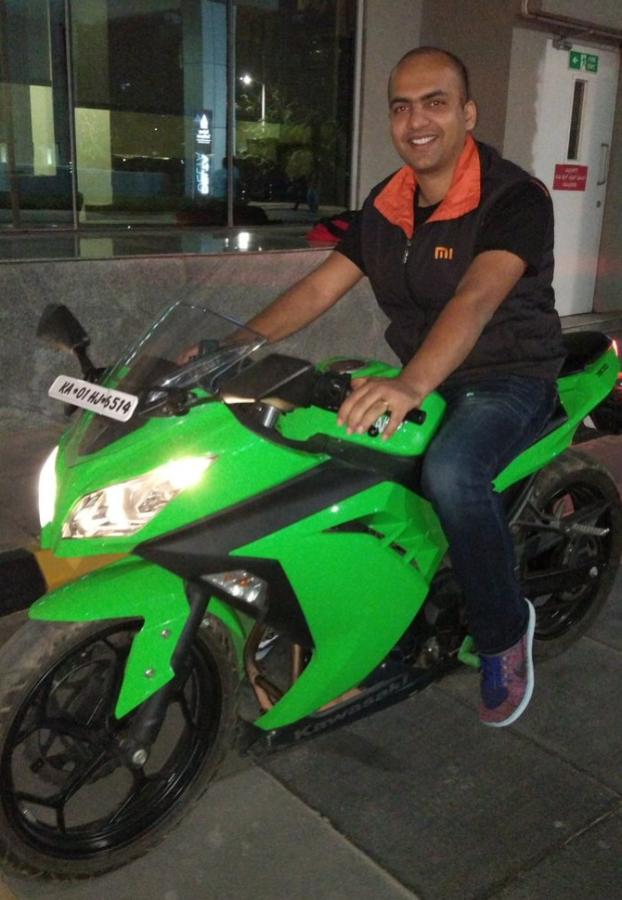 IMAGE: Vroom! Vroom! Jain clearly loves his bikes.
The two -- life and work -- have to go hand-in-hand, he says.
That said, "If you are part of a start-up or a firm that is attempting to do things differently, you need to devote a lot more time and effort to the business."
Jain makes sure his wife and son get to travel with him on some of his business trips so that they can spend as much time together as possible.
Also, his weekends are strictly reserved for family. These are also the days when Jain bakes for his family and friends.
Photographs: Kind courtesy Manu Kumar Jain/Twitter