Businessman P C Mustafa wants Indian Americans to return home, Cognizant CEO Francisco D'Souza outlines how Indian tech companies could grow, Gaurav Dalmia has some investment recommendations while Subramanian Swamy warns that India is flirting with a debt trap.
P Rajendran reports from the India Business Conference in New York.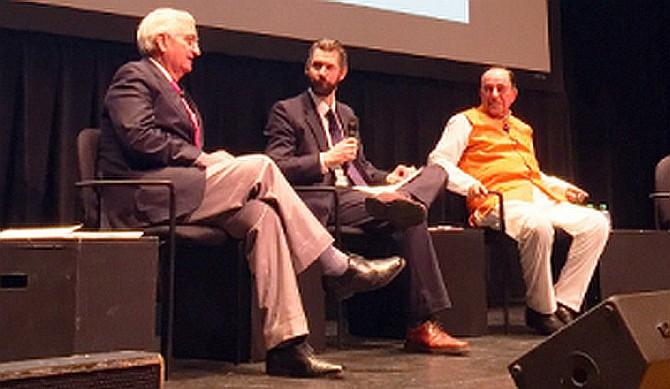 Dr Subramanian Swamy provided the fireworks, including some criticism of the Indian economy, but the India Business Conference, held on April 8 at Columbia University, was a quiet affair otherwise.
About 250 people attended the event, held at the Roone Arledge auditorium in the university's Lerner Hall, April 7.
Keynote speaker Gaurav Dalmia, chair of the Dalmia Group Holdings, played down worries about a volatile situation developing in India, saying that despite fears of polarisation, most Indian politics did not drift too far from the centre and that the range was far narrower than seen in Europe or the US.
In addition, Dalmia said, the way the country is set up it cannot project power outward.
He listed the democracy's current problems as including a falling turnout in elections (as an indicator of voter pessimism), the high amount of tax evasion, endemic social biases, the influence on politics of interest groups, lobbying, and a weak State.
Hindi cinema, Dalmia said, often reflected India's mindset, describing the '50s and '60s as a time of optimism, the '70s and '80s as being a period of disillusionment, as evident in the emergence of the angry young man protagonist, and the '90s as the time of urban middle-class stories.
But in India, the norm was that individual heroism often triumphed over institutional initiative, with a tendency to popular overreaction to crises, with regulations playing catch-up, he said.
Dalmia recommended the use of the Nifty Quality 50 Index rather than the Nifty to gauge the state of quality Indian firms and added that the market favoured such firms as financial firms, infotech and pharmaceuticals.
He cautioned against low-return and regulation-challenged infrastructure companies, consumer products and Internet providers.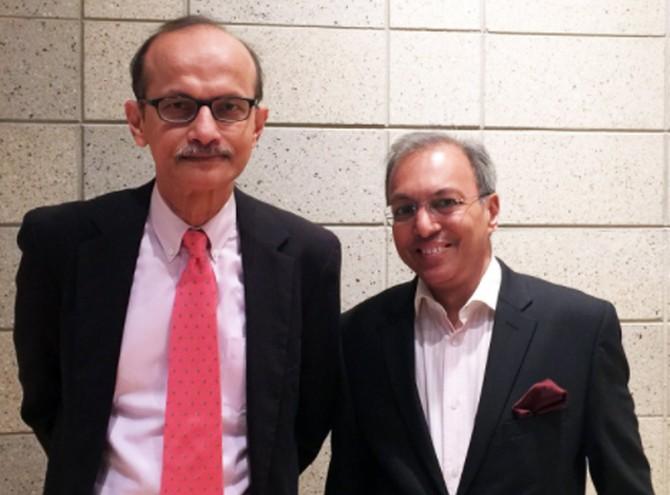 In a 'fireside chat', Francisco D'Souza, CEO, Cognizant, told Professor M Suresh Sundaresan from the university that the tech services industry constantly had reinvented itself, and that continual fears about its demise were greatly exaggerated.
Business opportunities for these services has never been greater, D'Souza said.
It helped that it was not capital intensive though it had to stay on its toes since the half-life of knowledge has been constantly shrinking.
Addressing the contentious issue of H-1B visas, D'Souza said the talent pool in the US was just not adequate to meet the needs of the market.
That argument would be expected of someone managing an IT company, so he argued further that the current shortage -- of 500,000 people -- could swell to 1.5 million by 2020.
D'Souza said efforts were also on to promote non-traditional sources of talent, such as an effort in the Bronx, New York City, to teach tech neophytes software skills in free classes, lasting from six to eight weeks.
Turning to the situation in India, D'Souza said the IT industry there still received help from the government, and cited such efforts as Digital India, which promotes a digital economy; Skills India, which trains people to build the skills for such an effort; and Startup India, aimed at empowering entrepreneurs.
"The (services) market today globally is $1 trillion," he said. "The top five firms in India make 5 percent of that."
D'Souza argued that even if the market itself did not grow, these firms still had a lot of room to expand.
Asked about digital security issues, D'Souza conceded that there was a real threat.
"The landscape is getting more complicated, more fragmented," he said, calling for public-private partnerships to address the problem, but adding that the "balance of resources is still with the good guys."
Speaking of legislative solutions, D'Souza said, "We will see data protection (laws) emerge around the world," and cited the General Data Protection Regulation introduced by the European Union in 2016 as a possible solution.
While there was no panel on social innovators this time, in a session on disruptive entrepreneurship moderated by Professor >strong>Sheena Iyengar, P C Mustafa, CEO, iD Fresh Food India, spoke of the difficulty in putting together a recipe for preservative-free idli and dosa mixes.
The company also used such strategies as letting people buy these mixes from machines where payment was not monitored and was based on trust.
By trusting the clients, the company itself gained trust, Mustafa said, quoting Gandhi, 'Be the change you want to see in the world.'
To maintain this accrued trust, Mustafa said, the company even left a potentially lucrative market in Chennai where, he added, the competition used cheaper raw material drawn illegally from the public distribution system.
He also addressed innovation, describing how iD's novel bottle produced a quintessential vada, with the defining hole that every aficionado recognises.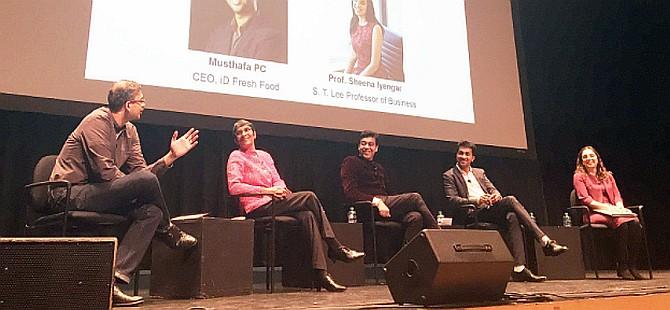 In another fireside chat, Hikmet Ersek, CEO, Western Union, spoke of the financial services market for underserved communities in financial technology with Professor Stephen Zeldes.
Ersek cited the case of expat wage earners in the Middle East sending $200 of the $400 they earn to their families in India.
Of the 500,000 Western Union locations in the world, 125,000 are in India, and growing.
Ersek pointed out that 244 million people in India earn less the international poverty line, now set at $1.90 per day, and that 60 percent of Indians lack a functional bank account.
Demonetisation -- which removed cash from the market -- had done immeasurable damage to this group, Ersek said, adding that even small businesses suffered.
"The poor are not interested in finance," Ersek said, adding most people wanted money to send their children to school, saying that 33 percent of Western Union transactions were for school fees.
"Men don't think of financial planning," he said, saying that most of those receiving money in India were women.
"Most transactions on Sundays in Kerala go to (women)," Ersek said, pointing out that the men were out on that day, possibly drinking.
Sending money to a mobile account did not help, as the women did not get it.
Ersek spoke of other people being helped, such as refugees from Syria, before drifting to political issues.
"We don't build walls; we build bridges," he said, asserting that a variety of "accents, colour and experiences make us stronger."
Addressing fears that Western Union helped money be siphoned away to other countries, he said, "We help the US economy despite what people say."
One questioner argued that Western Union's fees were too high.
Ersek responded that low rates could not fund the expansion of the wide-flung network.
"If we do not have money, we cannot open new locations," he said.
The exchange between Dr Subramanian Swamy, Union minister of law, justice and commerce in the Chandra Shekhar government, and Salman Khurshid, external affairs minister in the Dr Manmohan Singh government, was high on polemics.
Khurshid, possibly at a disadvantage given Dr Swamy's background in economics, tried to argue that a lot of blame could be shared between various political parties for India's economic problems.
But Dr Swamy, a Rajya Sabha member from the Bharatiya Janata Party, would have none of that. And he signalled his intentions when he said, "I have licence from my party to speak what I like."
He then added with a wry grin, "They'd better like it, too."
Dr Swamy, who did his doctorate in ecomomics from Harvard University, raised the problems of demonetisation, the badly implemented goods and services tax regime and the Aadhar card (both promoted earlier, then supported, by the Congress), and a slow economy that he put down to the high interest rates promoted by a former governor of the Reserve Bank of India.
India, Dr Swamy said, was flirting with a debt trap, and cited the national Budget, where 19 percent was for fresh loans while 18 percent was reserved for interest on past loans.
Dr Swamy, who also spoke strongly for a Hindu agenda, addressed labour, saying that compulsory payments of two years of salary to a sacked employee could end the power of unions in India.
Under attack, Khurshid did deliver some broadsides, but they were limited to politics rather than business.
The exchange prompted moderator William Foster, vice-president at Moody's Sovereign Risk Group to express some mild concern when he said, "I am caught between you."
Given all the negatives raised in that discussion, Professor Arvind Panagariya, a former vice- chairman at the NITI Aayog, an India government effort to achieve sustainable development goals, tried to undo some of the damage, saying the issues raised were only teething problems, and went on to discuss, among others the improvement in education and infrastructure.
Professor Panagariya played down worries about unemployment and a slow growth rate and waxed optimistic about the positive role of digitisation.
But the most positive take had come earlier, from P C Mustafa of the panel on disruptive enterpreneurship, when he wound up his speech addressing the Indians in the audience.
"India is a great place to do business," Mustafa said. "Do come back. Jai Hind."