Co-founder Nilekani could take the role of non-executive chairman, becoming a bridge between the board and Murthy, reports Ayan Pramanik.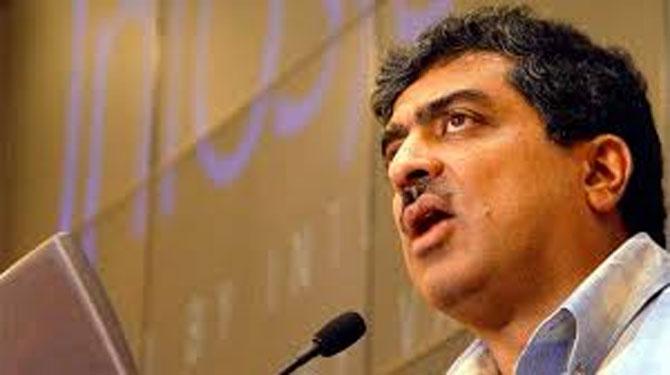 Infosys co-founder Nandan Nilekani is likely to return to the helm of Infosys, sources familiar with the developments said.
He could take the role of non-executive chairman, becoming a bridge between the board and Infosys founder NR Narayana Murthy, who had suggested to Nilekani that he take on a role in Infosys, the sources said.
Nilekani, who quit Infosys as its chief executive officer in 2007 to head the Unique Identification Authority of India (UIDAI), had been maintaining his distance from Infosys, repeatedly stating he had no role to play at a company he built along with six other founders.
But he was involved in calling a truce after last week's public spat between the board and Murthy following the resignation of CEO Vishal Sikka.
Ravi Venkatesan, co-chair of Infosys, had reached out to Nilekani for assistance in talks with Murthy, who on Wednesday evening put off till next week an analyst call planned to explain his stand, citing ill-health.
Several global and domestic institutional investors have told the Infosys board to bring back Nilekani to restore confidence of stakeholders in the company and also facilitate resolution of the contentious issues the company is facing.
According to the signatories of the letter that included Franklin Templeton, SBI, Life Insurance and HDFC Asset Management, Nilekani enjoys the confidence of customers, stakeholders and employees and his return to the board would instill credibility.
Emails sent to Nilekani and Murthy remained unanswered. Venkatesan and Infosys Chairman R Seshasayee did not respond to text messages.
"The company does not have any further updates to share at this point of time. In case there are any developments we will inform the media in due course. We will not be making any comments on speculation and rumours," said an Infosys spokeperson.
If Nilekani returned, it would force Infosys to restructure its board with the possibility of both Seshasayee and Venkatesan exiting the company, the sources said.
V Balakrishnan, a former board member of Infosys and an associate of Murthy, also called for the return of Nilekani in a non-executive chairman's role.
"Nandan is a global face and in turbulent times he is the best man to restore confidence among investors," he said.
Another person aware of the developments said, "Nilekani is one person who can influence the board and Murthy. He is a practical person and familiar with the changing client demand. But he may not take up a full-time job."
Reports of Nilekani's return to Infosys were received well by investors, with the stock recovering 1.98 per cent to close at Rs 894.50.
Since Friday, when Sikka resigned and the subsequent public spat between Murthy and the Infosys board, the company's stock was battered down over 17 per cent with investors losing over Rs 30,000 crore.
Image: Nandan Nilekani. Photograph: Reuters.