A host of start-ups are basing entire business models on the presumption that content creators will drive the next wave of e-commerce.
Deepsekhar Choudhury reports.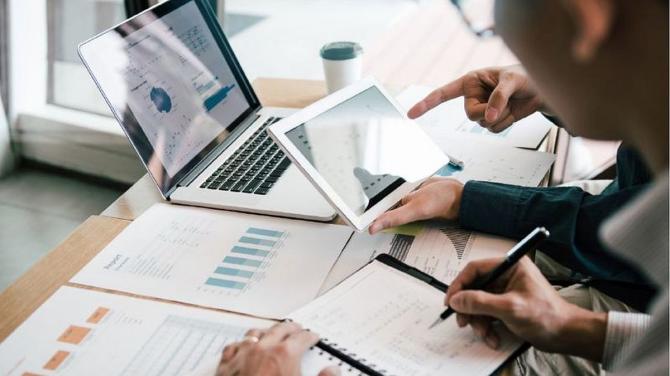 First it was called content-led commerce.
Then it came to be known as influencer-led commerce.
And its latest iteration is creator economy.
This evolution of the terminology for online personas impacting buying decisions -- through blogs, memes, bite-sized videos, and podcasts -- has happened over the past five to seven years.
The pandemic catalysed what was meant to be.
Now, creators of such content have become the centrepiece of businesses whereas once they were seen as a small part of a brand's marketing strategy.
At one end of the spectrum, a host of start-ups are basing entire business models on the presumption that content creators will drive the next wave of e-commerce.
Take, for instance, The Good Glamm Group, which turned unicorn in November.
With D2C brands like MyGlamm, The Moms Co, Sirona, and BabyChakra in its fold, the company recently acquired new media network Miss Malini to leverage its reach of over 60 million users every month.
"We have 150 million users coming to our brands through our content assets.
"We already had access to 250,000 nano and micro influencers through our influencer marketing platform Plixxo.
"The acquisition of Miss Malini will help us get access to the celeb and macro influencer market," said Priyanka Gill, cofounder of The Good Glamm Group.
Another start-up that has creators at its core is Trell, a social commerce platform with 10 million monthly active users and more than 18 million creators.
On the platform, creators put up videos of reviews and know-how of cosmetics, personal care products, and apparel in vernacular languages while consumer brands from the likes of Marico and Samsung to new-age brands like Mamaearth and Bombay Shaving Company tie up with creators to advertise their fare.
"Creators on the platform earn between Rs 25,000 and Rs 5 lakh each month, depending on the number of brand collaborations they take up.
"Our homegrown influencers -- Anushka Hazra, Tanya Manavalan, Karishma Rawat, and Mehak Arora -- are among our highest, earning with payouts of Rs 2-3 lakh a month," said Pulkit Agrawal, chief executive officer (CEO) and co-founder of Trell.
This kind of platform play of creators is something that even big-tech companies are taking a close interest in.
YouTube, which reaches more than 450 million monthly active users in India, also bought Indian social commerce platform SimSim, which connects local businesses, influencers, and customers in Hindi, Tamil, and Bengali in July.
The video-streaming giant also announced a $100-million fund, which will pay creators across the globe to adopt its short-video feature even as Meta (formerly Facebook) one-upped that effort with a $1-billion creator fund.
According to media reports, new Amazon CEO Andy Jassy is taking a keen interest in the segment and looking to ramp up influencer-marketing efforts through its live-streaming service Twitch and OTT platform, Prime Videos.
It is the big-tech platforms who have capitalised on TikTok's forced exit from India last year rather than homegrown short video start-ups like Sharechat, Roposo, or Chingaari, which have entered the fray since the ban on the Chinese app, say experts.
"Now Instagram Reels is dominating the creator economy in India as we have seen a 40-45 per cent rise in brands asking for content on the platform.
"Although YouTube has always been a major channel for influencers, its short video offering still has some way to go," said Shudeep Majumdar, CEO and co-founder of Zefmo Media, an influencer-marketing agency.
According to him, one of the emerging trends in the space this year was the rise of hyperlocal influencer marketing.
For example, clients like water-purifier brands and nursery schools are seeking tie-ups for targeting customers in a radius of 5 km in certain areas.
The Indian influencer marketing industry is estimated to reach Rs 900 crore by the end of 2021, according to GroupM INCA's India Influencer Marketing Report.
The market is expected to grow at a compound annual growth rate (CAGR) of 25 per cent till 2025 to reach Rs 2,200 crore, the report added.
A key pillar of this growth will be how legacy consumer brands are reacting to the rise of influencer-led commerce.
"While content creators have always been integral to digital first D2C brands, the big traditional consumer brands are realising now that it is not just about getting a few posts by a celeb done during a product launch or a festive season," said Ramya Ramachandran, CEO and founder of influencer-marketing agency Whoppl.
"Consequently, another thing that's happening is that brands are going for long-term associations with influencers -- a trend that will get stronger as it does not reflect well on a brand if the creator endorses it one day and talks about a competitor the next," said Ramachandran.
However, the way most of the influencer marketing happens for micro content creators still remains one-off posts on social media.
While celebrities and macro influencers may have anywhere from 500,000 to millions of followers on social media channels, micro influencers are typically those with followerships of 20,000 to 100,000.
"We get agencies to do 'social listening' and pick up cues if a micro influencer talks about us.
"Then we send a box of chocolates of some such merchandise.
"It is generally a barter system," said a top marketing executive of an FMCG brand.
According to him, the influencer marketing expenditure of FMCG brands like PepsiCo, Hindustan Unilever, and Kraft is already 10 per cent of the marketing budget and 30 per cent of the digital ad spend.
"This is only bound to increase as India is among the fastest-growing digital markets -- perhaps only second to China.
"Even for our TV commercials, we first unveil them through a leak or behind the scenes through tie-ups with influencers so that there is more engagement," he added.
Photograph: Reuters