All the minor irritants can be overlooked when you can get automatic transmission, diesel fuel efficiency and a Honda badge, all for less than a million rupees, says Pavan Lall.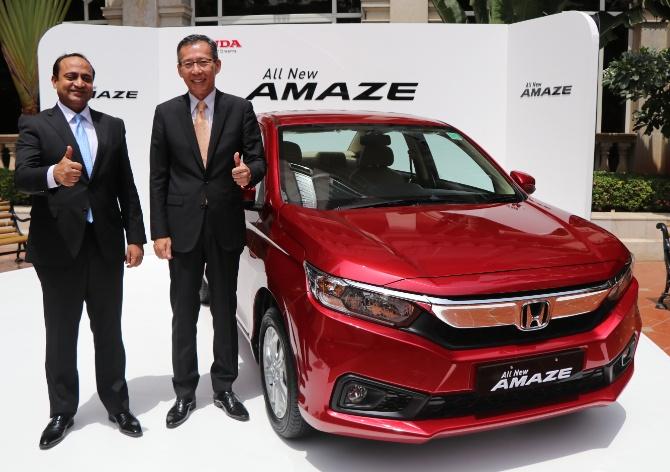 What do you do when your first product in an area you don't have much experience in doesn't impress your audience? Most companies would pull back and return to doing what they do best.
Honda, on the other hand, went back to the drawing board and fixed what it didn't get right the first time. The end result: the new Amaze.
Talk about car engineering to petrolheads and they will point to two technology leaders: the German and the Japanese.
Coming from Japan, Honda's reputation over the years has been cemented by two factors: its smooth petrol engines and proven reliability, coupled with long-lasting performance. Anyone who has driven or owned a Honda car with a petrol engine will tell you that one sometimes forgets that the engine is on when in traffic or in idle mode because it is so silent.
But in a market sharply sensitive to fuel prices and at a time when petrol prices are inching close to Rs 90 a litre, cost efficiency has become critical. Diesel engines formed 50 per cent of the total car sales in the country in 2013. That was why rival Toyota, which offered diesel options on seven of its eight cars, generated volumes that were almost double of Honda's circa 2013.
Then in 2013, Honda's Rajasthan factory brought out the Amaze, the company's first stab at diesel. Mixed reviews greeted it back then. Today, if there's one vehicle that is truly evolving, it is the all-new second generation Amaze.
Launched earlier this year, the new Amaze exemplifies Honda's mastery at making a car look entirely different with a few design nips and tucks. Gone are the rounded curves and front profile that made the earlier versions reminiscent of the early-generation Honda City and akin to the smaller Brio.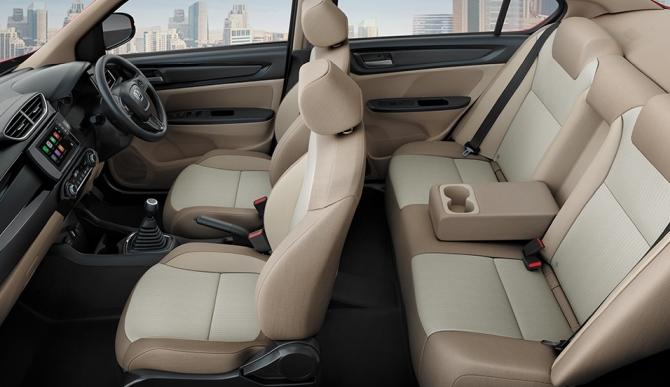 Inside, the interiors are minimalistic but neatly designed with quality trim lines, plastics and seat fabrics. The start-stop ignition button that replaces ignition with a key is a pleasant surprise for a smaller car, and the thick steering wheel with mounted controls that's hooked up to a new and larger steering shaft feels like it would be at home in a sportier, larger sedan.
The square lines and design cues make the car seem larger and broader than the earlier versions, which one could see had shared designs with the Brio hatchback. The changes are more than cosmetic. The interiors are specced out with top-quality plastics and panels, and the steering wheel, dashboard and mounted controls are what you'd expect to see in a car a class above.
It's worth mentioning that the Amaze is retailed at ex-showroom prices that start at Rs 580,000 and go up to Rs 910,500, thus taking Honda's battle out of the premium sedan zone and into the mass volume car territory occupied by the likes of the Maruti Suzuki DZire, the Hyundai Xcent and the Volkswagen Ameo.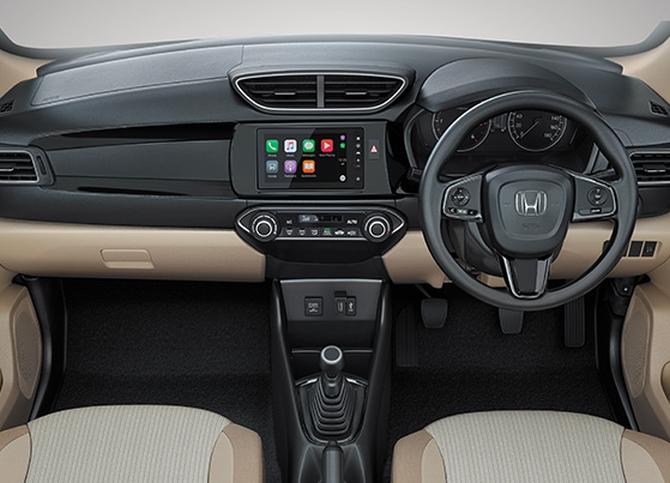 Go for a spin and it is apparent that the Amaze comes with an all-new suspension that includes MacPherson struts for the front and torsion beams in the rear, which enable it to absorb bumps and shocks from pothole-riddled roads far better than its earlier avatar.
The car also sits higher, letting it clear bumpy speed-breakers and uneven tarmac without damage to the undercarriage -- a problem that affects several sedans, including older-generation Honda Citys, leading buyers to often complain, "Great car but the suspension could have been higher."
On smaller lanes and roads, the Amaze is adept and nimble, zipping in and out with sufficient torque and agility, despite a slightly noisy engine at lower RPMs that can be heard in the cabin. But it is not loud enough to drown out the music or the conversation in the car. At higher revs, however, the car does settle down and the drive gets even smoother as one speeds past the 100-kmph mark.
Honda Amaze
Engine:
1.5 litre i-DTEC
Torque:
160 Nm
Power:
80 hp
Transmission:
CVT (automatic)
Top speed:
180 kmh
Displacement:
1,500 cc
Kerb weight:
1,039 kg
Price:
Rs 910,000 (ex-showroom Mumbai)
When I took the car out for a drive, halfway across the Bandra-Worli Sea Link, I felt the power supply peter out as I reached the 140-kmph mark. The car's automatic speed regulator kicks in at that speed according to internal protocols.
Besides, this car would largely be used for short jaunts, drives to the local coffee shop or for city commuting. The 420-litre trunk is, by the way, quite chore-friendly.
Its continuously variable transmission (CVT), which seamlessly shifts gears to provide the most appropriate ratio for a given situation, is a treat. So you don't need to constantly keep switching gears or taking the foot off the clutch. Just start the car and go.
The back seats, too, are comfortable and have sufficient leg space. But if there's one area that needs improvement, it is this: taller individuals might find that the rear windscreen does not block out the sun effectively enough. Thicker glass would have helped, or perhaps the angles of the C pillar could have been altered so as to deflect the sun's rays.
That's easy to overlook when you can get automatic transmission, diesel fuel efficiency and a Honda badge, all for less than a million rupees. All in all, this is a car that's determined to amaze.
PETROL
DIESEL
E MT
5,80,900
E MT
6,90,500
S MT
6,60,500
S MT
7,70,500
V MT
7,20,500
V MT
8,30,500
VX MT
7,68,500
VX MT
8,78,500
S CVT
7,50,500
S CVT
8,50,500
V CVT
8,10,500
V CVT
9,10,000
Price ex-showroom (Mumbai)