Former Citigroup CEO Vikram Pandit is set to make an entry into the country's financial sector by buying, along with partner Hari Aiyar, a three per cent stake in Nimesh Kampani's JM Financial. The two will pay $10 million (about Rs 55 crore) for the stake, besides investing $100 million (about Rs 550 crore) for expansion of the non-banking financial company's (NBFC's) lending business.
JM Financial's board has approved filing of application for a banking licence with the Reserve Bank of India (RBI). The application deadline expires on July 1. Pandit would be nominated the non-executive chairman of the NBFC, as well as its proposed bank.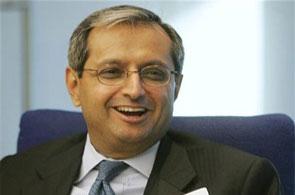 Pandit and Aiyar would have the right to buy shares in the bank up to RBI's prescribed limit, the NBFC said in a release after its board meeting.
JM would also form a distressed asset fund, along with Pandit's firm, with an initial capital of $100 million (about Rs 550 crore), the release added.
According to the shareholding pattern disclosed to the exchanges, the promoters, including Nimesh Kampani, his family members and associated entities, held 69.09 per cent stake in JM Financial as of the March quarter. Among the firm's public shareholders are Morgan Stanley Asia (Singapore) Pte (3.42 per cent stake), Valiant Mauritius Partners Ltd (3.47 per cent) and Azim Premji (2.91 per cent).
Pandit today said: "I have known Nimesh and JM Financial for over two decades and believe, given the opportunity, JM Financial could provide the banking & financial services the country needs... I continue to believe in India's growth prospects."
Nagpur-born Pandit, who holds an electrical engineering degree and a doctorate in finance from Columbia University, had become Citigroup CEO in December 2007, months before the global economic slowdown of 2008 broke out, making the company take a hit of more than $20 billion. After being at the helm of the company's affairs for about five years, he had quit Citigroup in sudden turn of events in October 2012.