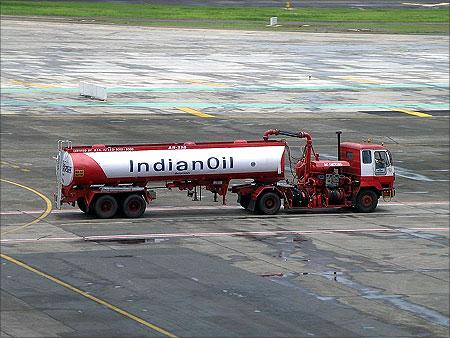 The National Democratic Alliance government is weeding out independent directors on the boards of public-sector undertakings (PSUs).
At least nine independent directors of PSUs, including Indian Oil Corporation, the country's largest company by revenue; and Coal India Ltd, the world's largest coal miner, have been booted out so far.
Another eight directors of Oil and Natural Gas Corporation and its subsidiary Mangalore Refinery and Petrochemicals could be axed soon.
Independent directors on PSU boards are chosen by the parent ministry. Their names are sent to the selection committee of the department of public enterprises for approval before a final go-ahead by the Appointments Committee of the Cabinet.
The directors' names must, however, be ratified for clearance at the PSUs' annual general meetings, usually held in August and September, according to the Companies Act. Without this, the selection falls through.
"It is funny how the new government is utilising this provision of the Companies Act to cancel the selection of candidates done during the United Progressive Alliance regime," an independent director who recently resigned ahead of his company's annual general meeting told Business Standard. He did not wish to be named.
Indian Oil Corporation did not move the resolution confirming the appointment of four independent directors at its annual general meeting on August 27.
The directors included retired bureaucrats K Jairaj and Sayan Chatterjee, former president of the Institute of Company Secretaries of India Nesar Ahmad and former director-general of the National Human Rights Commission, Sunil Krishna. The company informed BSE the next day the four had ceased to be independent directors.
Engineers India Ltd, similarly, did not take up a resolution for confirmation of two of its independent directors, Hindustan Petroleum Corporation's former human resource director V Vizia Saradhi and former law secretary D R Meena, at its annual general meeting on August 28.
Two independent directors of Kolkata-based Coal India Ltd, former coal secretaries Alok Perti and C Balakrishnan, resigned on September 8 and 9 ahead of Wednesday's annual general meeting, where the company was seeking ratification of their appointment for a three-year term.
Perti was appointed to the Coal India board in October and Balakrishnan in December last year. Earlier, Shri Prakash, member (traffic), Indian Railways, had quit the Coal India board on September 3, even as the company moved a resolution seeking confirmation of his appointment.
"It is strange this government is trying to convey the message to independent directors that either they leave the company or the government will go against its own decision in the annual general meeting," one of the independent directors said.
The government is now trying to ensure three independent directors of ONGC - former power secretary P Uma Shankar, chartered accountant S Ravi and former Bharat Petroleum Corporation chairman R K Singh - and five directors of MRPL - chartered accountant C L Shah, former bureaucrat Neela Gangadharan, Indian Institute of Science Professor Jayant M Modak, Professor of Marketing at Banaras Hindu University Usha Kiran Rai and Capt John Prasad Menezes - are shown the door.
All of them had been selected by the previous government. Asked whether he was also contemplating resignation, one of these directors told Business Standard he would not have to put in his papers.

"In my case, the company has suddenly dropped the proposal seeking ratification of my confirmation from the annual general meeting's agenda. So, I am automatically out," he said and asked not to be named. "One cannot fight over such matters, but corporate governance surely takes a hit," he added.
The government's strategy is unlikely to go down well with stakeholders. "There is a huge corporate-governance issue involved here. Under the Companies Act, 2013, independent directors are to be appointed for a period of up to five years for a maximum of two consecutive terms," said Devendra Bhandari, director at Stakeholders Empowerment Services.
A PSU could withdraw a resolution seeking ratification of an independent director's appointment in the annual general meeting, but the government must give reasons or allow the incumbent to continue till his original term came to an end, Bhandari added.
THE WAY OUT
Independent directors on boards of PSUs are being made to discontinue
The new govt is seen as weeding them out to erase the legacy of the previous one
Method followed: Ensuring resolutions on their confirmation are not ratified at AGMs
Four directors of Indian Oil and two of Coal India are among those who have already been shown the door
Experts see the trend disrupting corporate-governance practices