Khan seems to be sitting on significant gains on account of exchange rate gains as the pound has strengthened from Rs 60 to Rs 100 during the period. The Enforcement Directorate suspects that Khan used this structure for some real estate transactions in Dubai in 2008, the surpluses of which were not accounted for.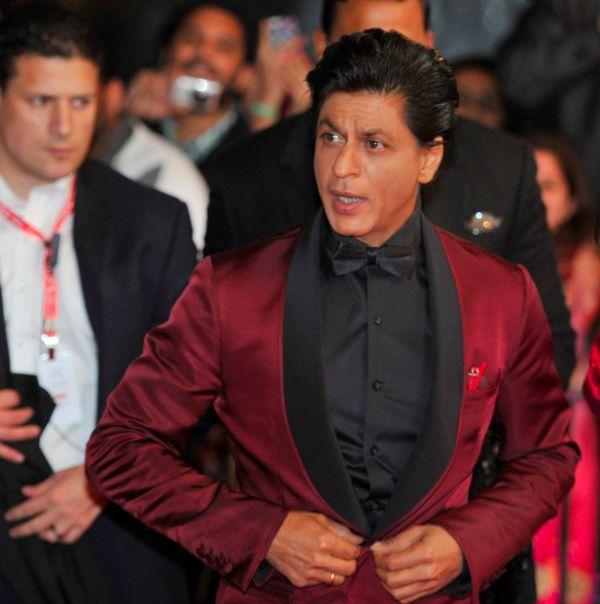 Bollywood actor Shahrukh Khan poses at a news conference in Toronto. Photograph: Mark Blinch/Reuters
Shah Rukh Khan turned 50 on November 2. On a television show to mark the occasion, where he took questions from some of his 16 million Twitter followers, Khan minced no words.
"It is stupid… it is stupid to be intolerant and this is our biggest issue, not just an issue… religious intolerance and not being secular in this country is the worst kind of crime that you can do as a patriot," he told the host, Rajdeep Sardesai.
The Bharatiya Janata Party (BJP), which was about to wrap up its shrill campaign for the Bihar elections, launched a scathing attack on the superstar.
Cyberspace hardliners went into overdrive. Kailash Vijayvargiya, a party heavyweight from Madhya Pradesh, infamously said that Khan's soul was in Pakistan.
The film fraternity fractured into two camps.
Top television anchors queued up to interview him, and those who didn't get a slot got busy trashing him on prime time.
In the hysteria that ensued, a Tweet by BJP leader Meenakshi Lekhi went unnoticed: "Khan's intolerance comments came after ED notice." ED is the acronym for the Enforcement Directorate, the finance ministry arm that looks into violation of foreign exchange rules.
Lekhi's insinuation left nothing to the imagination. As Khan did not respond to that Tweet, it is difficult to tell if the Enforcement Directorate had indeed provoked his outburst. (A few days later, Aamir Khan made a similar point and drew the ire of the lot that had trashed Khan.)
Lekhi at least got the sequence of events right: late in October, Khan was summoned by the Enforcement Directorate to its south Mumbai office.
Under its scanner are some overseas financial entities with links to Khan. Specifically, the Enforcement Directorate is examining if there were certain unrecorded transactions done through these entities.
To unravel Khan's overseas business, one has to rewind to 10 years ago when Londoner Richard James Moore floated a real estate company called Winford Estates in Surrey.
In March 2007, he sold it to Raja Sherbaz Khan, a property dealer. Nine months later, Khan acquired control of this company when he bought its solitary share from the property dealer for an undisclosed amount.
Khan bought the share through Red Chillies International. Though mentioned in some records as a United Kingdom company, Red Chillies International is registered in Guernsey, a sparsely populated island in the English Channel.
Known for its light taxes and easy regulation, Guernsey is a hub for private equity funds and other investment vehicles, and earns much of its national income from their activities. Its people are still debating between independence and a dominion status under the British crown. Till then, it is a "dependency".
Filings in the Guernsey company registry show that Red Chillies International's registered office is at New Port House, 15 The Grange, St Peter's Port.
It had capital of £50,000, according to the summary of capital and shares, on January 1, 2008. Khan's flagship, Red Chillies Entertainment, based out of Mannat, his sea-facing Mumbai bungalow, owned 49,999 shares in this company and Guernsey-based Island Nominees owned one share.
While initially Red Chillies International was classified as a non-regulated company, returns filed in December 2012 show it was reclassified as a "financial product" company and its mandate was "creative arts and entertainment activities". Subsequent filings classified it as "financial product company, licensed resident agent".
When Khan acquired Winford Estates, its net worth was in the negative. The money it owed to its creditors (£14.9 million) exceeded its assets (£14.5 million).
Returns filed with Companies House of the United Kingdom show Winford Estates has since then morphed into a company with a strong net worth: for the year ended March 2015, it had assets of £19.67 million and its bank loans stood at £7.8 million.
Khan also seems to be sitting on significant gains on account of exchange rate gains as the pound has strengthened from Rs 60 to Rs 100 during the period.
The Enforcement Directorate suspects that Khan used this structure for some real estate transactions in Dubai in 2008, the surpluses of which were not accounted for.
Winford Estates' filings show that in 2008, the company extended its accounting year, which till then used to end in September, to March 2009.
The notes to its financials for the period ended March 2009 under the head "going concern" remark that the company "is supported by loans given by the parent company Red Chillies Entertainment. We understand that there is no immediate plan to call for the repayment of this loan".
In response to emails sent last week, the Red Chillies Entertainment spokesperson said Khan goes through all questions and answers them personally, and sought a week's time since the star would be busy all week in his upcoming film Dilwale's promotion. Subsequent reminders did not elicit any response.
Is this a witch hunt launched by the BJP-led government? Has the Hindutva brigade found a soft target in Khan, who is known to be friends with the Gandhi family? Actually, this is the second time Khan has faced questions from the Enforcement Directorate.
In 2011, when the Congress-led United Progressive Alliance was in power, it had summoned Khan to explain the share allotments of his company, Knight Riders Sports, which owns Indian Premier League (IPL) franchise Kolkata Knight Riders.
The Enforcement Directorate had commissioned an audit by Mumbai-based chartered accountant Chokshi & Chokshi to determine whether shares allotted to Khan's business partners, actor Juhi Chawla and her husband, Jay Mehta, were undervalued, which resulted in foreign exchange losses.
This is what happened. On January 24, 2008, then IPL commissioner Lalit Modi announced that "Khan, joining hands with Chawla and Mehta, won the bid for the Kolkata team for $75.09 million".
Filings with the Union ministry of corporate affairs show that Knight Riders Sports was incorporated in February 2008 with Red Chillies Entertainment (9,900 shares) and Khan's wife, Gauri, (100 shares) as the promoters.
On March 7, 2009, Knight Riders Sports allotted 10.99 million more shares to Red Chillies Entertainment, 4 million shares to Chawla and 5 million shares to The Sea Island Investment, a Mauritius outfit owned by Mehta through Bermuda-based The Mehta International. All shares were allotted at Rs 10.
According to the findings of Chokshi & Chokshi, first reported in March, when the shares of Knight Riders Sports were issued to The Sea Island Investment, the fair value of each share should have been between Rs 70 and Rs 86.
However, the equity shares were issued at Rs 10 a share. "This simply means that shares sold to The Sea Island Investment were undervalued," the audit report said.
The matter did not end here. In February 2010, Knight Riders Sports restructured itself when the 11 million shares held by Red Chillies Entertainment and Gauri Khan were transferred to "Shah Rukh Khan jointly with Gauri Khan".
A month later, Chawla transferred the 4 million shares she held to The Sea Island Investment.
All these transactions were at par.
The audit report by Chokshi & Chokshi said for the transfer of shares from Chawla to The Sea Island Investment, the fair value should have been between Rs 83 and Rs 99.
The difference in valuations of the shares between the date of allocation to Chawla and the date on which she sold these to The Sea Island Investment could lead to capital gains tax implications, according to the Enforcement Directorate.
Emails sent to Chawla and Mehta's offices remained unanswered.
Both are learnt to have submitted their response to the Enforcement Directorate earlier this year.
In its response, Knight Riders Sports contested the method followed by Chokshi & Chokshi for calculating the value of the shares.
The company had used the "net asset value" method, also prescribed under the Foreign Exchange Management Act, but the Enforcement Directorate argued the shares should have been valued using the "profit earning capacity" method.
Knight Riders Sports and Khan said this method could not have been applied to the start-up company that was in its early years and hence its earning capacity was uncertain.
Four years after the probe started, closure is nowhere in sight.
Inside SRK Inc
Meanwhile, after six years in the business, Knight Riders Sports' revenues have crossed Rs 100 crore or Rs one billion, but its profits remain modest and volatile.
Still, the Kolkata Knight Riders brand is highly valued. According to a ranking by consulting firm American Appraisal in April, it is the most valuable IPL franchise.
Kolkata Knight Riders saw its valuation shoot up 25 per cent to $86 million in 2015, which helped it leapfrog from the third spot to the first.
Khan has ventured into other businesses as well.
After the initial success at IPL, Khan had started a television production business called Idiot Box.
He had chosen journalist Samar Khan to head this venture. But this folded up after trying its hands in some television serials and talk shows, one of which was hosted by Preity Zinta.
When contacted, Samar said he was no longer associated with the venture and would not want to talk about Khan or his ventures since it was "too long ago".
For Khan, the business partner of choice seems to be Chawla - the two have also done films together.
In the initial years, Chawla's brother, Sanjiv, was a director of Knight Riders Sports, along with Mehta and Gauri.
In April 2010, Sanjiv suffered brain haemorrhage and was hospitalised.
The firm relieved him from the board two years later. Knight Riders Sports recorded his death in March 2014 in its last annual report and remembered his contributions.
Dreamz & Filmz was Khan and Gauri's first venture with Chawla. This company, which distributed films, has been amalgamated into Red Chillies Entertainment.
Arclightz & Films, in which Chawla and Khan hold 25 per cent each (with Enzo Pictures owning the remaining 50 per cent), is into film production and made a loss of Rs 3,17,000 in 2013-14.
In addition, Khan and Gauri own Tuscany Properties, a realty company with paid-up capital of Rs 1 lakh.
This company, which made losses in 2011-12 and 2012-13, had fixed assets (land and building) worth Rs 46 crore or Rs 460 million, funded largely by unsecured loans from the Khans.