According to Trump Junior, since his father took office, the level of scrutiny has been quite frustrating and disgusting, reports Karan Choudhury.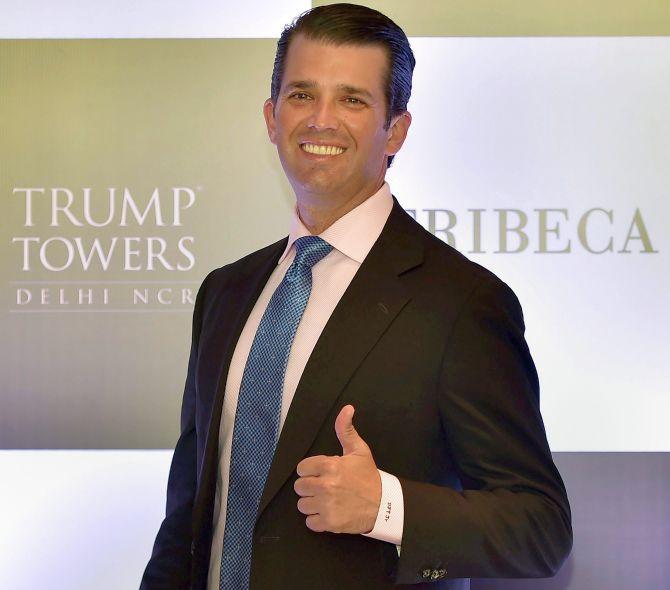 For Donald Trump Junior, the nice thing about his father being the president of the United States is the view of Trump Hotel from the White House lawns in Washington DC.
Everything else, it seems, has been quite a struggle.
In India on a business visit that might also involve meeting the prime minister and other cabinet ministers and officials, Trump Junior, the executive vice-president of the Trump Organisation, said that his company has not made any new deals ever since his father took the most powerful office in the world.
During a meeting with media on Tuesday in Delhi, Trump Junior said that dealing with media, accusations, threats to family, as well as not being allowed to do business freely have been quite frustrating and challenging for him.
While his company is not planning to get into any new venture in India, he said that whenever the opportunity arises, Trump Organisation would get more into the residential, commercial and hospitality space in the near future.
He even went on to say that doing business in India is better than China, as things are more above board here.
Father an incredible visionary
Recapping the whole presidential campaign that his father led, Trump Junior talked about how his father won the top job against all odds.
"My father is an incredible visionary, anything that he has put his mind to, he had succeeded at it. I am trying to avoid talking about politics for obvious reasons, but when you think about what he has accomplished there, he was against the largest political machinery ever assembled with one tenth of the money, one-tenth of staff, zero chance of winning according to every expert in the world, but still he did it because he is an incredible visionary," he said.
Cannot do business with virtually anyone
According to Trump Junior, since his father took office, the level of scrutiny has been quite frustrating and disgusting.
"If I try and do a deal with someone that anyone in America can deal with today, (and) if that person even had a speeding ticket when he was 16 years old, it is on the front page of the Washington Post. There is a lot more natural difficulty that is imposed on us in doing business anyone else would (do normally), but it is okay, I understand it," he said.
Claiming that the company has left opportunities worth millions of dollars, if not billions, due to the fear of political ramifications, Trump Junior said that most of the accusations have been proved wrong.
"If I say something and I am joking and smiling, they will interpret it however they want to fit it with whatever narrative. What I seen in the length of the media is disgusting, I have spent quite a bit of time trying to actually point that out. Now every time I hit that button, it is picked up everywhere, so the level of scrutiny is ridiculous. As a businessman, the constant attempt to get you is frustrating," he said.
Joining politics
While Trump Junior has not decided on following his father's footsteps into politics yet, he said that he would not say no to the idea.
"The talks started a lot after my speech at the Republican National Convention, that 'he has to run for governor'. I do not know, if you say no and in 15 years you change your mind, they would call you a liar, a horrible human being," he said.
India's market better than China
Talking about his India plans, Trump said that he wants to take the association with his organisation forward as doing business in India is way easier than that in China.
"I find as a businessman I think things are more substantial and more above board. I think the mentality to do business is much more aligned with our way of doing business in United States," he added.
Here in India on almost a week long trip, he would be going to New Delhi, Mumbai, Pune and Kolkata and visit the projects which his organisation and various Indian real estate developers are jointly building.
M3M India and Tribeca, who are jointly working on this project, have reported that they have received sales bookings of over Rs 4.5 billion within the first 25 days of soft launch.
The project has sold over two residences a day since launch with an average ticket price of Rs 75 million. Trump Tower Kolkata, which was launched in late 2017, received sales bookings for 70 percent of its residences in just two months.
Image: US President Donald Trump's son Donald Trump Jr attends a media event in New Delhi on Tuesday. Photograph: Manvender Vashist/PTI Photo.