As temperatures begin to soar, AC makers have become extravagant with their claims and ad budgets as they look to get brand penetration up from the current low levels of four per cent, says T E Narasimhan.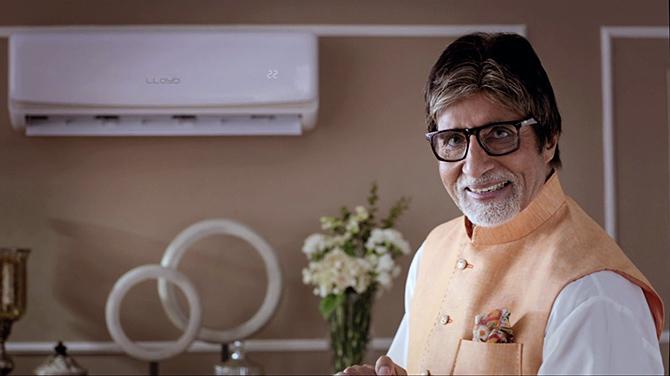 IMAGE: Amitabh Bachchan advertises Lloyd AC. Photograph: Courtesy Lloyd.
There is Amitabh Bachchan on the screen promoting, believe-it-or-not, wi-fi air conditioners.
A few seconds later, another ad flashes past and, even more incredulously, it is about an AC that can swat flies and then one that cuts down electricity bills and another that cools so precisely that no spot in the room is left out.
This summer, as temperatures have begun soaring in many parts of the country, AC makers are being extravagant with their claims and ad budgets as they look to get brand penetration up from the current low levels of four per cent.
According to a report by Motilal Oswal Securities, the penetration of ACs in India is among the lowest.
The market grew from about 3.8 million in 2013 to four million in 2014 and the time to scale up is now. The report estimates that growth will pick up in 2017-18 and sales could touch seven million units by 2020, implying a CAGR of 15 per cent.
To milk the excessive heat that has hit many states this year, companies have already raised their advertising budgets. Some have doubled it, while many have given it a healthy nudge up the charts.
According to industry sources, ad spends have increased between 10 and 50 per cent this year over 2016. Spending has gone up not just in terms of getting more expensive creative talent on board but also in hiring celebrity endorsers and increasing the frequency at which ads air on traditional media.
The results have been encouraging.
Sales of air-conditioners have jumped more than 30-50 per cent year-on-year for the last few months and, by the end of June, sales are expected to be 30 per cent more than 2016 figures, according to industry projections.
For the ₹10,000-crore-industry, the March-June period contributes nearly 40 per cent of the total sales and companies are encouraged at the prospect of pushing the numbers up further. Hence, the shrill advertising.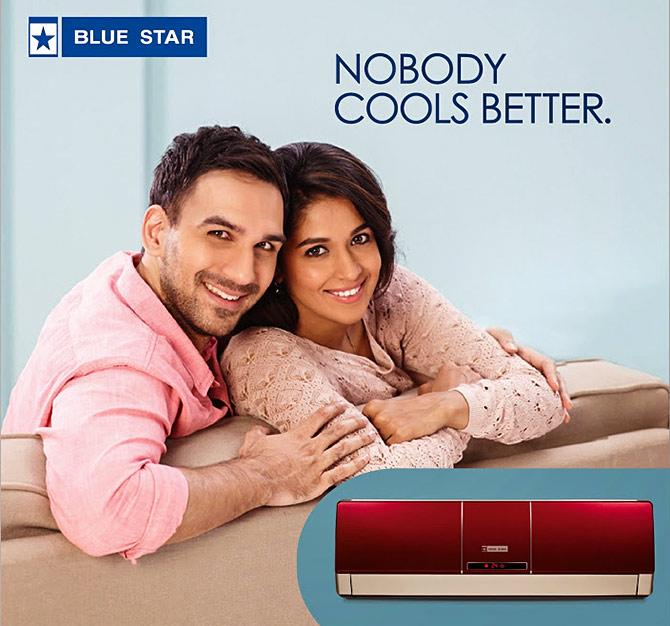 IMAGE: Blue Star AC's promotional campaign pitches its ACs as the only one in the country to cool in decimal points. Photograph: Courtesy Blue Star
The AC market is cluttered with brands -- there are close to 37 players jostling for the customers' attention with very little to differentiate one brand from the other.
In its campaign, market leader Voltas has stuck with its original premise, that it is an all-weather AC that cools the most and helps save on electricity bills. Its ads have got more frequent in recent weeks, airing regularly during the Indian Premier League matches.
Companies are making enough noise so that they can be heard by the customers, says B Thiagarajan, executive director and president (AC&R) product business, Blue Star.
Blue Star has around 11 per cent share of the market and wants to increase it to 12.5 per cent by the end of this year.
Marketing and promotion will be the key to spreading the brand's footprint, especially in the north where penetration is low, Thiagarajan adds.
Advertising is the only way to drive home the differentiation and carve a unique brand identity in the highly cluttered market, the companies say.
Blue Star's campaign focuses on special features, promising benefits over and above the product's basic cooling function. It pitches its ACs as the only one in the country to cool in decimal points.
The company says that the promotions will revolve around 'precision cooling' and will be supported by brand building activities worth ₹75 crore, an increase of nearly 10 per cent over last year.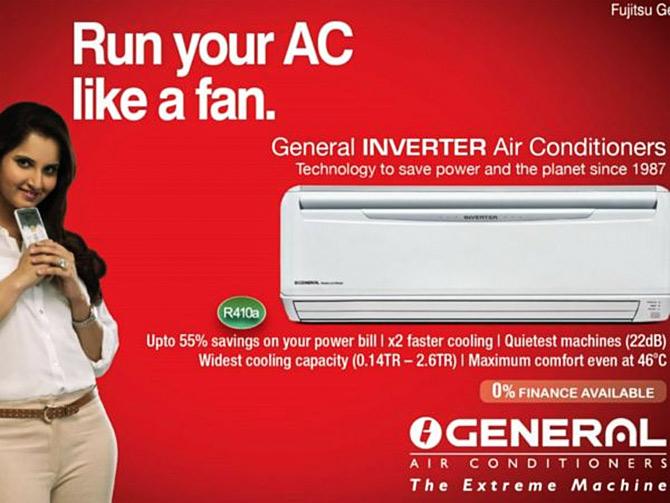 IMAGE: General AC has roped in Sania Mirza to promote its products. Photograph: Courtesy General
Kamal Nandi, business head and EVP at Godrej Appliances says that his company expects to spend around ₹200 crore during the current year, a major chunk during the summer months.
Since December, the company has launched 32 models across segments and has gone digital with its promotions.
Godrej Appliances is looking at tier-II and beyond, markets that are growing faster than urban areas where the company plans to open 30-35 outlets this year.
"We have decided not to open in metros or in tier-I markets, our focus is going to be tier-II and beyond where accessibility and visibility is a major challenge," says Nandi. He expects to increase the company's market share to nine from six per cent by the end of 2019.
LG Electronics has focused its advertising around a new product, the dual inverter series with 'mosquito away' technology. The ads say the ACs do not just cool down the home, but also keep it free of mosquitoes and save energy.
The company will soon push out new models in the price range of ₹36,000-54,000.
LG has pitched its product as the only one that can automatically adjust to room temperature and use minimum energy to provide enhanced cooling.
"Energy efficiency is one of the key parameters for consumers while making purchasing decisions for air conditioners," says Vijay Babu, business head-RAC, LG Electronics India.
It is also bringing prices down. Earlier the price gap between a normal and an inverter AC was 25-30 per cent, which has come down to 12-15 per cent due to local production. Plus, the dual inverter technology will help the consumer halve the annual running cost, Babu adds.
Like its competitors, LG too is trying every trick in the book to maximise its gains in the summer of 2017.