He launches Twitter Samvad to reach the masses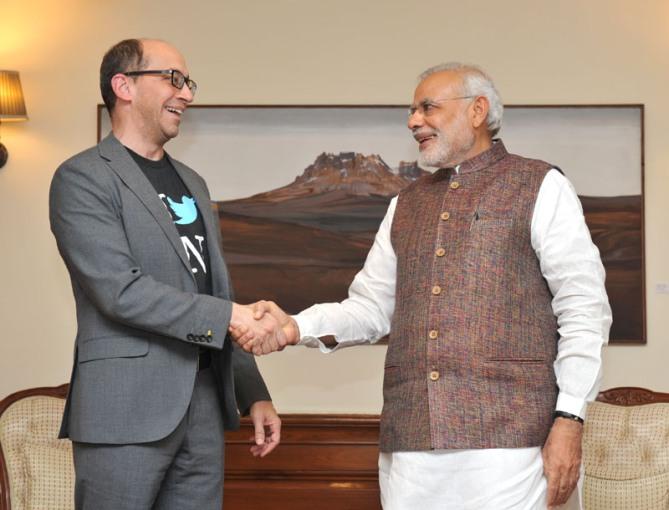 Twitter Inc's Dick Costolo is the latest among global technology executives to visit India, since the National Democratic Alliance government came to power last May.
Costolo, the chief executive of the micro-blogging site, called on Prime Minister Narendra Modi.
He launched Twitter Samvad on Tuesday.
It adds first-time and non-Internet users to the user base and fits into the Digital India project, a pet initiative of Modi.
Without divulging any revenue or India-specific user numbers, Costolo said 'business in India is growing quite nicely' and it is one of the fastest-growing markets for Twitter in terms of users.
He said Twitter was looking at expanding the sales team to indicate that it wanted to increase the advertising revenue from the country.
Costolo held meetings with more than 12 chief executives of companies, which are existing or potential clients in Delhi and Mumbai.
The California-headquartered company has an estimated user base of 22.2 million in India, according to market research firm e-Marketer.
The growth of Twitter in India in 2015 is expected to be around 30.4 per cent, almost double than 2014's, according to the firm.
However, he gave Bengaluru, where Twitter has an office through its recent acquisition of mobile marketing and analytics platform ZipDial, a miss. The company, which was acquired earlier this year, is a cloud-based mobile and analytics platform that allows companies to market their products to target audiences through missed calls.
On his acquisition plans in India, he declined to share details but said, "The ability and the speed with which we integrated ZipDial gives the confidence that we can do that again."
The Samvad platform is based on the missed-call platform created by ZipDial. Under the initiative, tweets of Prime Minister Modi, as also that of seven state chief ministers and some government departments such as Bengaluru police, can now reach mobile users free of cost through SMSes.
Everyday tweets will be delivered from the government's and leaders' accounts as an SMS to mobile users, which include even those without data plans. Users can register for the service by giving a missed call to a unique number.
"Twitter Samvad can also be used during emergency, with the ability to deliver live updates by government bodies, including time-sensitive information such as law and order situations, as well as details about any rescue efforts," he said.
Costolo elaborated on the utility of the service by citing an example from Japan, where Twitter was used to reach people during a natural catastrophe.
"The ability to reach people through this initiative, especially in far-flung areas, is a big milestone for Twitter," said Costolo. He added that such initiatives being pioneered in India will also be leveraged in Twitter's other markets.
"We are kind of a switchboard to India, with a set of links to great content, which is a great way to introduce users to the world of internet," he added.
However, for Twitter's other services such as video advertising and live broadcast to catch up in India, a higher bandwidth will be needed.
"The beauty of the opportunity in India is the speed and volume at which users are flocking to mobile internet," he said.
Costolo added that though internet connectivity is consistently improving in the country, 4G and LTE will only accelerate the adoption of mobile internet.
The chief executive officer also applauded the Supreme Court's decision to scrap Section 66A of the Information Technology Act and said Twitter has invested heavily in 'respecting and defending the voices of our user's across the world' and it would also make it harder for any abuse to take place on its platform.
During his short interaction with a group of select journalists that lasted about an hour, Costolo also provided a glimpse of what is in store for the micro blogging site.
He said going forward, people will be able to connect more directly with their followers and be able to "live broadcast" what they are doing at that moment.
"With the kind and variety of content growing, it is going to be important for us to organize content around topics, events and places, and present those to users in a curated way."
He added that the process might require both algorithms as well as manual supervision.
In 2014, the company reported $1,403 million in revenues, a growth of 111 per cent over the previous year. While the company's revenues are steadily growing, experts feel the company's user base might be stagnating.
The Samvad initiative is likely to help the firm tide over this problem.
Image: Twitter CEO Dick Costolo calls on Prime Minister Narendra Modi in New Delhi; Photograph: Kind courtesy, Press Information Bureau