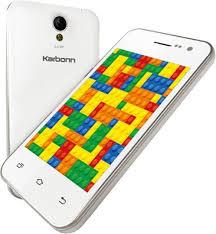 With the battle for dominance in the Indian mobile phone market getting fiercer by the day, in the run-up to the festival season ahead, home-grown mobile phone maker Karbonn Mobiles is set to significantly expand its product bouquet.

The Bengaluru-based company, which, according to various estimates holds the third position in the smartphone segment in India, expects to launch a few handsets at the price point of Rs 15,000-20,000, a segment where it does not have a presence at the moment.

Besides, the firm is planning to launch handsets with display of 5.5 and 6 inches.

In the tablet segment, Karbonn plans to introduce models with a display of up to 10 inches.

At present, it has two tablet models in the 7-inch category.

However, the company believes the biggest driver of growth in the festive season would be Google Android One phones, which it plans to launch by the end of September.

The phone will have a 4.5-inch display screen and it is expected to come at a price point of Rs 6,000-7,000, said Sudhir Hasija, chairman of Karbonn Mobiles.

"Usually, we see around 20 per cent of uptick in sales during Diwali.

"However, this Diwali is quite special for us since our Google Android One phones would have hit the market by then," he said.

"We have high expectations on this phone and the whole industry is waiting for it," he added.

According to various estimates, Karbonn mobile holds the clear No 3 position in the smartphone segment in India whereas in the overall mobile phone market (including the feature phones),
its rank hovers between four and five.
In its latest data for the April-June period of calendar year 2014, research firm IDC said although Karbonn with an eight per cent market share occupied the No 4 place in the smartphone market in India, it is closely followed by Lava, another home-grown brand.
Lava had a share of six per cent in the smartphone market during this period.
"This brand (Lava) is within the striking distance from Karbonn and it will not be a surprise if Lava topples Karbonn to clinch the third spot in the smartphone category in the coming quarters," IDC said in a statement.
Hasija said that while the company is looking at improving its market share, the competitors are also quite aggressive.
"In this business, one thing I have learnt that if I launch one killer product in a quarter, it changes the whole nature of the game. But we are looking forward to strengthening our retail network as well as servicing capabilities quite rapidly in coming months."
By March 2015, Karbonn Mobile wants to increase the number of its retailers to 100,000 from 85,000 at present, apart from opening new servicing centres in all cities and towns.
At present, the company has about 1,800 services centres including the company-owned ones as well as those run by franchises.
Karbonn Mobiles sells 2.4 million handsets a month. In FY15, the company also expects to clock a revenue of at least Rs 7,000 crore (Rs 70 billion), against Rs 4,500 crore (Rs 45 billion) it reported in FY14.