At least two of them - Lava and Micromax - are arming themselves against the Chinese rivals which made them insignificant in the local market over the past few years.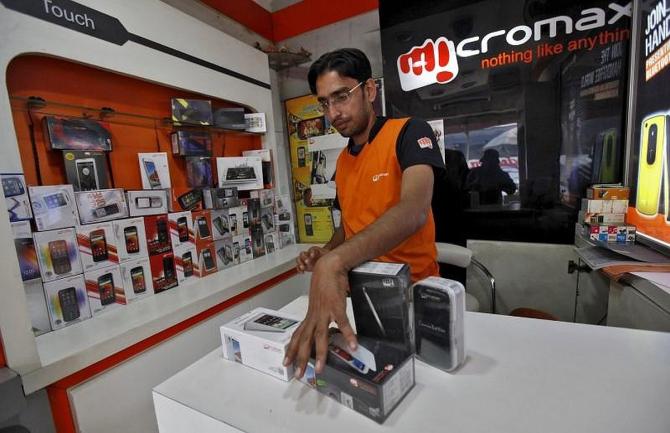 After languishing for long, Indian smartphone majors are gearing up to fight back.
At least two of them - Lava and Micromax - are arming themselves against the Chinese rivals which made them insignificant in the local market over the past few years.
Noida-headquartered Lava International, for instance, has scripted a comprehensive plan for a comeback.
Expansion of the local manufacturing base to strengthening distribution and R&D, new product line-up to global tie-ups for exports, the company wants to do it all.
According to Sanjeev Agarwal, chief manufacturing officer, Lava International, the company will scale up the capacities and increase the international business through the PLI (production-linked incentive) scheme announced by the Union government.
"It will help in creating world champions from India,'' Agarwal said.
The investment is expected to result in employment opportunities across the ecosystem.
He pointed out that it would be a good tool towards the company's Atmanirbhar Bharat journey.
To meet the PLI scheme's stated objective of exporting 60 per cent of the smartphones produced in the next five years, Lava is banking on tie-ups with global telecom and electronics majors.
While it is already in talks with leading firms from the US, search is on for tieups similar to what it had with GE in 2019, a source said.
The new line-up before Diwali is perhaps the first big step for Lava.
The refreshed portfolio will initially include close to half a dozen devices to cater to a range of consumer segments.
"The new range will start from entry-level handsets and will include the first designed in India smartphone," a person privy to the development said.
While Lava is conducting a design competition for some of the top engineering institutes like the Indian Institute of Technology and Massachusetts Institute of Technology before it can set up a new team of design engineers, Micromax is going all out on the anti-China sentiment.
Through its new brand identity, In, Micromax plans to lure younger consumers passionate about mobile gaming and social media content creation.
At the centre of it is the India theme.
The firm, which back in 2014 had cornered a 20 per cent share of the local smartphone market, was routed by the Chinese influx by 2018.
But now with its Rs 500-crore investment plan approved under the PLI scheme, Micromax co-founder Rahul Sharma wants to capitalise on the 2 million handsets a month capacity that its two plants have.
Along side, Micromax is working on strengthening its already retail and distribution network.
Currently it has a retail presence of more than 10,000 outlets and over 1,000 service centres.
Under the new brand, its re-entry into the market will take place in two price segments - between Rs 7,000-10,000 and Rs 20,000-30,000.
According to Navkendar Singh, research director at IDC, it is a right move.
"By avoiding the largest price segment - Rs 10,000-20,000 - Micromax has shown prudence in its decision making.
"It is also the most competitive segment, where Chinese firms are spending big bucks, which is difficult for an Indian player to match at the moment," he said.
The two brands still have a residual value in certain segments but making a comeback by grabbing market share from the current market leaders will be a tough task, Singh pointed out.
"They need to commit for the long haul as gaining even 10 percent share within a year won't be easy," he said.
The other two of the 'big four' Indian handset brands - Intex and Karbonn - continue to lag in their effort, said analysts.
Having moved out of the smartphone market, Intex is now focused on feature phones, apart from speakers, washing machines and refrigerators.
While Karbonn (along and its sister brand Gionee) remains a fringe player, it's managed to hold the post in the feature phone market.
In April-June quarter, it stood at the fifth position with 5 per cent share - behind Itel (24 per cent), Lava (23 per cent), Samsung (22 per cent) and Nokia (9 per cent).
Jaina India, the firm that owns the Karbonn brand, however, showed signs of financial distress recently.
According to ICRA, its revenue stood around Rs 1,225 crore for 2018-19 - much lower than Rs 8,000 crore it had posted during its heydays in 2014-15.
ICRA's negative outlook for the firm was based on the significant drop in profits and deterioration in debt coverage indicators in 2018-19 on the back of intense competition in the Indian handset market, and consequent decline in the sale of Karbonn products.
"Further, the Jaina Group has diversified by signing brand licence agreements for Sansui and Nakamichi, which is expected to increase its presence in the consumer durables and audio equipment.
"However, its ability to profitably ramp-up sales in these new product categories is yet to be demonstrated," it noted.
According to Faisal Kawoosa, lead analyst at TechArc, both Intex and Karbonn are practically non-existent in the smartphone market.
"While Lava and Micromax are at least trying for a comeback, it will not be easy for them to find consumers in large numbers.
"They have taken the supply-side route for the comeback, but given the dominance of Chinese brands and Samsung, selling those devices could be a tough task," he said.
Photograph: Rupak De Chowdhuri/Reuters