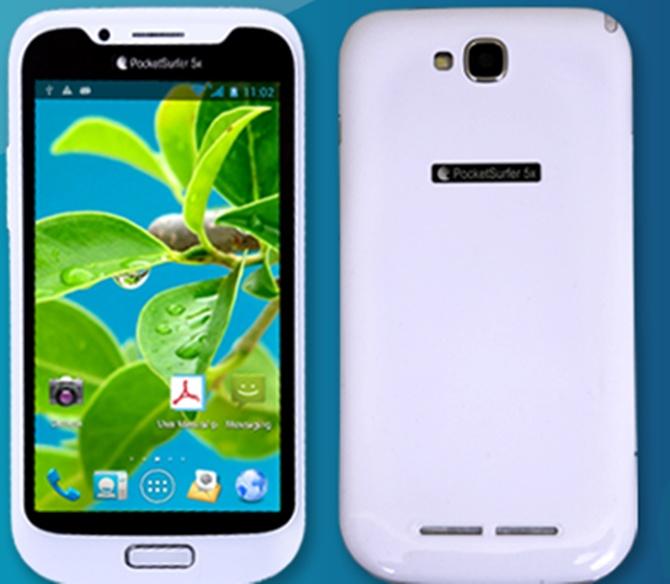 Aakash tablet maker Datawind on launched its entry level 2G and 3G mobile handsets, priced in range of Rs 1,999-Rs 5,499, offering free data plan under a tie-up with RCom.
The PocketSurfer 2G4 is a 3.5-inch, Dual SIM, EDGE network compatible smartphone priced at Rs 1,999, while PocketSurfer 3G4 is a 4-inch, dual SIM, dual camera, 3G network compatible smartphone, priced at Rs 2,999.
The 5-inch PocketSurfer 3G5 smartphone, priced at Rs 5,499, has been upgraded to include a year of free web browsing.
The new range of smartphones are powered with free unlimited Internet browsing for a year on Reliance Communications (RCoM) network, Datawind President and CEO Suneet Singh Tuli told PTI.
"The feature phone market is about 150 million units a year. So, if we can convert even 3 per cent of this, which is around 45-50 lakh units, it would be okay. The target that we have set is to sell 50 lakh units in next 12 months and are targeting tier II and III cities," he added.
By the end of this month, the handsets will be available at 3,600 retail points and by next quarter, the company will double the number of retail outlets, he added.
As per recent industry reports, over 1.3 crore feature phones are purchased in India each month at price points below Rs 3,000.
The tablet-maker sells nearly 50,000 tablets (UBI Slate) in a month. In a commitment to 'Make in India' campaign, Tuli said: "We are pledging to ship 90 per cent of our manufacturing to India within 90 days."
The firm is in discussions with contract manufacturers in India. At present, the company manufactures its devices in China, he added. Datawind hopes to generate around 1,000 direct and indirect jobs in next one year in India, Tuli said.
The company has chosen tele-shopping networks and physical retail to sell the products, as Tuli feels such networks cover 80 per cent of India, while e-commerce covers just around 3 per cent.
"Not only are PocketSurfer smartphones priced competitively against regular feature phones, but a year's free bundled web browsing delivers more value than even the cost of the phone," Tuli said.
With this launch, Datawind is targeting tier II and III cities of India. The products will be available on Naaptol's TV, print and online shopping platforms starting today and from March 24, they will be available at Sangeetha Mobiles, Spice Hotspot Retail and other key modern trade and retail partners.