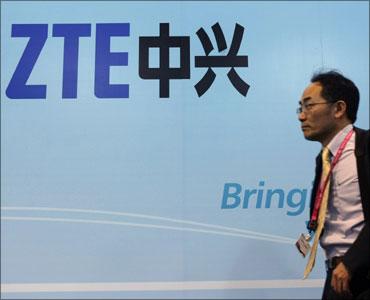 India on Thursday sought clarifications and additional information from leading Chinese telecom manufacturing firm ZTE on the issue of security clearance to their equipment.
A team of ZTE officials, one of the Chinese telecom equipment manufacturers whose equipment had caused concerns of Indian security apparatus, on Thursday met Home Secretary G K Pillai.
"Representatives of ZTE met the Union Home Secretary today and the issue relating to the security clearance for their products were discussed. The Union Home Secretary sought some clarifications and some additional information. The moment we receive the clarifications, we will process the matter," a Home Ministry spokesperson said.
"We had a meeting. Talks are going on. We have appealed to the government. We have put forward our thoughts. Let's see." D K Ghosh, ZTE India head, said after the meeting which lasted for about half an hour.
"The talks were held in a positive environment" he said when asked whether he was happy with the talks.
ZTE and Huwaei Technologies are the two Chinese telecom companies whose equipment have evoked security concerns in India.
Later in the day Chinese Ambassador to India Zhang Yan also met Pillai.
Emerging from the nearly 45-minute meeting, Zhang said, "We had a very good discussion. It was a positive meeting. I hope all relevant issues will be resolved."
Pillai had said three days ago that India's norms for foreign telecom companies for doing business in the country were not loaded against China and every proposal is decided on case-by-case basis.
BSNL's tender for GSM worth Rs 36,000 crore (Rs 360 billion) allegedly did not get sanction from the Prime Minister's Office six months ago following an alert from security agencies against the participation of Chinese companies, official sources said.
The meeting between Zhang and Pillai also assumes significance in the backdrop of Environment Minister Jairam Ramesh's comments in Bejing that Indian government was being 'alarmist' and 'paranoid' in its approach towards entry of Chinese companies in India.
ZTE, a Chinese telecom equipment manufacturing company has a factory and research centre in Manesar, Gurgaon, which manufactures wide range of CDMA, GSM mobile sets and other telecom components. Huwaei has a R & D centre in Bangalore and are planning a manufacturing unit in India.