Infosys has dismissed 10 other employees who were involved in the financial irregularities.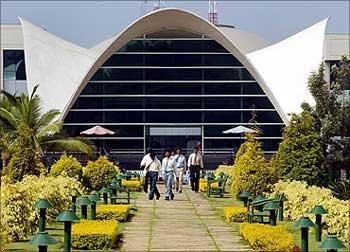 Infosys, India's second largest information technology (IT) services company, is likely to book an impact of less than $1 million (Rs 6 crore) due to the financial irregularities in the accounts of its business process outsourcing (BPO) arm, which led to the dismissal of the unit's chief financial officer, Abraham Mathews earlier this week.
According to highly-placed sources, the incident involved Apple Inc, one of Infosys' largest customers. It was immediately brought to the notice of the client by an internal audit team, and the overbilled amount will either be refunded or adjusted.
The incident had been identified almost one and a half months ago.
The fraud that led to the exit of two senior executives and several mid-level employees at Infosys BPO occurred when some staff members of the unit overbilled Apple with the motive of exceeding their revenue targets and getting hefty incentives, sources privy to the information said.
The overbilling continued for several months before senior executives took note.
Beside Mathews, Infosys has also dismissed around 10 other employees who were involved.

Gautam Thakkar, the chief executive officer of Infosys BPO, resigned after taking moral responsibility for the fraud.

"The investigations were completed this month, and it was found that the CFO of the BPO unit did not have effective control on the finances," sources said. Infosys declined to share the name of the client involved in this fraud.
"The financial irregularities are not material in nature and the company has already made required disclosures. The company has taken disciplinary action against employees," Infosys said in a reply to a detailed questionnaire.
An email query to Apple on Wednesday did not elicit a response till late Thursday. Apple is one of the top 10 clients of Infosys, and gives the Bengaluru-based company annualised revenues of about $200 million, according to experts.
The consumer electronics giant sources IT and BPO services from Infosys. The BPO engagement is said to be fetching $15-20 million per annum at the moment.
Infosys BPO is the largest wholly-owned subsidiary of Infosys. In 2013-14, it reported a revenue of Rs 3,278 crore (Rs 32.78 billion) and net profit of Rs 578 crore (Rs 5.78 billion).