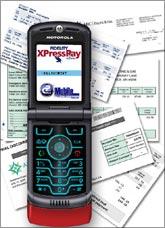 A Delhi consumer forum has asked telecom operator Idea Cellular Ltd to pay Rs 10,000 to a person as compensation for giving a bill inflated by Rs 3.50.
"It is clearly a case where the respondent (telecom operator) is guilty of deficiency in service/unfair trade practice," South Delhi Consumer Disputes Redressal forum presided by S K Tandon said.
The company also held the mobile company liable for generating the bill a week before the due date.
Allowing the complaint of Mohd Rashid Ansari who had purchased a mobile connection in April, 2004, the forum said the act of the company caused "mental agony and harassment" to him.
The complaint, filed through advocate Falak Mohd Meo, alleged the company raised the bill on April 10, 2005 instead of April 17.
Not only that, the due amount of Rs 26.25 was being inflated by Rs 3.50 by the telecom operator, the forum said.
On being objected to, the company, which had charged Rs 1,400 as rental for two years from Ansari, did not rectify the mistake and disconnected the mobile service, the complaint alleged.