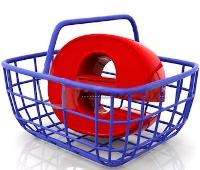 The recent news about deals site Taggle.com having shut shop evoked a sense of deja vu among skeptics, who started fearing another information technology bubble burst.

But market watchers, players and investors feel the e-commerce sector has yet to reach the pinnacle.

For them, the party is far from over.

Earlier this month, e-commerce site Taggle.com, which started in June 2010 with an initial funding of $1 million, folded operations, stating 'fierce competition' in the market.

The news created a ripple in the e-commerce space, raising a big question mark on its future.

But not all are pessimistic.

In any case, Taggle doesn't singularly represent the whole industry, notes Internet and Mobile Association of India.

"When a new sector emerges, there are winners and losers. But to judge the whole sector by the losers and say it is heading towards slowdown and closure, is wrong," points out Subho Ray, its president.

With 360 e-commerce sites operational in the country and 10 million visitors making a trip to these virtual shopping bazaars, analysts feel there could be a shakedown eventually, but the sector will not go burst.

Incidentally, the social networking business also started with a boom, with a number of local social platforms mushrooming on the cyber space.

Finally, a few big players could survive the competition.

Myntra.com points out that consolidation 'is true' for all sectors.

"We will see some consolidation in the daily deals sites in the next 12 months," says Mukesh Bansal, CEO of the e-commerce site.

He, however, is hopeful that the overall segment will continue to grow. Myntra.com, which started four years ago, has a million of users now.

"Giving daily discounts is difficult," the site's boss notes.

"Once you start giving heavy discounts, your users will expect you to do so the next time. It is not possible
to give deep discounts every time."
Chimes in Gaurav Kachru, CEO of daily deals site Deals and You: "This is a growing space; there is room for everyone.
"The daily deal sites have their own purpose and target audience. The category is growing very fast.
"In the last couple of months, look at the kind of investment this category has received."
Moreover, the e-commerce sector is giving rise to a new system of vendors, merchants, logistics and others.
For example, to address the challenges of cash on delivery, there are new players such as 'Ghar Pe' coming up.
Pearl Uppal from Fashion and You, which offers heavy discount on branded products, says her private shopping site is not giving discounts by eroding our margins or burning investors' money.
"We are operating on healthy margins.
"It all depends on one's ability to source distressed inventory."
Further, the industry is still very nascent.
"What we are seeing is just the tip of the ice-berg."
Sure, the industry is also not free from challenges.
"There are logistic issues," notes Amurto Basuray of
Babeez.com
.
"People in India are still not comfortable using credit cards, so we have to offer cash-on-delivery. There are limited numbers of cities where courier companies offer this service."
According to
Dataquest
, atleast 360 e-commerce portals offer services in India.
"The number of sites have now tripled from about 120 in 2010," says Shyamanuja Das, editor of the magazine.
"Every day, we get to hear about an e-commerce sites coming up, but we are yet to hear about considerable number of sites shutting down, to qualify it as a trend."
Venture capital firm Helion Advisors says there is 'some degree of frothiness' in the way e-commerce companies are getting valued.
But it's not the same gold rush now as was the case in 1999 or 2000, notes Sanjeev Aggarawal, its senior managing director.
"This time, the fundamentals are much stronger; e-commerce is for real. It's lot more sustainable now," he adds.
The current size of the e-commerce market in India is about $10 billion, according to IAMAI.