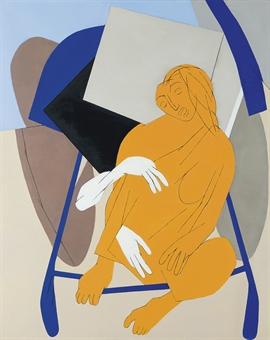 Christie's second art auction in the country saw 78 works by Indian artists fetching a total of Rs 75.27 crore (Rs 752 million), including a whopping Rs 17.54 crore (Rs 175 million) paid for a canvas by Tyeb Mehta, leading the global house to promise a return to the country next year as well.
"This has been a fabulous sale and we have been able to tap a lot of interest from buyers for the prized lots from the online medium...we are looking forward to the next year's auction," an official at Christie's told reporters late last night after the conclusion of its second India auction.
At the auction, an untitled work of Mehta depicting a falling bull got sold for Rs 17.54 crore, including the hammer price of Rs 15 crore (Rs 150 million) and a buyer's premium, which was much above the Rs 12 crore at the upper band which the house was expecting.
A New York-based buyer bought the work through an online bid, ending what was initially rapid-fire bidding which turned into a battle of nerves in longish pauses towards the end, till the clinching bid.
The total sale at the evening was Rs 75.27 crore, which is lower than last year's sale, but Christie's said it was far better than the Rs 42-57 crore (Rs 420-570 million) that it had expected from the sale.
An official explained that at the maiden India auction last year - which saw a work by V S Gaitonde getting sold at Rs 28 crore, the highest ever fetched by an Indian artist - the presence of a rich collection in the lots resulted in higher bids, while this year, the house picked from various collectors.
The house also raised Rs two crore towards the charity Khoj International Artists' Association, through the sale of ten lots of renowned painters.
The items on auction included paintings, sculptures and also Rabindranath Tagore's pocket book, which has 270 leaves of manuscript notes, poems, songs, calculations, doodles and drawings, and got sold for Rs 1.7 crore (hammer price).
Other works which fetched high hammer prices included Francis Newton Souza's untitled work depicting Indian family which got sold for Rs 7.5 crore (Rs 750 million), Tyeb Mehta's oil on canvas 'Girl in Love' for Rs 3.6 crore (Rs 36 million) and Syed Haider Raza's 'Les Toits de la rue St Jacques' painted in Paris for Rs 3.8 crore.
An untitled abstract from Gaitonde went under the hammer for Rs 5.5 crore (Rs 55 million) at the auction.
According to Christie's, five records were made during the auction, including highest bids for individual artists.
In all, there were 225 registered bidders at the auction, including 110 in a room at the iconic Taj Mahal Hotel, while others were placing their bids using phone lines and online medium.
Mehta, who passed away in 2009, was a part of the celebrated Bombay Progressive Artists' Group, which included greats like F N Souza, S H Raza and M F Husain.
Christie's has been selling Indian art since its inception, with founder James Christie offering four Indian pictures painted on glass at the inaugural auction way back in 1766.
Christie's opened an office in India in 1994 and, a year later held its first stand-alone Indian art sale in London.
In 2002, one of Tyeb Mehta's paintings was auctioned for Rs 8 crore, the highest price fetched by an Indian painting at a global auction till then.
This year's auction also includes significant works and items by some of the country's designated 'national treasure artists', which are considered of such importance to the cultural development of the country that they cannot leave the country.
Christie's, present in 32 countries, is the only international art auction house to conduct annual sales in India.
Image: A Tayab Mehta canvas.
Photograph: Courtesy, Christie