TaxiForSure is also looking to venture into foreign soil and might enter markets such as southeast Asia and West Asia in the next few months.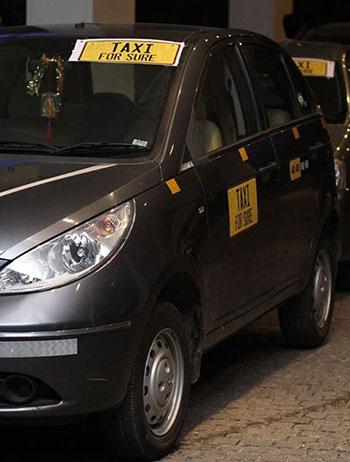 Talks with PE and hedge funds in advanced stage; also plans to enter Southeast Asia and West Asia markets App-based taxi aggregator TaxiForSure is set to raise $100 million (around Rs 600 crore) to expand to 100 cities within a year.
The company is in talks with investors and the deal could be closed in a few weeks. At present, it operates in 37 cities in India.
"We want to grow the demand 10 times, the supplies six times and the number of cities three times within a year.
"We would need funds to feed plans and are looking to raise $70-100 million," Aprameya Radhakrishna, co-founder and director, TaxiForSure, told Business Standard.
TaxiForSure is also looking to venture into foreign soil and might enter markets such as southeast Asia and West Asia in the next few months.
"Foreign expansion is sort of an experiment.
"We are looking into it, but most of the latest funds would be used for our domestic expansion and spend on technology and marketing," said Radhakrishna.
Markets such as Bangkok, Sri Lanka, Bangladesh and Dubai are on the company's radar.
Among the potential investors that the company is in talks with are private equity and hedge funds.
Accel Partners, Helion Ventures and Bessemer Venture Partners are key investors in the firm.
While the last fund infusion by Accel Partners was not disclosed, it is learnt the company had raised $35-50 million from US-based venture capital fund.
Launched in Bengaluru in June 2011, TaxiForSure does not own any cars and it is operating with about 15,000 operators.
"We have seen 50 per cent growth on a month-on-month basis and at times the demand is so high that we have to cut down on half the requests," Radhakrishna said, adding that the company has facilitated about five million rides since its inception of the company.
On the recent controversy related to consumer safety in the wake of a driver of Uber, another app-based taxi aggregator, allegedly raped a traveller, Radhakrishna said his company would place greater thrust on customer safety.
"We are fully compliant with the regulations required to ply in different states.
"We are also working to improve the consumer safety aspect because we are here for the long run," he added.
According to filings with the Registrar of the Companies under the Ministry of Corporate Affairs, TaxiForSure has widened its loss.
Serendipity Infolabs, the holding company for TaxiForSure, reported a loss of Rs 17 crore (Rs 170 million) for 2013-14, compared with a profit of Rs 3 crore (Rs 30 million) in the previous year.
However, most companies operating in this sector are in the red as the market is still evolving.
India's taxi service market comprises 600,000 cabs and has annual revenues of about Rs 11,000 crore (Rs 110 billion).
According to Valoriser Consultants, the sector has been growing at the rate of 20 per cent a year.
THE JOURNEY THUS FAR
TaxiForSure was launched in Bengaluru in June 2011
The taxi aggregator does not own any cars and operates in 37 Indian cities
Accel Partners, Helion Ventures and Bessemer Venture Partners are key investors in the firm
It is operating with about 15,000 operators
According to filings with the Registrar of the Companies under the Ministry of Corporate Affairs, TaxiForSure has widened its loss
Serendipity Infolabs, its holding company, reported a loss of Rs 17 cr for 2013-14, compared with a profit of Rs 3 cr in the previous year