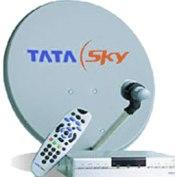 There is a new pecking order in the world of DTH (direct-to-home) services. Sun Direct has replaced Tata Sky as the number two after Dish TV with 5.3 million subscribers. But this doesn't seem to bother Tata Sky too much.
The company says it is no longer focused on volumes alone; it wants to focus also on the quality of customers and maximise revenues from them.
For an industry mired in losses of almost Rs 5,000 crore (Rs 50 billion) , this could blaze a new trail. As Tata Sky has a quarter of the 20 million DTH customers in the country, sector experts believe it carries a quarter of the industry's losses on its books.
The closely-held company, which is a venture of the Tata Group and STAR and started operations in 2006, does not disclose its profit and loss.
All operators give a subsidy on the set-top box. The DTH volumes are still small to justify local production of set-top boxes. So they have to be imported. The larger your base of customers, the larger will be your losses. This is what Tata Sky wants to plug.
"We will never sacrifice volume share completely for value share. But we believe that a sustainable business model will come from adequate share in value terms and not from volume for volume's sake," says Tata Sky CEO Vikram Kaushik. "Every one started talking of how many million connections one had. That, multiplied by the amount of loss per box, will prove lethal!"
Numbers count
Vivek Couto, the founder of Media Partners Asia, a Hong Kong-based media research agency which tracks the DTH industry in India, reckons that any operator has to acquire 5 to 6 million subscribers, who should each pay Rs 300 a month, to break even. Tata Sky could be almost there.
It hit the 5-million customer mark on March 25. While Kaushik does not give absolute numbers, he says his average revenue per user (ARPU) is double of its publicly-quoted rival (Dish TV). For the quarter ended December 31, 2009, Dish TV had disclosed an ARPU of Rs 135 a month. This puts Tata Sky's ARPU at Rs 270 a month. (It could result in cash flows of Rs 135 crore a month!)
Sun Direct Chief Operating Officer Tony D'Silva argues what matters is not gross ARPU but net ARPU - what is left after paying the broadcasters for channels. "That is why our margins remain low. When we claim an ARPU of Rs 99 to 105 a month, we give just the subscription revenues." So, a high ARPU is meaningless if the channels are priced high.
Where everybody agrees is that DTH ARPUs, like in telecom, are low in India. The industry average is around $3 (Rs 135 to 140). In contrast, Malaysia has an ARPU of $25, Australia $60, the US $70 and UK $90. So, there could be an upside to the business.
At the end of the day, DTH is a subscription-based business. Long-term health will depend on subscription renewals. "You have to have a healthy relationship with the subscriber, where he should place adequate value to what you offer and he should be willing to pay you," says Kaushik.
"If he continues to seek only the cheapest product available, then he is not the kind of subscriber to give you that value. In fact, it is a dangerous subscriber to acquire because he might churn out."
Willing to pay?
Tata Sky thus wants customers who are willing to pay a small premium for more value. It has put in place a segmented strategy with products, services and features aimed at different segments, skewed of course towards the quality-conscious subscriber.
Kaushik claims that two-thirds of all Tata Sky customers are from socio-economic category A, and another one-third are from B plus.
It first launched a set-top box with a recorder called Tata Sky Plus in 2008. After initial sluggishness, volumes have now begun to pick up. Tata Sky Chief Marketing Officer Vikram Mehra says that as many as 10 per cent of Tata Sky's new customers opt for Tata Sky Plus. This has helped the company drop Tata Sky Plus prices to Rs 5,999. But rivals may soon launch a similar product.
The company is betting on its value-added services as another glue for the value-conscious subscriber. It is the only operator which charges for all its interactive services since its launch in 2006.
Most players provide these for free with the exception of movies on demand. Says Dish TV Chief Operating Officer Salil Kapoor:
"The DTH industry is still at an early stage for value-added services. Users need to get into the habit of using services through their TVs; hence, our suite is for free."
Teams from both Tata Sky and its partners develop the content after sounding concepts out with various consumer panels. Educational services for children have been popular on Tata Sky. Subscribers who use this service have been found to spend 66 minutes on it per day, according to a study by GFK-Mode.
An insight revealed that parents wanted their children to learn something out of the themes that they were fond of watching on TV, such as cartoons on Disney and Turner. Tata Sky roped in the same brands to deliver content.
Apart from nursery rhymes, mathematics and general knowledge, there are also craft lessons from Pogo, for instance. This service has found, says Mehra, 500,000 takers.
It was another such insight that led to the latest service that teaches English. A large number of housewives felt their lack of confidence in speaking the language hampered their interactions with their children.
The mothers did not want to enroll in a course as that would let the cat out of the bag; they were happy to learn in the confines of their bedroom. Research also showed that a full course could create tension with the husband who would keep a tab on the wife's progress.
So, the content, which has been developed with the British Council, offers tips on how to speak English. The content is new every day. Mehra claims that 100,000 people have signed up for the service and another 1,500 or so are joining every day.
Both the services have been priced at Rs 30 a month. Others such as the one on cooking are bundled at a slight premium. GFK-Mode recently surveyed over 6,500 users to find out the usage of interactive applications on the Tata Sky platform.
It found that on average, a household watches television for 180 minutes, of which 34 are spent on the value-added services. "No single channel can claim that viewing time on a daily basis," says Mehra.
It is obvious that Tata Sky is spending a good amount of money on the content, either through one-time payments or shared revenues. So, does it make money on these services? This is important because it could launch more such services in the future. "We have started making money on the interactive services," says Mehra.
That customers have begun to move up the value chain also shows, claims Mehra, in the market for movie on demand. "We are the only player who can claim more than 2 million purchases in our three years of operation. Movie after movie, we realise that any movie which is released on Tata Sky has a much bigger buy-rate than other platforms," says he.
Kaminey in 2009 saw 78,000 hits on Tata Sky, which an industry observer said was significantly higher than other platforms. Slumdog Millionnaire, which was exclusively available on the platform for four days before others could air it, got around 150,000 hits. Tata Sky has also stopped giving free subscription to customers. Many rivals give a few months' subscription free with every connection.
Movies, interactive services and a programming guide in Hindi, Tata Sky believes, have widened its base beyond the larger cities. Since 2009, it has been getting more than 50 per cent of its volumes from outside the 50 top cities. "Bad quality theatres in small towns have made our paid movie service popular with the value-conscious consumers there," says Mehra.
Stiff competition
But is it good enough? Will these services help Tata Sky acquire and retain customers? The competition in the market place is severe. Apart from Dish TV and Sun Direct, there are Airtel Bharti DTH, Videocon d2h and Reliance BigTV competing for the pie.
Dish TV is the market leader with its own suite of value-added services, Sun Direct is a price warrior with a strong brand equity in the South, and Airtel is riding its leadership in the telecom space to expand. Videocon d2h is trying something new by bundling the set-top box in the television. It is banking on its strengths in television manufacturing and distribution.
Like Airtel, Tata Sky wants to leverage the distribution of Tata Teleservices to reach its hardware and recharge coupons to customers. Tata Sky also has more than 1,500 exclusive franchise outlets with a service called BOB, or boy on bicycle, for home deliveries.
The company spent almost six months to get it right to fine tune the scheme because it wanted it to be profitable for the boys who are hired by its franchisees.
Fine-tuning its customer service is a must if the company wants sticky price-agnostic customers. Tata Sky has three different call centres at Pune, Mohali and Hyderabad with almost 1,300 people. Doesn't it make more sense to have a single call centre because efficiencies would be better?
"We intentionally went with different regions because we didn't want a Punjabi speaking in a Marathi accent or vice versa," says Kaushik. "Typically, TV is consumed by the elderly or housewives who are more comfortable in their own dialect rather than English. This makes the consumer comfortable."
According to Tata Sky,  Nielsen has said that customer satisfaction is higher for it than any other company in DTH. But that was in 2007. Rivals surely have gotten wiser since then. For example, Dish TV knows the value of retaining subscribers rather than just acquiring new ones.
"For every acquisition, we have a retention scheme. Over the last one year, we have had four different recharge offers for our existing consumers such as giving away Rs 300 worth of content free for every recharge of Rs 300. There would be no point in acquiring subscribers if we can't hold our existing flock together," says Kapoor of Dish TV. He should know because Dish TV remains the largest player with over 6.8 million subscribers.
For Tata Sky, Mehra claims, ease of recharge is a differentiator. "We were the first to start a pre-paid service. As we speak, only 15 per cent of our recharges are actually vouchers that you have to buy from a shop; 85 per cent of it happens over SMS, the web or call centres which are even equipped with voice-recognition software. These are convenient options for the customers. We have customised our services to the way our subscribers want them," he adds.
"We are also very serious about tracking customer service. Every Monday morning, people report to me what is the percentage of field repairs that were addressed within 24, 48 and 72 hours. What is the percentage of installations," says Kaushik.
"Last week, we made more than 82 per cent of installations within 24 hours anywhere in the country," he adds. Will Tata Sky's bet on value-added services for higher paying consumers pay off or is it barking up the wrong tree?