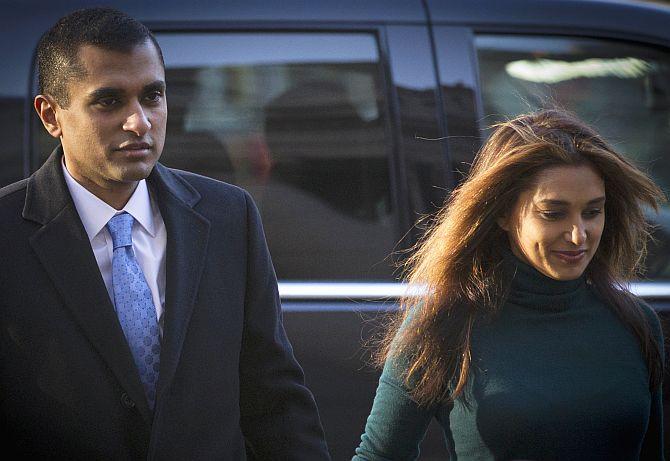 An Indian-origin portfolio manager, sentenced to nine years on insider trading charges, won his bid to delay his surrender to prison next week until an appellate panel decides on his motion to remain free on bail pending appeal of his conviction.
Mathew Martoma, 40, was sentenced in federal court in October by US District Judge Paul Gardephe for his role as the "central figure" in the most lucrative insider trading scheme ever charged involving $275 million in illegal profits and avoided losses.
Martoma was also ordered to forfeit a $9.3 million bonus he earned through the insider trading as well as his interests in his Florida home and several bank accounts.
Martoma was ordered to surrender to prison on November 10 and had last month moved court for bail pending appeal saying his appeal will raise "several other close questions including that evidence was improperly excluded and his sentence was both procedurally and substantively unreasonable."
The US Court of Appeals in an order yesterday said Martoma's motion for bail pending appeal is reffered to a three-judge motions panel and would be heard as soon as possible.
The appeals court granted Martoma's request to extend his November 10 surrender date until an appellate panel hears and decides on his motion for bail pending appeal.
Martoma had filed an emergency motion for bail pending appeal and had sought to extend his surrender date until his bail motion can be heard and decided by the appeals court.
Last month, Gardephe had denied Martoma's appeal to stay free on bail while he appeals his conviction and to delay his surrender date to prison, ruling that evidence of his guilt is "overwhelming" and his argument of error at trial is not persuasive.
"None of Martoma's arguments regarding the sufficiency of the evidence or legal error at trial are persuasive," the judge had said adding that Martoma has not articulated any basis for finding that his sentence was procedurally or substantively unreasonable.
Martoma's prison sentence, among the longest handed down for insider trading, was in line with what Manhattan's India-born top federal prosecutor Preet Bharara had sought ahead of the hearing.
Martoma, a portfolio manager of CR Intrinsic Investors, a division of hedge fund behemoth SAC Capital, was convicted in February this year for collecting confidential information about a high-profile Alzheimer's drug trial from two doctors and making profits and avoiding losses of $275 million for SAC Capital.
Martoma, who had changed his name from Ajai Mathew Thomas, was also sentenced to three years of supervised release following the completion of his sentence.
Image: Mathew Martoma and his wife Rosemary
Photograph: Reuters