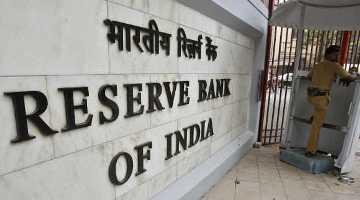 The Reserve Bank of India cut interest rates on Thursday by 25 basis points to 7.75 per cent in a surprise inter-meeting cut, yielding to signs of slowing inflation, while acknowledging the government's efforts to contain the fiscal deficit.
In a statement, the RBI cited lower-than-expected inflation, weak crude prices and weak demand, as well as the government's commitment to sticking to a fiscal deficit target as reasons for the cut.
COMMENTARY
NR Bhanumurthy, economist, National Institute of Public Finance and Policy, New Delhi
"This is a surprise move in the middle of the war on inflation. This will only create more demand, but not really help on the credit uptake.
"I am very surprised because it goes against the whole current governor's philosophy that monetary policy should be predictable.
"It shows the governor is very pragmatic and can look at his own position and can change.
"I don't think it will have too much impact because investment is not dependent on interest rates alone.
"The banking sector is not ready for revival because they are not well positioned.
"It is banks' balance sheets that need to be cleaned up first.
"We need bank capitalization in the current budget, otherwise business lending will not pick up.
"I don't think it will be transmitted to the consumers at the moment.
"It will lead to a reduction in the deposit rate. I don't think the banking sector will pass on the benefits by reducing the lending rate.
"I think they will first reduce the deposit rate because they need to clean up their own books first."
Shakti Satapathy, fixed income strategist, AK Capital, Mumbai
"The cut was a bit early surprise although mostly in line with the policy easing tone mentioned by the central bank in its fifth bi-monthly policy.
"Largely, the falling crude, moderating demand pool inflationary forces and reform pro-activeness by the centre have led to this cut.
"With the budget round the corner, the central bank pro 25 basis points cut reflects a cautious ease and we might see another 25 bps cut in the April 2015 policy if current disinflationary pressure persists".
Devendra Kumar Pant, chief economist, India Ratings & Research, New Delhi
"RBI will closely look at government fiscal deficit targets and how credible they are along with how the inflation trajectory is. We expect another 50 basis points cut in FY16."
Rupa Rege Nitsure, chief economist, Bank of Baroda, Mumbai
"I think this is entirely driven by crude oil prices decline, and also the fact prices across the food basket have also consistently declined for the last five to six months.
"In my opinion this is going to help sentiment more rather than actual investment.
"There is a very high likelihood that banks will have to pass it on because credit demand has collapsed.
"This has happened before budget.
"That's why it is entirely driven by whatever is happening globally: RBI cannot remain insensitive to that."
Shubhadra Rao, chief economist, Yes Bank, Mumbai
"I think the inflation momentum from here on will give significant comfort to RBI, and we now could expect another round of rate cuts post-budget.
"In our opinion, we continue to believe that rate cuts are likely to be front loaded and we could see the next dose of rate cuts likely of a larger magnitude post-Budget.
"We are expecting 50 bps rate cuts between now and June."
Killol Pandya, senior fund manager, LIC Nomura Mutual Fund
"It is very unorthodox to cut rates outside of policy reviews. Rajan has duly exercised his right.
"There will be rally in bonds, although in anticipation of more rate cut rates.
"This is a confirmation that we are in a interest rate softening cycle."
Radhika Rao, economist, DBS Bank, Singapore
"The timing of the RBI's decision to lower rates comes as a surprise. They had flagged the possibility of an inter-meeting cut back in December, but have front run market expectations.
"This demonstrates their confidence on the evolving inflation outlook, much due to the way global commodity prices are shaping up.
"Simultaneously, the RBI has also put their faith in the government's fiscal consolidation efforts and that adequate corrective steps this quarter will keep targets in check.
"Today's cut possibly paves the way for another 50 bps cuts heading into FY16, provided the pre-conditions of quality fiscal correction and waning inflation risks hold.
"In the meantime, an eye needs to be kept on the narrowing (domestic) output gap and shifts in the US rate hike expectations."
Nirakar Pradhan, chief investment officer, Future Generali India Life Insurance
"A rate cut is partly priced in, but it will stoke expectations of more rate cuts to follow.
Inflation would continue to fall for the next six months.
"This will be a huge boost for the economy.
"I am expecting 50-100 bps more cut in rates in next few quarters."