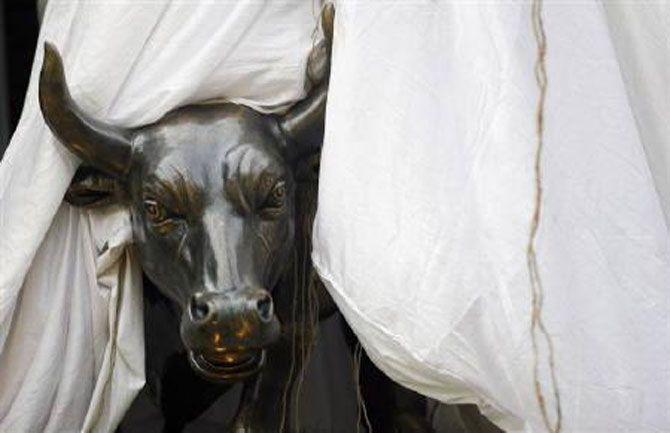 The National Stock Exchange (NSE) made more money than nine of 10 companies listed on it. Similarly, the BSE's profits are higher than eight of 10 of its listed firms, according to the numbers available so far for FY14.
A total of 632 NSE-listed companies have declared their annual number for FY14. Of these, 91.14 per cent have profits lower than the exchange.
Similarly, 83.4 per cent of the 1,066 BSE-listed ones have lower profits than the BSE, according to an analysis by Business Standard, based on financial statements on their respective websites.

The NSE and BSE made Rs 965.5 crore (Rs 9.65 billion) and Rs 135.2 crore (Rs 1.35 billion), respectively, in profits for FY14.
Their total profits of Rs 1,100.72 crore ( Rs 11 billion) for FY14 were up 13.99 per cent over the previous year. They had made Rs 965.6 crore (Rs 9.65 billion) last year.
The BSE's net profit is up 24.51 per cent to Rs 135.2 crore (Rs 1.35 billion) from Rs 108.6 crore (Rs 1.08 billion) for the last financial year. Higher profits were largely driven by the exchange reducing the amount it spent for the purpose of liquidity enhancement schemes, a process to improve volumes by providing monetary incentives to those trading on its platform.
It spent Rs 61.3 crore ( Rs 610 million) on incentives in FY14, compared to Rs 95.5 crore (Rs 950 million) the previous year.
The NSE's net profit was up 12.7 per cent to Rs 965.5 crore (Rs 9.65 billion) from Rs 857 crore (Rs 8.57 billion) last year. The rise was aided by Rs 76.9 crore (Rs 760 million) profit from sale of long-term equity investments. Its profits from trading services rose from Rs 476.3 crore (Rs 4.76 billion) to Rs 523.8 crore (Rs 5.23 billion).
Clearing services profit was up from Rs 149.1 crore (Rs 1.49 billion) to Rs 172 crore (rs 1.72 billion). A third segment including income from data feed, information technology services and index licensing and other services; was up Rs 49 crore (Rs 490 million) to Rs 73 crore (Rs 730 million).

The figures are for consolidated net profit after tax available to exchange's shareholders, including share of the profit and loss of associate entities.

Stock exchanges are required to set aside 25 per cent of their profits to a fund for guaranteeing settlement as per regulations formulated in 2012. The Securities and Exchange Board of India is yet to come out with norms on this, according to a note to the exchanges' financials.

An exchange official said that profitability is necessary for stock exchanges since there is a direct impact on sustainability. "Non-profitable regional exchanges have virtually faded away," said the person.

Emails sent to the NSE and the BSE did not receive a reply till the time of going to press.

MCX Stock Exchange, the third national exchange, is yet to make its yearly numbers available. It began operations only in February 2013. It had a net loss of Rs 140.5 crore in the nine months ended December. There are only 13 firms listed on the bourse so far.
Minting money
• NSE made profits of Rs 965.53 crore in FY14
• Higher than 91 per cent of companies listed on it
• BSE made profits of Rs 135.19 crore
• Higher than 83 per cent of its listed firms
• Lower expenditure on incentives, sale of long-term equity investments added to bourses' bottom line