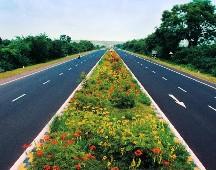 At a time when the National Highways Authority of India is finding it difficult to meet its targets, it will continue to be deprived of a tenured chairman, with the incumbent likely to get a further two-month extension.
Brajeshwar Singh, who was to retire in August this year as chairman, first got a three-month extension and then one for a further month, to get over this month.
"He is likely to get a two- month (extra) contract," said an official in the know, who did not want to be identified.
Industry players, who do not want to come on record, say this state of affairs is hampering NHAI's functioning.
"It is not the same as it would have been under a permanent chairman. This is evident from the fact that various targets have not been achieved and the projects for bid are coming at a dismal pace," said one.
NHAI had plans to award over 200 contracts worth Rs 2 lakh crore (Rs 2 trillion) by the end of the current financial year but has been able to award only 62
till now.
The pace of award was hit when the Central Bureau of Investigation raided the NHAI premises in May and arrested two officials for alleged misuse of office.
The government began the selection process for a chairman in July 2009 and has twice gone through the process of shortlisting candidates.
The first search committee was scrapped after the process got mired in controversy, with Brahm Dutt, the then secretary, roads, applying for the job despite being a member of the selection committee.
During the tenure of T R Baalu as minister, NHAI saw five chairmen between July 2006 and December 2008. The shortest tenure was that of J S Maini, which lasted for two months and the longest was of N Gokulram, for 11 months.