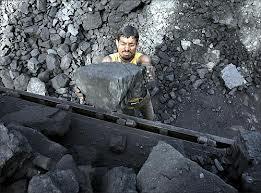 For a large part of the year, the mining sector continued to grapple with controversies related to allocation, production and pricing of minerals.

However, the sector seems set for a clean-up in 2014, helping boost investor confidence and growth.

The shift to gross calorific value-based grading of coal aligned domestic prices with international benchmarks.

Next year, the auctioning of more blocks and the finalisation of the surplus coal policy is likely to introduce transparency, while revised fuel supply agreements will ensure assured coal supply for fuel-starved power plants.

Two crucial legislative changes -- one for setting up the Coal Regulatory Authority and the other for amending the Mines and Minerals (Regulation and Development) Act --, set to be passed in 2014, would further improve regulation.

In 2013, the coal ministry identified 54 blocks to be auctioned, and framed the blueprint of the process.

Under the new regime, the ministry has already allocated 17 coal blocks, with about 8 billion tonnes of reserves to government companies, including 14 to the power sector alone. In the next round, blocks will be allocated to the private sector.

To auction blocks, the ministry has finalised a production-linked payment system based on revenue-share.

Bids will be invited based on a production-linked multiple -- the company quoting the highest multiple will be the preferred bidder.

The method minimises the risk for the developer compared to the upfront payment method.

The intrinsic value would be derived from the average selling price through the past five years, based on international free-on-board prices from the published indices of Platts or Argus, which assess energy prices.

On the production front, Coal India's output growth marked a revival.

However, the company's financials took a beating, owing to lower realisations from e-auction sales.

This was despite an average 11 per cent rise in low-grade coal prices announced in May 2013.

Also, issues related to trade unions and workers resulted in a minor impact on output.

The unions continued to threaten strikes against the government's move to divest 10 per cent stake in the Coal India. Nevertheless, the company is hopeful production will rise five per cent to 475 million tonnes (mt) by the end of this financial year, even as want of green clearances continues to spoil plans to add capacities.

"Work in a few mines with production capacity of around 20 mt is stuck due to delays in green clearances.

"We expected 20 mt to come from the Magadh and Amrapali opencast projects in North Karanpura coalfields this financial year. But forestry approvals have not been given to us," said Coal India Chairman Narsing Rao.

On the supply front, talks between Coal India and power companies concluded with an agreement on the terms of new FSAs.

The company has already signed 172 pacts with power utilities, which will increase availability.

However, lack of progress on the three rail corridors dedicated to coal evacuation will hit supply to power stations.

This is likely to dampen the prospects of evacuating 300 mt of coal output from mines.

Also, more clarity on the pricing front is expected once a regulator is set up.

It is likely the regulatory authority will be empowered to decide the methodology to fix prices, even as prices will be set by the Coal India board.

This will allow the Coal India management to decide prices and the current government control on
pricing decisions to continue.
Next year, higher coal imports by companies are likely.
Imports have already risen 40 per cent so far this financial year.
Though global coal prices fell up to 15 per cent this year, a similar trend is unlikely in 2014.
Power companies may have to spend more for coal imports.
A similar trend is also seen in the case of iron ore, a key input for steel.
While 2013 was a mixed bag for the mining industry, the Supreme Court provided relief to the sector in Goa and Karnataka.
But it will take at least a year before operations normalise in Karnataka, where partial resumption of mines has been allowed.
In November, the Supreme Court allowed the e-auction of 11.4 mt of iron ore already mined in Goa.
A monitoring committee will conduct the e-auction and deposit the amount in a separate account, after deducting the royalty and trade taxes.
In 2014, another panel will be formed to decide on a cap on the output in the state.
An interim report on this is likely to be submitted by February 15, 2014.
Goa, which earlier accounted for more than half of India's iron ore exports, hasn't recorded any exports since a ban on mining operations was implemented in the state.
This resulted in India becoming an importer of iron ore in recent times; earlier, it was the world's third-largest exporter. Most of the mined iron ore in Goa belongs to companies such as Sesa Goa (a unit of Vedanta) and Fomento.
The court had banned mining in Goa in September 2012, following a petition by Prashant Bhushan after a judicial commission, headed by M B Shah, exposed a Rs 35,000-crore (Rs 350-billion) scam involving top mining companies, politicians and bureaucrats.
The court had also banned mining in Karnataka in July 2011, but a partial resumption of mines was allowed in April this year.
In Odisha, the state government had banned iron ore exports in October 2012.
It said iron ore mining could be carried out for captive use alone.
Following the ban, India's iron ore exports fell 70 per cent to 18.3 mt in 2012-13.
Exports stood at 117 mt in 2009-10, 97 mt in 2010-11 and 61 mt in 2011-12.
Production fell from 167.2 mt in 2011-12 to 135.8 mt in 2012-13.
Despite the positives, experts believe any real reform in the mining sector is unlikely soon.
"We can have auctioning of coal blocks, thinking it will bring transparency in the process, but bidding is unlikely to be successful, as most of the blocks are not explored.
The situation of uncertainty will prevail until the coal sector is opened to independent mining by the private sector.
The need of the hour is to take a relook at the fundamentals of captive mining," said Dipesh Dipu, associate professor of energy at the Administrative Staff College of India.
Key expectations from 2014
Coal regulator will be set up; it will decide the methodology for price fixation by Coal India
Surplus coal policy for transparent utilisation of controversial captive output
Competitive bidding for allocation of captive blocks to private companies
Improved coal supply for power plants, as new FSAs have been signed for about 65,000 Mw of the 75,000 Mw of targeted capacity
Higher production by Coal India, amid fresh clearances; however, rising discontent among trade unions over divestment may hit output
Improved iron ore availability in Karnataka and Goa, with higher e-auction sales and partial resumption of mining operations allowed
Illegal mining issues will continue to impact iron ore output and exports from Odisha