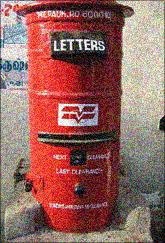 The government is set to overhaul Speed Post service by introducing an electronic system and filling up vacant post of officials to ensure efficient handling of growing traffic volumes and faster delivery of posts, Communications Minister Kapil Sibal said on Friday.

"In the 12th Five Year Plan (2012-17), we are going to modernise the whole system. There will be an electronic system, which will track the movement of these (posts)," he said in Rajya Sabha replying to a short notice question.

At the same time, to ensure faster delivery of despatches, the government plans to fill up vacant posts of postmen at the earliest, he said.

"The all India shortage of postmen is 5,700.

"We are trying to appoint the officers soon," he said, adding that once the posts are filled up complaints like delays in delivery will be automatically addressed.

In reply to a query, Sibal denied that the service had deteriorated and said Indian Speed Post service occupied number two market slot in the country which itself was an indication that more people were relying on it.

"Both traffic and revenue of Speed Post have been increasing over the years indicating the trust of the customers in the service," he said.

The traffic handled by Speed Post in 2011-12 stood at 39.19 crore (Rs 391.9 million) whereas it earned a big revenue of Rs 899.73 crore (Rs 8.99 billion),
he said.
"Its revenue has increased by 20 per cent and traffic too has increased by 20 per cent," Sibal said, adding that number of complaints was only 183,000 in the last fiscal which was only 0.046 per cent of the traffic.
He said 97.12 per cent of the complaints were redressed "India Post has a robust mechanism for redressal of speed post related complaints and complaints are redressed expeditiously. . .
"The number of speed post items tracked has increased from 63 lakh (6.3 million) in December 2009 to 2.11 crore (Rs 21.1 million) in October, 2012," Sibal said.
Saying the number of volumes has increased due to dispatch of Aadhar cards through the service, he said the service provides for delivery of items within six days for all-India level while for metropolises it is two days.
Admitting that the delivery was being delayed in rural areas devoid of train and flight services, Sibal said the government was serious to address the issues.
In reply to another query, he made it clear that the government cannot sack or punish officials guilty for delays under the present circumstances where there is huge shortage of officials.