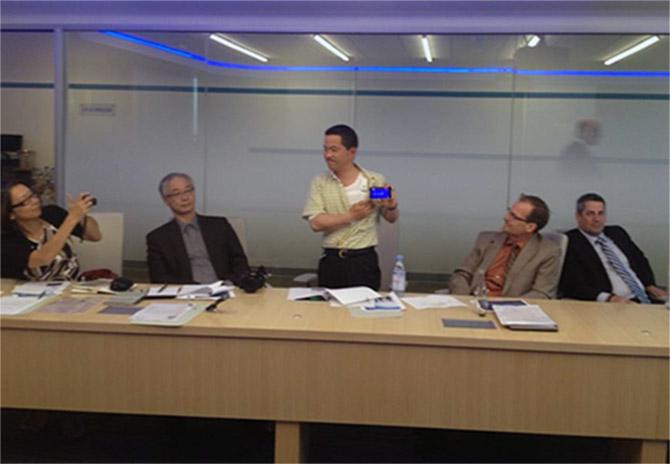 NTT I3 develops software for parent company's wearable electrodes fabric.
Japan-based, $133-billion conglomerate NTT Group, has developed wearable textile electrodes that can be worn on the inside of a shirt and monitor heart rate on a realtime basis, thereby reducing the risk of heart attacks, according to Srini Koushik, president and CEO of NTT Innovation Institute Inc (NTT I3).

The wearable textile electrodes fabric just came out of NTT's R&D facility in Japan, and NTT I3, a wholly-owned R&D subsidiary floated by the group in Palo Alto in the US a year-and-a-half ago, is currently looking at putting the right solutions around them.
NTT I3 focuses on developing next-generation solutions around cloud, security, machine learning and software-defined infrastructure.
"We are working on the software that collects electrocardiography (ECG) signals data from the fabric and sends it to the wearer's device via Bluetooth. For instance, the iOS (iPhone operating system) 8, slated for release this year, will have a health kit, while the next version of Android, too, will come out with an in-built health API (application programming interface). We are trying to integrate our software with various such devices," he told Business Standard.
Stating that the wearable devices market was exploding, Koushik said the benefits of NTT's wearable device would not be limited just to measure heart beat, but would also be used to monitor glucose levels and blood sugar levels, and in areas like general fitness etc.
At present, NTT Group is negotiating with various fabric manufacturers to mass produce it. Our software will be ready much before that. The launch of the product depends on when the deal will be closed," he said, while declining to divulge further details.
Koushik said a lot of innovation was happening at NTT I3 on the Internet of Things (IoT) front, too.

It is currently trying to do realtime machine learning to help drones fly much more steadily and safely. This, however, is still in the R&D stage, he said.
The group is planning to scale up the workforce at NTT Data's (its IT services business that invests upwards of $3.5 billion in R&D annually, and employs 6,000 research professional globally) in Bangalore to 100, from the present 45, by the end of this December.
NTT official wearing a 'smart' shirt. Photograph: Courtesy, NTT