A large chunk of the Rs 8.8 lakh crore of investments the Patnaik government had attracted is in uncertain territory, says Dillip Satapathy.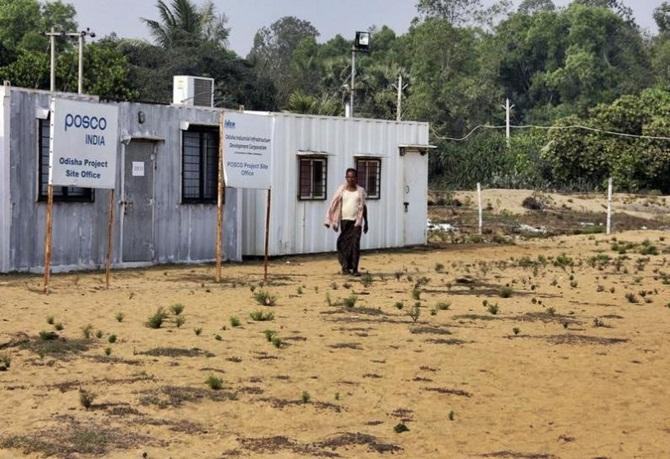 The ninth of a 10-part series looks at the state of affairs in Odisha.
Part 1: 'Andhra Pradesh is Gujarat of the East coast'
Part 2: Madhya Pradesh: Quite a few scores, but many misses, too
Part 3: The real story behind Uttar Pradesh's development
Part 4: Jharkhand has ambitious plans to woo investors
Part 5: Rajasthan scores high on reviving economy, ease of doing biz
Part 6: Haryana's mission to become an investment hotspot
Part 7: Maharashtra: The most favoured investment destination
Part 8: Bengaluru's infrastructure mess taints Karnataka's future
The bulk of the Rs 8.8 lakh crore of investments the Naveen Patnaik government has attracted over the years is in uncertain territory.
On June 21, addressing the council of ministers on completion of two years of his government's fourth term, Chief Minister Naveen Patnaik listed the commissioning of Tata Steel's plant at Kalinganagar and Indian Oil's crude oil refinery at Paradip as landmarks in the state's industrial scenario.
He could have included some other projects such as the mega investments of Vedanta, Jindal Steel and Power and Bhushan in the list. But, he didn't.
The reason could be that these projects are facing acute raw material crisis.
All these companies came and invested in the state on the assurance that they would be given captive mines.
However, none got the same before the rules - Mines and Minerals (Development and Regulation) Act, or MMDR Act - changed, taking away the right of the state to recommend mining leases and making it mandatory for everyone to go through the auction route.
Add to this the shelving of mega projects of global metal giants such as Posco and ArcelorMittal.
A large chunk of the Rs 8.8 lakh crore of investments the Patnaik government had attracted is in uncertain territory.
As a result, only 28 per cent of the proposed investment - roughly Rs 2.5 lakh crore - has actually been implemented on the ground over the past decade.
"We could have invested anywhere in the country if we were to buy minerals at a market rate. We came to Odisha on the invitation and assurance of the government to give us raw material linkage. With that not happening, we are stuck after investing a huge amount of money in our project," says a senior official of a beleaguered company. Such an experience of the promoters, accentuated by problems in land acquisition, delays in getting various statutory clearances and inaction in providing mineral linkages have had an impact on the investment scenario in the state.
"No big investment has come the Odisha way in the past five years," says Rajeeb Sahoo, managing partner, SRB Associates.
"What is worrying is that the share of manufacturing to gross state domestic product (GSDP) is sliding and has come down to 17 per cent in 2015-16 from 19 per cent in 2011-12. This has its negative effect on revenue generation and job creation," says B S Pani, an industry analyst and senior member of Utkal Chamber of Commerce and Industry.
The state had proposed five industrial corridors and 18 industrial parks sometime ago. There is no sign of it yet, Pani added.
The state government has its own explanations.
"Most of the investments were proposed in the mining and mineral processing sector. With the downturn in the global commodity market, this has affected related industries in the state as well," says Industries Minister Debi Prasad Mishra.
He said after the amendment in the MMDR Act by the Centre, mineral-based industries can participate in the auction process to secure raw material for their projects.
Similarly, to overcome the land acquisition issues, the government plans to create a land bank of 100,000 acres, of which Odisha Industrial Infrastructure Development Corporation has already filed a requisition for 76,722 acres of government land.
Mishra, who recently led investment-seeking missions to Dubai and Silicon Valley, said the new Industrial Policy Resolution, IPR-2015, of the state government promises a slew of incentives to investors, keeping in view the competition among states to attract investment.

The government has launched mobile apps for application to obtain various clearances and inform investors about the land available in different parts for industrial use.

Knowing the pitfalls of depending only on the mineral sector, the IPR-15 has identified 17 priority areas to bring in investment.
"At present, we are engaged in preparing sectoral policies on some of the focused areas like pharmaceutical, chemical and petrochemical, automobile, food processing, textile and electronics system design and manufacturing, etc with the help of reputed consultancy firm EY. The policies will be accompanied with specific targets to attract investment in these areas. Once it is ready, we will go for roadshows, both within the country and outside," Mishra said.
The World Bank, along with the department of industrial policy and promotion (DIPP), ranked Odisha seventh among all states in terms of ease of doing business in September last year.
Chief Minister Naveen Patnaik wants the state to be counted among the top three states in this year's ranking.
"We are making efforts to ease the process of doing business in Odisha for all categories of industries with special focus on small and medium enterprises as these industries have the potential to create more employment," said Industries Secretary Sanjeev Chopra, after a recent review meeting with Chief Secretary A P Padhi.
Chopra said DIPP had suggested the state to work on 340 reform points, of which the state government has already complied with 258 points.
The water resources department has recorded 100 per cent compliance on the reform agenda, while other departments like commercial tax, energy, labour and employee's state insurance, industries and state pollution control board have complied with around 90 per cent of the reform points.
"The timelines set for granting statutory clearances would also be uploaded on the website for the benefit of the investors," Chopra said.
The state has launched e-Biz, an online portal, to fast-track resolution of hurdles in different departments and an online common inspection framework for assessment of industries these were applauded by industrialists and policy makers during the Make in India week at Mumbai in February.
"Odisha has been ranked very high by independent agencies in ease of doing business. Our focus is value addition, skill development and job creation, leading to growth with equity. We have also set up the Odisha Skill Development Authority to provide global standards and job creation," Patnaik had said, on completion of uninterrupted 16 years in office in June.
While pursuing his industrialisation goals, Patnaik has not lost sight of his social agenda as he listed among the prominent achievements of his government in the past two years: conversion of one million kutcha houses into pucca houses, a record achievement of 1.2 million of foodgrain production, establishment of 100 model schools, implementation of the National Food Security Act to provide food security to 7.95 million families, and introduction of subsidised meal scheme Aahar in 100 locations.
"Technology has not been leveraged enough to redress people's grievances. Social media awareness and usage must improve in every sphere of governance," he said in the address to the council of ministers.
Although the state has achieved 80 per cent paperless offices, with digital files, Patnaik stressed on reaching 100 per cent by September.
But, it is to be seen how much of his reforms-oriented measures are actually transformed into action.
ODISHA IN A NUTSHELL
FACTFILE
With an area of 155,707 sq km,it accounts for 4.87% of the total area of India; has 480 km of coastline
Total population: 41.9 million, with population density of 270 people per sq km; STs constitute 22.85%, SCs 17.13% of the population
Sex ratio: 979 females to 1,000 males
Economy: The state had long languished as a backward state, with low-key industrialisation till the 1990s; except for a handful of PSUs like Nalco, HAL and Rourkela Steel Plant, the state didn't have large industries, till boom in the metal and mineral sector at the turn of the century saw big players like Tata Steel, Vedanta, Hindalco, Aditya Aluminium, Posco, JSPL, Essar, Bhusan coming in to invest in the state. Odisha has 60% of the country's bauxite, 33% iron ore, 25% coal and 98% chromite; over 60% people are engaged in agriculture, which contributes 14% to GSDP
Per capita income: Rs 55,116, which is 71% of the national average
Literacy rate: 72.9%
READY RECKONER
Natural economic resources: Minerals & forests
Forest cover: 34.9% of the state's total area (50,354 sq km) is covered by forests; the state has the largest number of white tigers and a sizeable elephant population
Power: Odisha has power surplus. Total 3,019 Mw was available in 2014-15, against a demand of 2,910 Mw
Rural electrification cover: 93.41%
Total roads: 253,536 km (till 2015)
National highways: 4,636 km
Ports: Paradip, Dhamra & Gopalpur
Registered vehicles: About 5 million
Industry: Mostly mineral-based; while Vedanta and Aditya Aluminium have set up alumina/aluminium and power complexes, Tata Steel, JSPL, Essar, the Bhusans have set up steel plants; all top IT firms such as Infosys, TCS, Wipro, Tech Mahindra & Mindtree have set up development centres in the capital, Bhubaneswar
Sources: State Economic Survey, 2015-16; government websites
AT A GLANCE
Political stability, with single party in power for the past 16 years
Traditional strength is mines and minerals
Illegal mining and closure of mines have dented the economy
State attracted Rs 8.8 lakh crore investment , of which Rs 2.5 lakh crore actually flowed in over the past decade
Problems of land acquisition and raw material linkage have held up big-ticket projects
Govt failed to resolve land and raw material issues in a timely manner