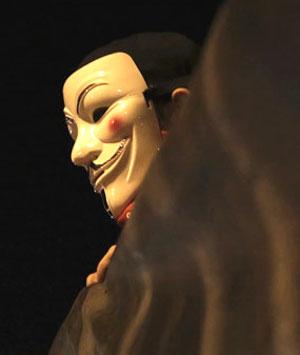 Obscenity, cheating and sexual exploitation are India's leading cyber crimes, reports Chaitanya Mallapur.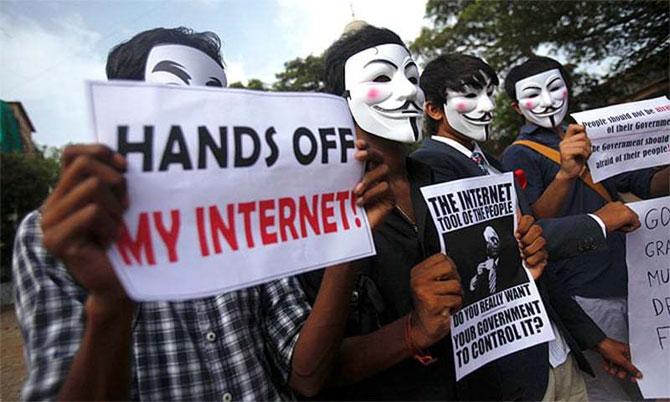 Cyber crimes reported in India rose 19 times over the last ten years (2005 to 2014), from 481 in 2005 to 9,622 in 2014, and India is now ranked third - after the US and China - as a source of "malicious activity" on the Internet and second as a source of "malicious code".
Arrests involving cyber crimes also rose nine times from 569 in 2005 to 5,752 in 2014, according to National Crime Records Bureau (NCRB) data, even as more Indians logged on to the Internet.
Internet subscribers in India crossed the 400 million mark, and are expected to reach 462 million by June 2016.
India is now a leading source of malicious code and cyber crime
India was ranked third world-wide, next to US and China, as a source of malicious activity in 2015, according to this 2016 report by Symantec Corp, a software security firm.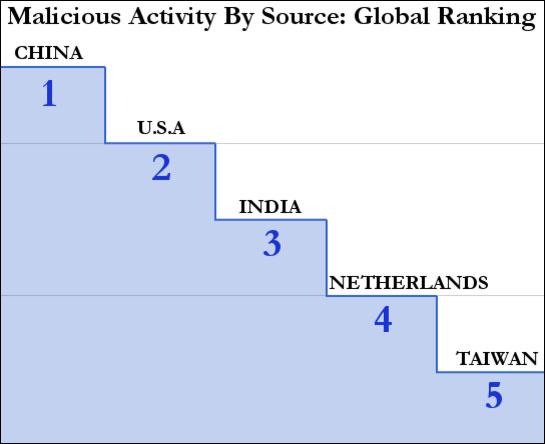 Source: Symantec Corp
India was ranked second as a source of malicious code and fourth and eight as a source or origin for web attacks and network attacks, respectively, in 2015.
As many as 9,622 cyber crimes were reported in 2014, an increase of 69 per cent over 2013. Of the 9,622 cybercrimes reported, 7,201 were reported as offences under the Information Technology (IT) Act, 2,272 under the Indian Penal Code (IPC) and 149 under Special and Local Laws (SLL).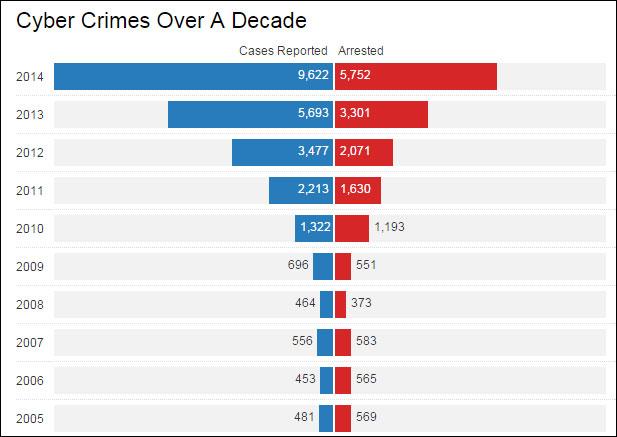 Under the IT Act, the most - 5,548 cases - reported were computer-related offences, of which 4,192 were under Section 66A, which allows for jail terms up to two-three years for sending "offensive messages through communication service" and related offences.
Section 66A of the IT Act was struck down by the Supreme Court in March 2015, saying, "such a law hit at the root of liberty and freedom of expression, the two cardinal pillars of democracy".
IndiaSpend previously reported how India was following Turkey and Russia in restrictive Internet laws. India ranked 136th, Turkey 149th and Russia 152nd in the 2015 Press Freedom Index, issued by Reporters Without Borders, a Paris-based non-profit.
Obscenity, cheating, sexual exploitation - India's leading cyber crimes
As many as 758 cases were registered for publication or transmission of obscene or sexually explicit content under the IT Act.
Cheating (1,115) was the most reported crime, accounting for nearly 50 per cent of IPC crimes. Under SSL offences, copyright violation was the most reported crime (118 of 149).
"Greed/financial gain" were the major motives behind cybercrime cases in 2014 with 1,736 cases, followed by "insult to modesty of women (599)", fraud or illegal gain (495), sexual exploitation (357) and "personal revenge/settling scores (285)".
Maharashtra reported the most cyber crimes (1,879) in 2014, double the cases (907) of the previous year.
Uttar Pradesh was second (1,737), followed by Karnataka (1,020), Telangana (703) and Rajasthan (697). The top five states accounted for 63 per cent of all cases in 2014.
As many as 5,752 people were arrested for cyber crimes in 2014, of which 5,744 were Indians and eight foreigners. As many as 95 persons were convicted and 276 acquitted for cyber crimes in 2014.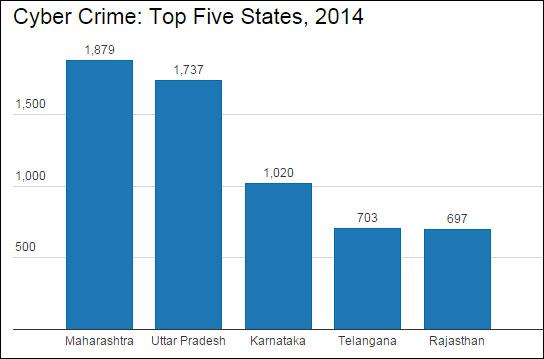 Uttar Pradesh reported the most (1,223) arrests in 2014, followed by Maharashtra (942), Telangana (429), Madhya Pradesh (386) and Karnataka (372).
More than 8,000 websites were hacked in the first three months of 2016, and as many as 13,851 spamming violations were reported, according to a Lok Sabha reply dated May 4, 2016.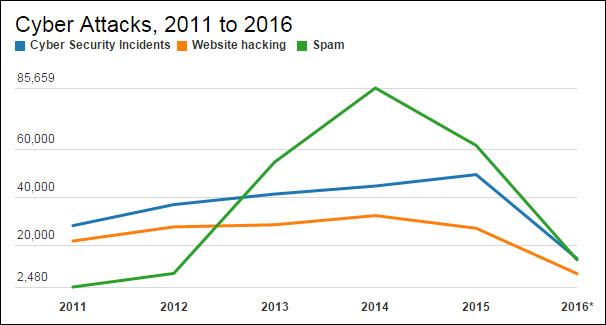 Cyber security crimes, such as phishing, scanning, introducing malicious code, website intrusion and denial of service, rose 76 per cent over the last five years, from 28,127 in 2011 to 49,455 in 2015.
As many as 13,083 and 11,997 cases related to automated teller machines (ATMs), credit/debit cards and net banking frauds were reported by banks during 2014-15 and 2015-16 (till December 2015), respectively, according to this Rajya Sabha reply on April 29, 2016.
Cyber frauds - ATM/credit/debit cards and net banking - cost Rs 226 crore ($38 million) over the last three financial years, 2012-13 to 2014-15.
Cyber crimes cost India $4 billion (Rs 24,630 crore) in 2013, according to a report commissioned by the Delhi high court.
The global cost of cybercrime was estimated between $375 billion (Rs 2,512,500 crore) and $575 billion (Rs 3,852,500 crore), according to a World Bank 2016 report, quoting a 2014 study. The average per person cost of data breaches ranged from $51 in India to $201 in the United States, it said.
Chaitanya Mallapur is an analyst with IndiaSpend.
Photograph: Nacho Doce/Reuters
Powered by

Indiaspend.org is a data-driven, public-interest journalism non-profit