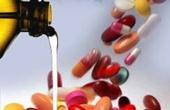 The Centre may give sops to drug exporters for shipments to Africa and Latin America through a route that would avoid passing through Europe, while it prepares to drag the EU to the World Trade Organisation over seizures of consignments of Indian pharma companies.
The European Union has been seizing Indian generic drugs en route Latin America and Africa citing patent violations.
The Department of Pharmaceuticals has submitted a freight subsidy scheme for exporters to the Commerce Ministry so that they could take alternate routes and avoid transit through Europe, which is a shorter route with better connectivity.
"(The) Ministry of Commerce has agreed with the (subsidy) scheme. I think they will introduce it," Department of Pharmaceuticals Secretary Ashok Kumar told PTI on the sidelines of a FICCI function.
Kumar also said that the government would be taking up the issue of Indian generics drugs seizure by the EU at the World Trade Organisation.
"We are going to the WTO," Kumar said when asked what the government was doing to help exporters against drugs seizure.
Commenting on the Centre's move, Indian Pharmaceutical Alliance Secretary General D G Shah said: "India should assert the right to free trade and right to passage as per the WTO free trade norms."
The latest incident of seizure was in October at Paris airport when consignment of generic anti-clotting tablets 'clopidogrel' made by a Mumbai-based drug company for Venezuela was confiscated by French authorities.
In February and March, the Netherlands had confiscated blood pressure control and anti-HIV drugs going to Brazil, Columbia and Nigeria on grounds of alleged patent infringement. The consignments were sent by Dr Reddy's Laboratories and Aurobindo Pharmaceuticals.
The government has already taken up issue of repeated seizure by European Union at high levels and it also came up for discussions during the recent India-EU Summit.
After the summit it was decided that Indian and EU officials would meet shortly to resolve the issue of confiscation en route Africa and Latin America.
According to sources in the Ministry of Commerce and Industry, a legal brief has been compiled to challenge the seizures and Brazil too is likely to join India in the WTO.
A legal brief has been compiled to challenge the seizures and Brazil is also likely to join India in the WTO, the sources said.
India's $12-billion pharma industry gets 40 per cent of revenue from exports of generic drugs across the world.
Any WTO member country can approach WTO's dispute settlement body to resolve trade quarrels.
According to the European Commission, if a consignment of drugs is not patented either in the country of origin or its final destination, it can be confiscated.
India has objected to this, saying the agreement on Trade Related Aspects of Intellectual Property Rights allows exports as EU countries were not the destination.