Although the crop devours water, it remains important for India, reports Surinder Sud.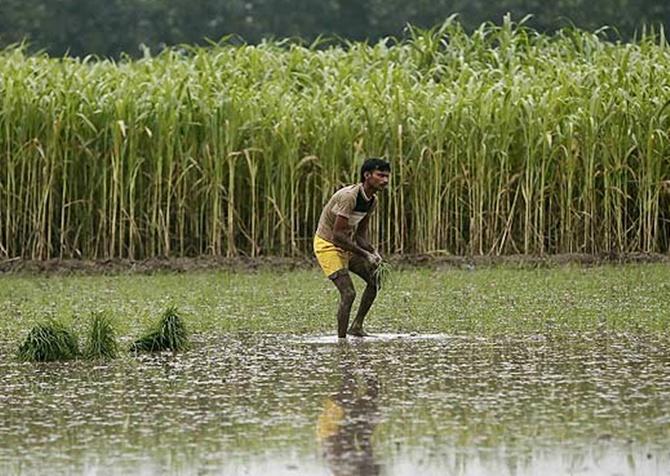 Consider the water balance sheet of sugarcane cultivation.
It takes about 250 tonnes of water to produce one tonne of sugarcane.
Viewed from another angle, between 180 and 250 cm of water is used during the crop's growing period varying from 12 to 18 months.
This is more than twice the country's average rainfall of 89 cm during the four-month monsoon season and substantially in excess of even the whole year's average total rainfall of around 120 cm.
The crop needs to be irrigated at least five to seven times in the subtropical north and as many as 30 to 40 times in the tropical climate of the south. Most farmers, however, tend to irrigate the fields several times more than is actually needed.
Over 95 per cent of sugarcane is grown on irrigated lands.
Simply put, the cane crop devours far more water than is replenished through rains.
Little wonder, therefore, that environmental activists, worried about the worsening water stress in most part of the country, question the advisability of growing this crop.
They go to the extent of suggesting that cane cultivation be restrained, at least in hot and low rainfall areas.
However, their plea seems practically unfeasible.
The country cannot afford to cut down cane acreage by any appreciable extent for several reasons.
It is an important agro-industrial crop that supports, fully or partially, the livelihood of nearly 45 million people engaged in cane farming as well as in the sugar and allied industries, which produce alcohol, paper, chemicals, cattle feed and other products.
This sector has developed and diversified over the decades, making sugar cane an essential agro-industrial raw material.
This aside, most Indians have a sweet tooth.
The massive -- and ever growing -- annual sugar demand, estimated at present to be over 24 million tonnes, is hard to meet without substantial domestic contribution. That is why cane acreage has steadily expanded, almost doubled in the past 50 years.
The solution to the menace of high water footprint of sugarcane lies in economical use of this vital natural resource.
Luckily, several water-saving technologies are available to curtail water consumption in cane farming.
The first step towards this end is to discourage the widely practised, but outmoded and highly inefficient, method of irrigating cane fields by flooding them.
This needs to give way to micro-irrigation systems, such as mini-sprinkler, micro-sprinkler and drip irrigation, which convey water directly to the roots or close to them. The crops's water needs are, thereby, met optimally and with minimum wastage.
According to the Lucknow-based Indian Institute of Sugarcane Research, up to 30 to 40 per cent of water can be saved through these systems.
The additional advantage is that the crop yield swells by 20 to 30 per cent.
The other ways to economise the use of water include the system of 'furrow-irrigated raised bed cane planting' and covering the exposed parts of the fields between cane rows with discarded cane leaves and other agricultural trash to reduce water loss due to evaporation.
Under the raised bed system, crop is grown on elevated beds and water is delivered through wide furrows in between them. It saves 25 to 35 per cent water besides reducing seed requirement by around 25 per cent.
However, these systems require heavy initial investment which the average farmer can ill-afford.
IISR Director A D Pathak feels that large-scale adoption of water-efficient technologies is possible only by extending adequate subsidies and technical assistance to farmers.
In this regard, the sugar industry, whose survival rests on cane cultivation, can -- and, in fact, should -- play a role by supplementing the government's efforts.
Maharashtra, the largest sugar producer, is among the leading states that have been trying to popularise micro-irrigation in sugarcane growing areas for quite a while.
Yet, only a small portion of the total cane acreage has actually been brought under these irrigation systems till now. The need is to launch a well-targeted and result-oriented programme to promote water-efficient techniques in all sugar cane growing areas.
Otherwise, the water crunch may sooner or later jeopardise sugar cane cultivation in India.
Photograph: Anindito Mukherjee/Reuters