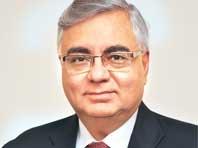 Renowned tax expert Parthasarathi Shome has been appointed adviser to Finance Minister P Chidambaram.

The appointment comes at a time when the ministry is struggling to rein in the fiscal deficit at the targeted level of 5.3 per cent of gross domestic product for the current financial year.

Shome writes a monthly column for Business Standard.

"Dr Parthasarathi Shome has been appointed adviser to finance minister, in the rank of minister of state, co-terminus with the period of office of the finance minister," an official statement said on Thursday.

Shome had held the same post from October 2004 to January 2008.

Even then, he was adviser to Chidambaram.

In that stint, he played a crucial role in facilitating state-level value-added tax and initial discussions on goods and services tax.

Known for tax reforms, Shome was the brain behind then fringe benefit tax and banking cash transaction tax.

Later, he joined Her Majesty's Revenue & Customs in the UK as chief economist from January 2008 to January 2011.

Then, he moved to the Indian Council for Research on International Economic Relations.

Shome was professor of economics at American University, Washington, from 1975 to 1983.

He also worked with the International Monetary Fund from 1983 to 2004 in various capacities.

He has provided technical assistance to about 30 countries in Africa, Asia, Europe and Latin America and been credited with tax reforms in Brazil. Shome is a PhD. from Southern Methodist University, has Masters degrees from University of Rochester (1973) and Delhi University (1972).

His latest work includes a book, Tax Shastra, which is a comparative account of the tax administrations of three countries -- India, the UK and Brazil.
Image: Parthasarathi Shome
|
Photograph, courtesy: Business Standard