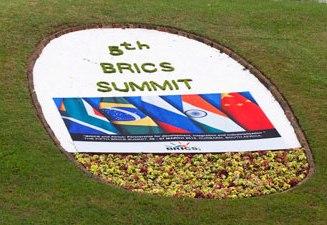 Describing banking business as 'difficult and cumbersome' process, newly elected chief of Asian Development Bank Takehiko Nakao said on Thursday setting up of the proposed BRICS Bank would not be easy.

"Bank business is not so easy . . . But banking business is funding projects, financing resources and incremental lending, to safeguard policies and safeguard environment and to monitor repayment of loans.

"So it is a very difficult, very cumbersome business," he said while replying to a question on whether ADB's role will diminish after the BRICS Bank is established.

The proposed BRICS Bank, he said, will supplement the infrastructure needs of the emerging economies in Asia.

"I had some talk with the ministers of those countries.

"Of course there is a huge infrastructure need in the region and within the world. So to mobilise money for those projects, it is nice to have another institution. . .," Nakao said.

He said ADB could support the BRICS Bank "if necessary and collaborate. But i dont think at this moment we must change our business model because of the ideas of a BRICS Bank".

The grouping of Brazil, Russia, India, China and South Africa had in March decided to establish a new development bank -- BRICS Bank -- to finance infrastructure projects and to create a $100 billion contingency fund to tackle any financial crisis in emerging economies.

The decision is seen as a major win for India's campaign to reform global financial architecture.

The development bank, mooted by India last year, was originally proposed to be started with a capital of $50 billion with $10 billion from each of the members.

Developing countries have been demanding more assistance from multilateral agencies like World Bank, IMF and ADB to meet their infrastrcture funding requirements.

To a query on whether Japan has a monopoly over ADB Presidentship, Nakao said: "The process of selection should be open, transparent and merit based. "We do not have any problem if there is any candidate selected on merit basis. I hope I was elected on merit basis".

Every ADB president has been Japanese since its creation in 1966, while the top jobs for the World Bank and the International Monetary Fund have been historically occupied by Americans and Europeans, respectively.

Japan is the largest fund contributor to ADB.

About 30 per cent of Asia Development Fund, a major instrument of concessional financing for the poorest member countries of the bank, comes from Japan.
Photograph: Reuters