Capital markets regulator Securities and Exchange Board of India (Sebi) on Friday suggested Sahara chief Subrata Roy be allowed to step out of Tihar jail for a few hours every day to negotiate the sale of his foreign properties over video conference to enable him to mop the remaining sum required for his bail.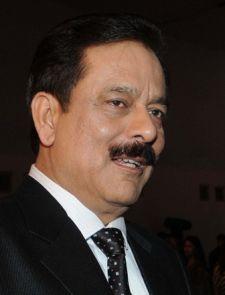 The bench led by judge T S Thakur enquired if there was a video conferencing facility at the jail, but did not pass any directions. Roy has been lodged in the capital's Tihar jail since March for non-compliance of the court's orders to refund Rs 37,000 crore (Rs 370 billion) to Sebi.
The court later said interim bail could be granted if the group deposits Rs 5,000 crore (Rs 50 billion) in cash and an equal amount in bank guarantee. The group has so far disposed of one property in Ahmedabad and paid Sebi around Rs 3,100 crore (Rs 31 billion).
Sebi counsel Arvind Datar's suggestion came when Sahara counsel Rajeev Dhavan moved a fresh plea seeking a 40-day parole for Roy.
"The 40-day parole is not necessary at all. Also, parole is for convicts. You are not a convict. Further, negotiations come when there are complex deals. Sale of properties are usually done by appointing an agent like they themselves did on the sale of Ahmedabad property, " Datar said.
He added if they still insisted negotiation was necessary, "I have one suggestion. He can come out for three hours a day. negotiate over video conference and go back in the evening," Datar said.
Dhawan argued the group had made significant progress in complying with the bail conditions and the presence of Roy was necessary to conclude the sale of foreign properties including London's Grosvenor House.
"A deal of $1 billion cannot go through without Mr Subrata Roy," he said pleading with the court for compassion, "Reham is the word my lord. He has already spent four months in Tihar in the summer."
However, judges pointed out that Roy was not a director in any of the two companies and his presence may not be critical for the deals to go through.
"You are a big group. You must have other people who are equally competent of dealing with these issues. Such an empire can't be run on one or two people."
The court also repeatedly enquired with Sebi on what steps it had taken to verify the investors and start refunding the money.
Datar said he would move an application to start refunding investors with multiple bond accounts. The court also allowed Sebi to issue advertisements in Hindi newspapers in Hindi heartland seeking refund claims.
Earlier, the court directed the income tax deparment which wanted to implead as a party in the case to file an affidavit detailing the action taken so far and the proposed actions taken against the group.
The department was also directed to give details of appeals, if any and their status. The IT department's counsel earlier informed the court that the group has outstanding tax liability of Rs 10,015 crore (Rs 100.15 billion). He added that the department had done sample checks of about 800 Sahara investors for each accounting year and only one-third could be traced.
The court also invited suggestions for amicus curiae after Fali Nariman declined. Sebi raised objections to the Sahara group's suggestion of former union minister Salman Khurshid, saying he had handled the case as minister of corporate affairs.
Please click here for the Complete Coverage of Budget 2014 -15