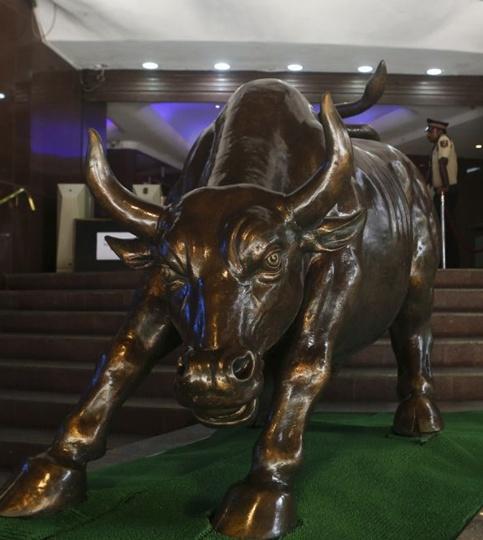 Indian investors are returning to financial assets - slowly but steadily.
A large proportion of investments that went into physical assets such as gold or riskier assets such as commodities futures are being withdrawn since October last year.

Investors are pulling their money out of bond funds, commodities and rebalancing their portfolios.
In 2011-12, commodity futures turnover hit a high of Rs 179 lakh crore. That has fallen 66 per cent to Rs 61 lakh crore in 2014-15 (on an annualised basis).
Nitin Jain, head of capital markets at Edelweiss Financial Services, says: "Prices of commodities have declined globally, and so has investor interest. This trend is reflected in India as well."
Equities have gained the most from this shift. Retail investors are far more active in September this year than in last. Compared with the previous year, gross retail turnover on BSE (equities) has risen 77 per cent to Rs 3,267 crore (Rs 32.67 billion).
It is not only the so-called Modi effect with a change in government at the Centre that is driving this shift. Physical assets tend to perform well in the inflationary situation, but with prices showing signs of ebbing, financial assets have started delivering better returns.
Analysts expect the share of retail investors in equities, which had fallen from eight per cent to the current six per cent, to return to earlier levels, as investor interest remains strong.
Such is the investor bullishness that the long-short funds are not seeing investor interest, as most believe the Indian markets are heading for a secular rise.
The retail investor has been a net investor in equities since June this year. In July, retail investors put Rs 10,800 crore (Rs 108 billion) into equities - that is 80 per cent of all investments made by foreign institutional investments, according to Citi.
Edelweiss' Jain says: "India has seen high rates of inflation in the past five years, so a lot of investments went into real assets, but commodities are now cooling off." There is evidence in the mutual fund flows. Twenty-seven per cent of the Rs 10 lakh crore of total assets managed by the mutual fund industry is in equities. This is nearly at an all-time high, explains Jain.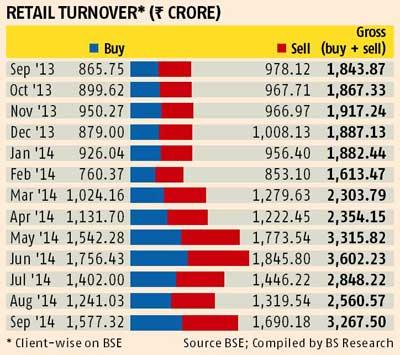 While the sentiment has turned positive, the government, too, has taken certain measures that have had a beneficial impact on equities. In the Union Budget earlier this year, Finance Minister Arun Jaitley changed the taxation policy on fixed-income maturity plans and short-term bond funds.
These are now taxed at 33 per cent and the long-term capital will accrue only after three years. This has inadvertently benefitted equities, as a lot of investors are of the opinion that equities will deliver better returns over a three-year timeframe.
According to Umang Papneja, chief investment officer, IIFL Wealth Management, between 2008 and 2013, the proportion of money allocated to equities fell 10-15 per cent from 30-40 per cent in the heyday.

The money pulled out of equities went into fixed income and real estate. Since October last year, high-networth individuals (HNIs) have been coming back to equities, as the conviction is returning. Equity allocations have again risen to 30-40 per cent of portfolios, explains Papneja.
Data collated by 13 large mutual fund distributors show that HNIs put in Rs 8,400 crore (Rs 84 billion) on a net basis between April and August.
It is not equities alone, bank deposits have also emerged favourites. In September, deposits have grown 13.8 per cent.
Real estate investment, however, is coming off. While commercial real estate might do well going forward, it is not seeing big investments yet. Alternative investment funds have been launched but allocation to these has been little.

IIFL, which had launched long-only alternating funds, raised Rs 800 crore (Rs 8 billion) for one such fund. But that was much smaller than the Rs 8,000 crore (Rs 80 billion) raised from equity.
As far as physical realty market is concerned, it has slowed down considerably. Indian HNIs have traditionally had an affinity for real estate as an asset class.

However, Vishal Malik of Coldwell Banker India, a real estate broking franchise, says: "Physical assets comprising gold and realty dominate the asset allocation of HNIs and financial assets such as equities, bonds and fixed deposits contribute to only 20-30 per cent. Going forward at an HNI level, there is no dramatic shift in asset allocation to realty expected as their exposure is already high. In the next one or two years, money can be expected to move to equity as that is an asset class they are under-invested in."
Going forward, wealth managers do not expect residential real estate to deliver the kind of returns seen over the last few years. Within real estate, commercial may do better than residential as prices have fallen sharply for this category and no new supply has come into the market for many years.
Back To Equities
Futures trading turnover in commodities down 66 per cent in FY15 (on an annualised basis) from a high of Rs 179 lakh crore seen in FY12
The gross retail turnover on BSE in equities is up 77 per cent to Rs 3,267 crore compared to last year
HNIs on a net basis have put Rs 8,400 crore between April-August 2014
Equity assets at 27 per cent of the mutual funds industry's total assets close to previous highs
HNI interest in residential real estate waning, as physical assets are expected to underperform