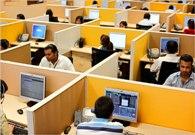 Namaskar! Mera naam Arti Uniyal hai. Main aapki kya madad kar sakti hoon?
Coming from the rural background of Rudra-prayag district in Uttarakhand, Uniyal has mastered the art of advising on the troubleshooting steps in chaste Hindi to the customers of the Videocon DTH service from her business process outsourcing (BPO) centre here where she has been working for the past year.
Uniyal is supposed to finish the call in just four minutes. Like scores of young boys and girls, who mostly come from humble rural background, Uniyal is appearing for her Bachelor of Arts' final examination and wants to become an Indian Administrative Service officer.


She earns a handsome pocket-money of Rs 4,200 per month to support herself as she lives in a rented accommodation just close to the centre at Sahastradhara Road.


At the Adi BPO here nearly 500-600 young girls and boys work round the clock to outsource to the customers of leading companies like Videocon, Tata and others.

"Nearly 90 per cent of workforce come from rural backgrounds. The basic qualification to work in our centre is just 12th standard and fluency in Hindi," said Sanjay Mohan, the centre head of Adi BPO.

Adi is not the only BPO centre which is outsourcing to the top-notch companies; Spanco, Sparsh and Astra are the others which had setup centres in Dehra Dun during the past two to three years. The hallmark of these centres is they are mainly outsourcing to the Hindi belt in the northern region of the country.


Radha Kumari (20) is currently pursuing Bachelors in Technology from a private institute here. She is doing the BPO job to gain experience in the IT industry which she claims would boost her job prospects in the future. "If I have to get a job in Bangalore or Mumbai, this job will help me a lot," she says.


However, there is another breed of boys and girls who work in BPOs like Astra which outsources primarily to foreign firms. They get better perks because they have a command over the English language.

"This is just to pass my time. I am looking forward to a job in the US," said Ajay Sharma, a young worker. The BPO industry has mainly seen growth in Dehra Dun. Other areas have yet to see the BPOs mushrooming. Unlike the governments in states like Rajasthan, which have doled out incentives like capital investment subsidy for enticing BPOs in rural areas or Tier-III cities, the Uttarakhand government is yet to take such initiative.