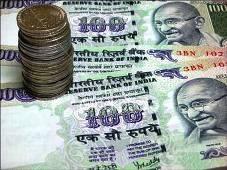 It's not just the high street across India that will feel the pinch of the weakening rupee against the dollar.

The ongoing fall is likely to impact, both directly and indirectly, the purse-strings of the average Indian household too, analysts and economists have pointed out.

Be it pulses, soap, detergent, deodorant, your favourite pizza or the latest international paperback, everything is headed north.

Not only will the discount stores, with imported products, rethink on deals.
The footloose Indian is likely to review foreign travel plans, too. Rough estimates indicate an Indian household could spend 10 to 15 per cent more as a fallout of the rupee depreciation.
It is a given fact that premium packaged food products, olive oil, gourmet cheese, high-end furniture, consumer durables and apparel and the likes that are imported, would cost more.
Experts say the indirect impact of the rupee fall could be greater.
For instance, the depreciating rupee is likely to increase the cost of fast-moving consumer goods products such as soaps, shampoos, detergents and deodorants, which contain chemicals that are by-products of crude oil.
Anand Dikshit, executive director at Pricewaterhouse-Coopers, told
Business Standard
, "Since we import crude to a large extent, the cost of FMCG products like soaps, shampoos and detergents, etc, will also go up."
According to Dikshit, if the rupee continues to depreciate, the beginning of financial year 2012-13 will witness a price rise in FMCG products by 5 to 10 per cent.
The household expenditure of an average Indian will definitely rise, he said.
The companies will not be able to withstand the rupee depreciation for long, he said.
Pulses is another commodity that may take a price hit.
Aditi Nayar, economist at an associate of Moody's Investors Service, said, "Given the domestic demand-supply imbalance, a substantial quantity of pulses and edible oils are imported."
The depreciation of the rupee will have a considerable impact on the import bill for such items, she added.
"Given the shortfall in the area sown under pulses in 2011 compared to 2010, both for the kharif and the rabi (as in mid-December 2011) seasons, the quantity of pulses imported is expected to rise in the second half of the current fiscal year," Nayar pointed out.
Ravi Srivastava of Jawa-harlal Nehru University spoke about the price of pulses. "Major pulses and oilseeds are imported.
"This impacts the expenditure on direct consumption, as pulses are not necessarily stored. The high cost is passed on immediately," he pointed out.
"However, intermediate products like fuel and other raw materials will squeeze the margins of industrial production, as industry would not be able to pass the increased cost to the consumers immediately, he added.
Online bookstore Flipkart, best known for its discounts, is also watching the rupee trajectory carefully.
Ankit Nagori, vice-president (categories), Flipkart, confirmed the falling rupee had led to an increased cost of imported books.
"Not only has the cost of books gone up, but the cost of sourcing has also risen substantially," Nagori pointed out.
Although Flipkart is trying to absorb the increased cost, "there might be scenarios where the end-user might get impacted to some extent," Nagori said.
Coming to fast food chains, they are resisting a price hike. Virag Joshi, president and CEO, Devyani International ,that runs Pizza Hut, KFC and Costa Coffee in India, said, "In terms of raw material, we are not importing much nowadays."
However, on the capital front, the costs have gone up by at least 10 per cent due to the rupee depreciation, he said.
"We are definitely not passing it on to the consumers," said  Joshi. But analysts were sceptical, arguing that food chains may either raise prices or cut volumes.
Cantabil Retail, which is into apparel, imports fabric like polyester and has taken a hit of around 10 per cent after the rupee fall.
"This is eating into our margins, as the customer is not willing to accept any further increase in prices amidst the existing high inflation," Vijay Bansal, managing director, Cantabil Retail India Ltd, said.
Giving an overview, Rajiv Kumar, secretary general, Ficci, said "there will clearly be an inflationary impact of the rupee depreciation".
Although the basket of imported goods is not large in India, there will be an indirect impact of the rupee depreciation.
"And, the increase in the household expenditure cannot be called marginal," he stressed.
We can say there is an indirect impact, agreed Madan Sabnavis, chief economist, CARE Ratings.
Pinaki Ranjan Mishra, partner & national leader, retail & consumer product practice, Ernst & Young, said, "The indirect impact of the rupee fall, if it goes on for six months or so, due to higher cost of fuel and therefore transportation, could lead to a significant increase in the expenditure of the Indian household."
A 10 to 15 per cent increase in the average household expenditure is what experts are talking about.
Meanwhile, high-end consumer durable products have already started costing more by 10 to 20 per cent, an analyst said.
He also pointed at a trend of Indians looking at non-dollar travel destinations like Sri Lanka or Vietnam.