Apex court ruling mandating only CNG public transport in Delhi could impede growth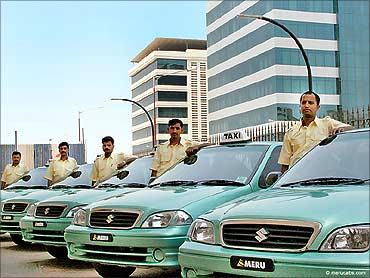 The Delhi transport department on Monday amended and notified the Radio Taxi Scheme, 2006, paving the way for taxi service providers such as Uber, Ola Cabs and TaxiForSure to return to the roads of the national capital.
The amended regulation has allowed not only fleet owners but also aggregators to get licences. The minimum fleet size of 500 has been reduced to less than half, enabling smaller players to enter the segment.
However, any firm seeking a licence in Delhi -- be it a fleet owner or an aggregator -- will have to meet many mandatory requirements such as having prefixed calibrated metres in its cars, along with a GPS device.
All cars on the network will also have to run on compressed natural gas.
This might curtail expansion of firms such as Uber, which relied heavily on unused inventory, the majority of which were diesel or petrol cars.
The amendment comes within a month of web-based taxi companies being banned in Delhi, after a taxi driver on Uber's network allegedly raped a finance executive early this month.
According to an official of the Delhi transport department, the new law has reduced the minimum fleet size required by a company from 500 to 200.
While seeking a licence, a firm can start with 50 cars, on the condition that the number is increased to at least 200 within six months.
"They don't have to necessarily own the cars; they can hire or lease the services from individuals or operators, provided they take responsibility for the drivers," the official added.
They had to verify the antecedents of drivers and maintain a database that could be shared with the police at regular intervals for verification, added the official.
A past Supreme Court ruling that mandated all public transport in the capital to be run only on CNG might clog the growth of taxi companies.
A significant percentage of vehicles plying through taxi aggregators were from operators holding all-India permits.
This made their businesses more efficient and increased revenues.
To be compliant with the new norms, they now have to convert their vehicles to CNG, incurring significant costs.
Apart from the GPS- and GPRS-based tracking devices, a printer and a display panel showing the path traversed and the total distance covered has to be installed in taxis.
Also, a cab company will either have to run a call centre or operate through an authorised call centre or web portal, according to the new rules.
An LCD display panel has to be put on the roof of the car to indicate its a radio taxi and whether it is available or not.
"The colour of the radio taxi should be white, with a coloured strip on both sides of the taxi, prominently displaying the name of the licensee," the new rules say.
However, some of these norms might pose challenges to the aggregator model, as cars on such a network have multiple operators and, therefore, cannot carry the label of one service provider alone.
Kunal Lalani, chief executive of Mega Cabs, said a "mid-way" had to be reached. While aggregators have to understand safety and security were priorities, authorities have to ensure laws are in tune with current technology and the business models it enables, he adds.
"The govt has to be a bit practical; it can't be very stringent and enforce measures that do not have a direct bearing with increasing security," he said.
However, as far as the CNG norm was concerned, the government couldn't do much, as this was based on a Supreme Court ruling, added Lalani, also president of the Radio Taxi Association of India.
On Monday morning, Uber presented its case in front of the Delhi transport authority. The company sought to file additional documents on Tuesday, said a transport authority official.
"The authority, which is acting as a quasi-judicial body, will pass orders after satisfying itself with the company's response," he said.
The company might not have to wait for the ban to be revoked, as it could apply for a licence under the new norms and restart operations, the official added.
"We appreciate the government's due process to achieve a common goal which puts the interests of consumers -- access to safe, reliable and efficient transportation alternatives that technologies such as Uber provide -- first.
We look forward to a positive outcome that benefits the people of Delhi," Uber said in a statement.
Through the last few weeks, the company had introduced new India-specific safety features to strengthen existing mechanisms, it added.
On Saturday, it reached out to users, seeking their support for its return.
So far, about 7,500 people have signed a petition (#BringUberBack) to bring Uber back.
SHIFTING GEARS
Minimum fleet size of 500 has been reduced to less than half, enabling smaller players to enter the segment
Any firm seeking a licence in Delhi will need prefixed calibrated meters in its cars, along with a GPS device
All cars on the network will also have to run on CNG
Firms such as Uber, Ola and TaxiForSure can now restart services in the national capital, provided they seek a licence from the Delhi transport authority
Image: Meru Cabs. Photographs: Courtesy, Meru
The image is used for representational purpose only