Because of lack of pilots, airlines have been forced to cancel their flights and rework their schedules, constraining cash flows and delaying vendor payments.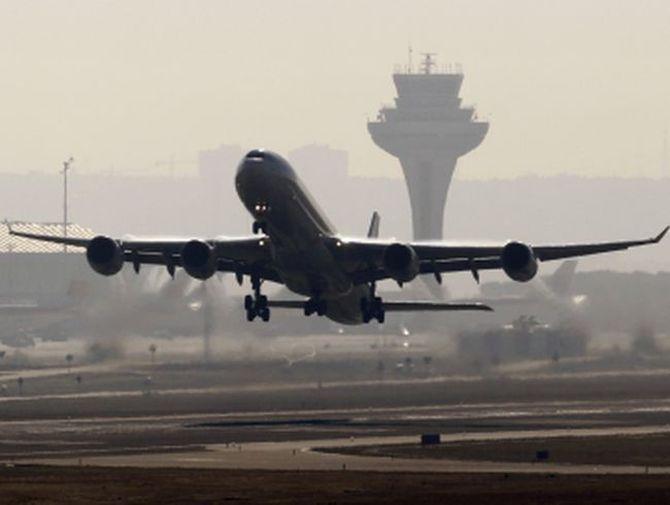 The boom in domestic air travel has led to congested terminals and flight delays because the infrastructure at airports has not kept pace with the rate of growth.
But India's new regional airlines are facing another challenge - lack of pilots.
The stress signs are visible. Airlines have been forced to cancel their flights and rework their schedules, constraining cash flows and delaying vendor payments.
Hyderabad-based regional operator TruJet cancelled 7 per cent and 3 per cent of its scheduled flights in November and December, respectively.
This level of cancellation has been the highest among all carriers.
In August, Zoom Air cancelled all its flights after a bird hit damaged the engine of its aircraft in Durgapur.
A lack of navigation aids and limited hours of operations (referred to as watch hours) in smaller airfields and weather also contributed to delays and cancellations.
Flight disruptions have also resulted in delayed payments to vendors.
Last week Ireland-based lessor Elix Aviation Capital threatened to ground three ATR-72 turboprop planes it has leased to TruJet over payment. The dispute has been resolved.
"We are working with the TruJet management to enable the business to move forward," said Tom Dalton, commercial director, Elix Aviation.
"There is no cash crunch, but there is a shortage of pilots.
"With our four planes, we can operate 40 daily flights but because of the shortage of pilots, we are doing only 22 flights.
"We are recruiting 18 foreign pilots and we are also providing command training to our first officers," said Vishok Mansingh, chief executive officer (CEO), TruJet.
Mansingh, who has worked in Kingfisher Airlines and Blue Dart, took over as CEO last October.
His appointment came four months after Megha Engineering and Infrastructure acquired control of the airline.
Domestic air traffic grew 17 per cent and crossed 100 million last year.
Traffic is estimated to grow 15-20 per cent this year with the induction of planes and expansion of the central government's regional connectivity scheme.
Aviation consultancy CAPA expects big domestic airlines to add a record 124-130 planes while regional airlines will add another 20-22 planes in FY19.
Regional airlines will require both capital and a bigger crew.
Pilot training will be another critical factor and CAPA estimates domestic airlines will require an additional 10,000 pilots over 10 years.
"The shortage of pilots is a global issue and the solution for airlines is to develop training facilities and simulators," said Bombardier's head of marketing (Asia Pacific), Ross McKeand.
Koustav Dhar, chief executive officer of Zoom Air, agrees the shortage of pilots slowed expansion plans.
"We have three CRJ 200LR planes and have been able to utilise only two of them fully because of the shortage.
"We have 20 pilots now and are adding 16 additional captains by the end of March," Dhar said.
He added that the airline would induct four planes by June and would increase the number of daily flights from nine to 32.
G R Gopinath, who has relaunched Air Deccan, said the state of airports in the country was not in keeping with the Prime Minister's regional connectivity vision.
He said he had been unable to get a night parking bay in Mumbai and slots for flights to Kolhapur.
Around 25 per cent of slots at airports should be reserved for regional connectivity, he added.
"The government must frame an equitable policy which benefits airlines and compensates the airports too," Gopinath said.
Photograph: Reuters