India's central bank said it could limit gold imports by banks in "extreme circumstances," as the world's biggest consumer of gold battles a record-high current account deficit.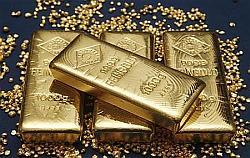 India, which imports about 900 tonnes of gold a year with 60 percent of that through banks, last month hiked the import duty on gold to 6 percent from 4 percent.

But a record high current account deficit of 5.4 percent of GDP in the September quarter has raised concern at the central bank, prompting it to link further monetary policy easing to a lower current account deficit (CAD).

"If the CAD remains sustainably high, say in 5.5-6 percent range, for the next three-four quarters, then it might be a case of an extreme situation," a senior official with direct knowledge of the matter said.

The Reserve Bank of India (RBI) said it would also consider introducing gold-linked financial instruments to divert savings of inflation-wary Indians from gold bars and coins into bonds.

"Creation of alternative asset class that may provide returns comparable to return on investment in physical gold with similar flexibility is important," the RBI said in a report published on Wednesday.

The report
is advisory in nature, and not all the new products and measures will necessarily be implemented.
Describing demand for gold as "excessive," the central bank added that it would only be reduced if inflation were benign and there was price and macroeconomic stability.
Headline inflation fell to a three-year low of 7.18 in December but still remains above the central bank's comfort level of around 5 percent.
The RBI is also considering setting up a gold bank which would both buy and sell idle gold from individuals, a measure intended to improve supply of the 20,000 tonnes of idle gold held by individuals and bring down pressure for imports.
Of that 20,000 tonnes, only 3 percent is used as collateral against loans.
"If we cannot bring down the demand for gold significantly, at least, we need to ensure that the gold is put to an economic use through disbursal of gold loans for productive and consumption purposes," said the RBI.
The RBI is also considering allowing banks to access future markets to hedge their bulk gold purchase risk. However, it plans to remove incentives for banks to trade bulk gold with jewellers as banks have been charging them rates below the so-called base rate offered to their best customers.
(Additional reporting by Neha Dasgupta)