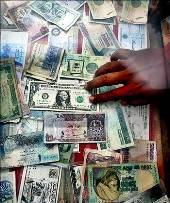 The Reserve Bank of India on Tuesday relaxed premium payment rules for banks on some forex options by allowing the buyer of such instruments to spread the payment over the maturity of the contract.

This facility will be available for cost reduction forex option structures in which the liability of the buyer will not exceed the net premium payable to the bank, RBI said in a notification.


Banks should carry out necessary due diligence with regard to the ability of users to adhere to the premium payment schedule, in accordance with their board approved policy in this regard, before extending this facility to the users, it said.
Payment of premium for option structure with maturity of more than one-year may be deferred, provided the premium payment period does not extend beyond the maturity date of the contract, it said.
The premium payment should be made at least once a quarter, it added.