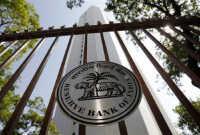 As concerns over slowdown in growth deepen and inflation numbers provide some relief, market analysts believe the time is ripe for the Reserve Bank of India to reverse its stance from anti-inflationary to pro-growth, by starting to reduce interest rates from March 15, when the central bank announces its mid-quarter policy review.

High crude oil prices, which the central bank perceives as a risk to inflation, may limit the extent of rate cut to 25 basis points rather than 50 bps, economists said.

"We expect the RBI to announce a cut in the repo rate at its mid-quarter review, to accommodate for the impact of a rise in real effective lending rates on overall economic activity.

"This will help in providing a conducive environment for revival in capex sentiment and overall growth," said Shubhada Rao, chief economist, YES Bank.

The repo rate is presently at 8.5 per cent, while inflation numbers for January dropped to 6.55 per cent from 7.47 per cent in the previous month.

Headline inflation numbers for January came within the projected trajectory of the central bank for the first time in nearly two years, with core inflation showing substantial moderation, though mainly due to a high base.

GDP growth, on the other hand, slipped to an 11-quarter low at 6.1 per cent for the third quarter, with investments registering a consecutive two quarters of declining growth.

YES Bank, earlier expecting a 50 bps cut in the March policy, now expects a 25 bps reduction following a sharp increase in oil prices since January, which will have the potential to stoke inflationary pressure.

The February inflation numbers will be announced a day before the policy and would weigh on the central bank's mind while making a decision, experts said.

"There is a chance that RBI will reduce the repo rate by 25 bps on March 15.

In the inflation numbers for February, which will be announced on 14th, if core inflation moves in a favourable direction, then that increases the chance of a rate cut.

Even if the headline numbers stay higher than the previous month, core inflation may come down," said A Prasanna, chief economist, ICICI Securities Primary Dealership.

Analysts also said if the growth agenda needed to be pushed through a lower lending rate, then the repo rate becomes the more effective tool for monetary transmission in a falling interest scenario, unlike a rising interest rate scenario when the cash reserve ratio (CRR, the proportion of deposits banks must keep with RBI)
becomes more effective, as it sucks out liquidity from the system.
Despite CRR being reduced by 125 bps since January, banks are yet to cut their lending rates significantly.
Bankers said these would only come down if the central bank reversed its policy stance.
A cut in CRR releases funds for banks, which could be used to earn interest.
Since banks do not earn any interest on CRR, a cut in the ratio is margin-accretive for banks but they may not pass the benefit on to the customers, as the cost of money is still high.
"RBI, in all likelihood, will try to make sure liquidity is available in the system, which will lead to rate cuts," said Deven Choksey, managing director at KR Choksey Shares and Securities.
Stock market participants are now expecting another 25 bps cut in the CRR and repo rate.
However, the issues that will weigh on the central bank's mind are crude oil prices, which are trading around $125 per barrel (Brent crude) and increase in freight rates. Both have the potential to trigger inflation.
According to Samiran Chakraborty, chief economist with Standard Chartered Bank, the central bank may not cut the repo rate until inflation shows a sustained fall.
In addition, with RBI perceiving oil prices as a risk, the first rate cut may have to wait till the April policy review.
"We expect no change in the repo rate, currently at 8.5 per cent, when RBI meets on March 15.
"Though inflation was 6.55 per cent in January 2012 from 7.47 per cent previously, the deputy governor recently flagged high oil prices as a risk.
"RBI is likely to wait for a sustained fall in inflation before it reduces the repo rate," said a StanChart note.
There is a view that since the effect of monetary policy comes with a lag, and it is certain the rate reversal cycle would start soon enough, then there is no need to wait for April.
"We know monetary policy acts with a lag. So, if you want to cut rates in April, then why not in March? The delay could be averted," said Prasanna of ICICI Securities.
Will the FM raise tax exemption limits? Will he manage to keep both industrialists and common people happy? To know all about Union Budget 2012-13, Click here!