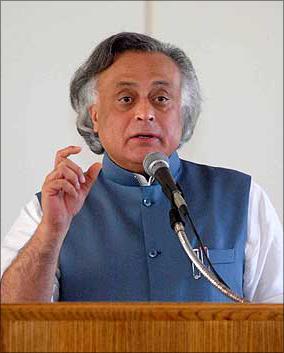 The National Board for Wildlife, headed by Environment Minister Jairam Ramesh, rejected some big projects, including a port project in Gujarat, signalling that the ministry would not clear projects in ecologically sensitive zones.
The standing committee of the board, in its meeting yesterday, turned down a proposal for setting up a port at Poshitra in Jamnagar district of Gujarat, as the site was close to the Marine National Park in the Gulf of Kutch, rich in marine biodiversity and ecologically fragile. The committee noted that a report of the MS Swaminathan Committee had recommended that no port be developed in or around ecologically fragile zones.
It also rejected a proposal made by Ambuja Cement that had sought to draw water from Majthal Wildlife Sanctuary in Himachal Pradesh, for the expansion of its cement plant.
While rejecting the Majthal proposal, the committee stated: "The proposal was rejected as the Wildlife (Protection) Act, 1972 clearly states that no wildlife produce, including water, can be used for commercial purposes."
The committee observed the state government should submit a proposal separately to meet the demand of water for local people. "However, withdrawal of water for commercial purpose could not be permitted, as it was against the provisions of Wild Life (Protection) Act, 1972."
Ramesh has taken on many of his Cabinet colleagues on environmental clearances. The committee also held up a highway project through Pench Tiger Reserve, part of which covers Chhindwara, the constituency of road transport and highways minister Kamal Nath. Ramesh has objected to the environment ministry being treated as a "rubber stamp".
Other proposals which were rejected include: 2-D seismic survey in Narayan Sagar Sanctuary in Gujarat; manufacturing ductile iron spun pipes, neutralizing iron ore fines, in Goa, as the site is within 3.25 km from Bhagwan Mahavir Wildlife Sanctuary; mining of manganese ore in Goa, as it falls within 5.3 km from Netravali Wildlife Sanctuary.