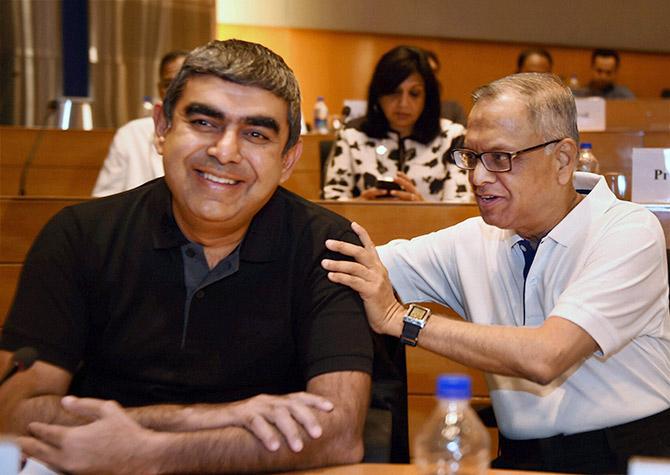 Infosys Executive Chairman N R Narayana Murthy with CEO & MD Vishal Sikka at a press conference at Infosys headquarters in Bengaluru. Photograph: Shailendra Bhojak/PTI

Infosys on Friday announced a 100 per cent variable bonus payout to its employees for the December quarter as the country's second largest software services firm tries to stem its high attrition rates.
"We have made 100 per cent variable payout for Q3 and have seen a further decline in attrition as a result of multiple initiatives taken over the last few quarters," Infosys Chief Operating Officer UB Pravin Rao said.
The city-based firm had witnessed exits, especially of senior level executives, in the last couple of years and one of the main tasks before Vishal Sikka when he took over as the chief executive officer last year was to check the high attrition levels.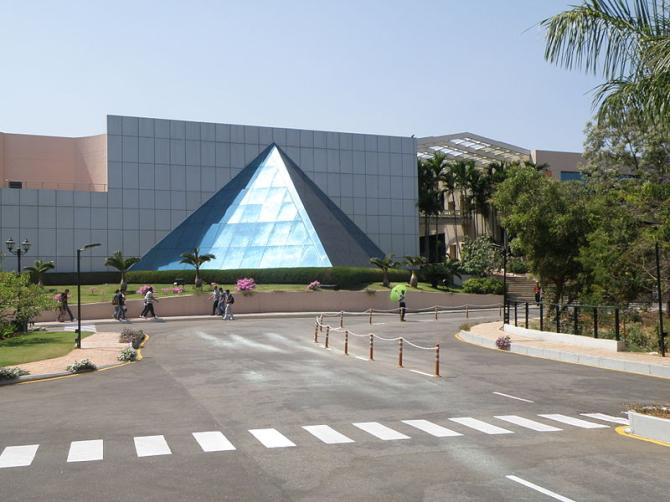 Image: Sunlight reflecting off pyramid at Infosys Leadership Institute, Infosys, Mysore. Photograph: Prateek Karandikar/Wikimedia Commons

Infosys added a total number of 13,154 employees (gross) and 4,227 (net) during the December quarter, taking its its total headcount to 1,69,638 at the end of December 31, 2014.
The company's attrition (on last twelve months basis) stood at 20.4 per cent for the quarter ended December 2014, slightly higher than 20.1 per cent registered in the July- September 2014 quarter.
However, Sikka said the company has seen a drop in attrition in absolute terms.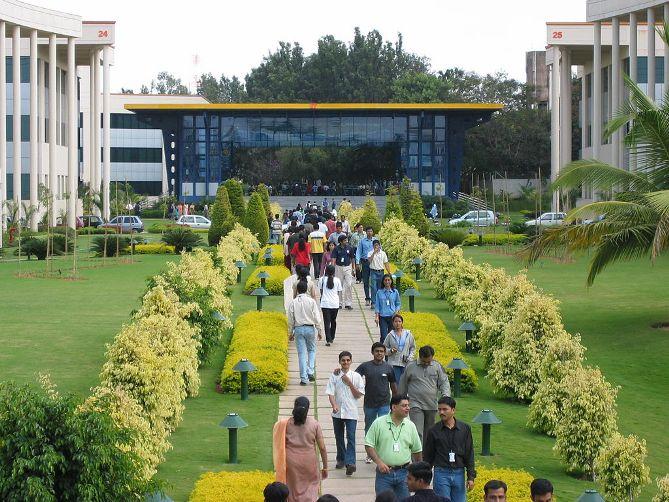 Image:

Lunch time at Electronic City campus, Infosys Technologies Ltd, Bengaluru.

Photograph:

Zondor at en.wikipedia/Wikimedia Commons



"In Q3, we saw attrition of about 8,900 from about 10,100 in Q2 and 10,600 in Q1. We are seeing continued drop in attrition which we continue to monitor and continue to be excited about as we look to the future," he said.
He added that as a result of this achievement, the company is 'announcing 100 per cent variable bonus pay out for our units in the company'.
Infosys chief financial officer Rajiv Bansal said the company's initiatives are paying off and it is in the right direction.
Over the last few quarters, Infosys has taken several steps to control its record-high attrition.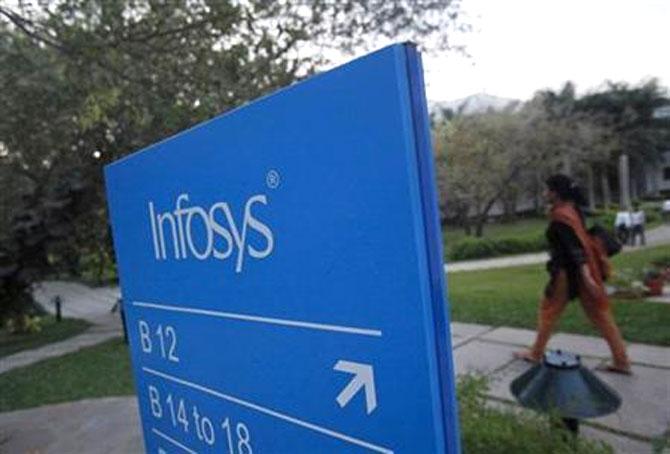 Image: The Infosys campus. Photograph:

Vivek Prakash/Reuters



It is training more employees in areas like design thinking and artificial intelligence.
"We have covered over 9,000 employees across the company with design thinking training; more than 400 of these are at senior levels," Sikka said.
The company has also partnered with Stanford Global School of Business for an executive education programme.
"This initiative will include 200 executives, each of whom will participate in a part-time, year-long programme over three years," Sikka said.