Ironically, amid these struggles, interest in these taxi services has grown, as concerns over women's safety have escalated.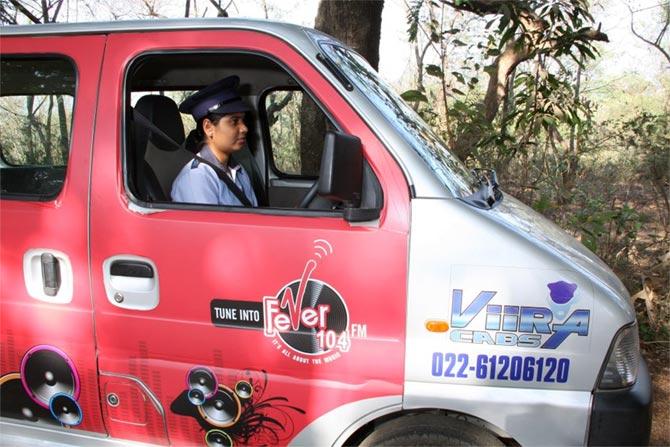 Image: Viira Cabs. Photograph, Courtesy: Viira Cabs
We are in a Catch-22 situation," says Revathi Roy, a shareholder in Viira Cabs, a taxi service in Mumbai that employs only women drivers. "We can't scale up because we don't attract investors, and investors are not interested in us because we don't have scale."
'Women's taxi companies' such as Viira and Priyadarshini Taxi Service in Mumbai, Sakha Consulting Wings in Delhi and related initiatives in other cities have basked in the glow of good publicity.

While one has seen actor Aamir Khan become its pro bono brand ambassador, others have 'walked the talk' with journalist Shekhar Gupta or been featured on BBC World, America 24 and other channels.

Much continues to be written about their smart, sassy, well-trained drivers from low-income families.
Yet, some of these companies are struggling to make ends meet.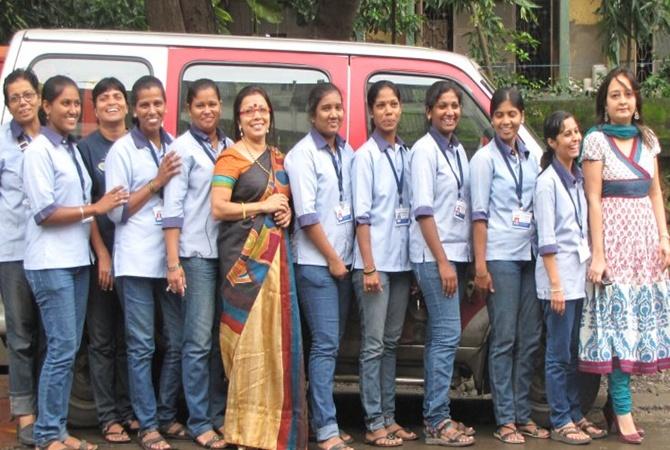 Image: Revathi Roy and Preeti Sharma Menon with the taxi drivers.
Photograph, Courtesy: Viira Cabs
Take the case of Viira: its chief executive, and Roy's fellow shareholder, Preeti Sharma Menon, says the business, started in 2011 with an investment of Rs 1.7 crore (British businessman Lord Ghulam Noon is an angel investor), is running at a debilitating loss.
Menon explains the company needs a fleet of at least 100 cars to be viable, given the high cost of buying and maintaining taxis, training women drivers, running a call centre, and providing infrastructure that includes 24x7 mechanics. With 17 cars and 20 drivers, Viira is far away from that.
For Viira, as for other such services, attrition among women drivers is the main challenge. "If you train 15 women and five drop out, you cannot achieve scale. You need to mobilise and train women on an industrial scale and for that, you need money," says Roy. She says over the years, Viira approached the Indian Angel Network, Mumbai Angels and IVFA, but returned empty-handed.
"Venture capitalists are only interested in scalability and in being able to exit after three years; they are not really interested in programmes with a social impact," observes Susieben Shah, a businesswoman, a Congress party politician and the founder-chief executive of Priyadarshini Taxi Service.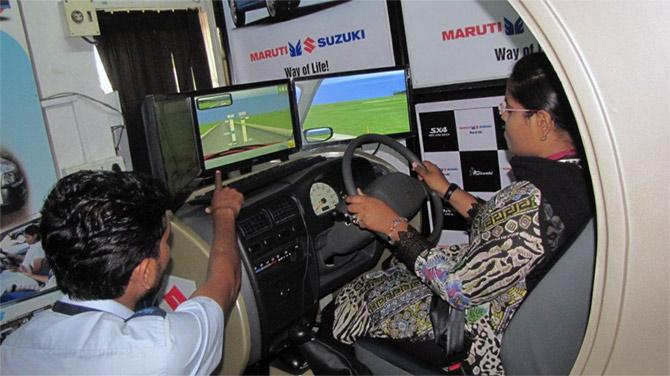 Image: Training a taxi driver. Photograph, Courtesy: Viira Cabs
While elated at having recently secured clearances for 200 radio taxi licences, Shah admits raising money for expansion is a challenge.

She points out that despite being chosen as a finalist in 2012 by Sankalp, a social enterprise forum that brings investors and entrepreneurs together, Priyadarshini could not generate funding.
In Delhi, Deepali Bhardwaj, chief operating officer of Sakha, says the taxi company is "more or less self-sustaining" but not profitable.
Despite having hit the road in 2009, Sakha is another boutique operation, with 14 cars and 18 to 20 drivers. Its precariousness was apparent when the Delhi government, after hiring its drivers for its helpline, delayed clearing dues of over Rs 5 lakh, putting the salaries of drivers in jeopardy.
Ironically, amid these struggles, interest in these services has grown, as concerns over women's safety have escalated.
Tellingly, a young woman raped by an Uber driver last month said in a statement to The Indian Express that for her to feel safe again, "the most important thing is to have cabs driven by women drivers".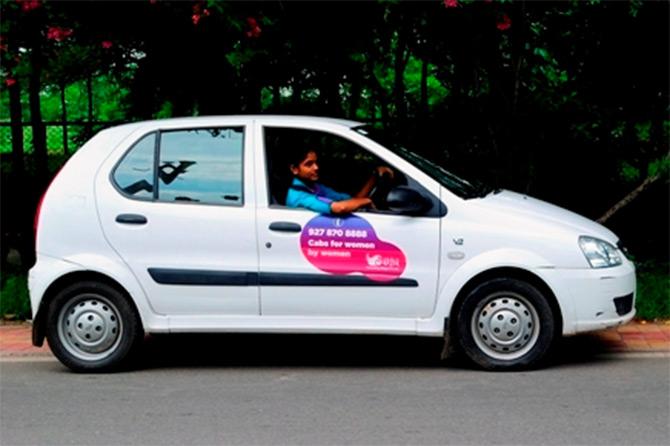 Image: A cab from Sakha Consulting Wings. Photograph, Courtesy: Sakha Consulting Wings
Thus, women's cab services are being approached for possible tie-ups from aggregators that want more women drivers on board.
However, Menon is sceptical. Is this just a "cut and paste job", she wonders, to show they have a few women drivers in every city?
Are organised cab services committed enough to women's safety, she asks, to invest in the demanding and expensive, but necessary, task of training more women?
In response to questions, Ola Cabs said it had just launched a 'pink button' option in Bengaluru, which consumers could use to get women drivers. "It is a beta project," its representative emphasised, declining to say how many women drivers were available.
Image: Women taxis face tough times. Photograph, Courtesy: Priyadarshini Taxi Service
Across the board, managers of women cab companies emphasise that their problem is supply, not demand. Menon says her call centre has to turn down 80 out of every 100 calls it receives.
Shah recounts that on December 31, Priyadarshini, with 25 cabs, could only accept one out of four calls. Bhardwaj says turning down callers is a daily routine.
So why are investors wary? Padmaja Ruparel, president of the Indian Angel Network, says that while she does not remember Viira's proposal, there is no bias against women entrepreneurs.
"But investors will need to be convinced," she stresses, "that they can run a large-scale company, and that share valuation can grow dramatically. Attrition is an acceptable risk, but what is their risk mitigation strategy?"
Aparajita Agrawal, director of the Sankalp forum (run by Intellecap), says investors turned down Priyadarshini because they felt "the case for scalability was small, the case for impact was anecdotal, and Shah's political affiliations were seen as a risk factor".
Unlike Ruparel, she thinks the environment is tough for women entrepreneurs. However, she adds it is tougher still for such ventures because of their "diffused objectives" that make them seem like NGOs rather than companies.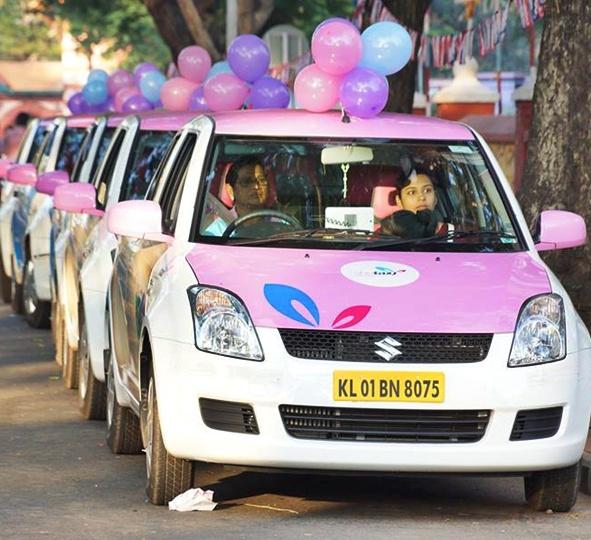 Image: Women's cab service successful in Kerala. Photograph, Courtesy: She Cabs
"Their primary motive is not clear: is it empowering underprivileged women, or running an affordable, quality taxi service?" she asks. She also wonders whether they have the agility to scale up in an environment offering online booking, cashless transactions and competitive pricing.
According to Agrawal, the most successful women's cab service has, so far, has been in Kerala. The reference is to the year-old She Cabs, backed by the state government's department of social justice, which facilitates cheap loans for women drivers to buy cabs, has a private company managing the fleet (40 cabs and growing) and offers cashless transactions.
"Each driver makes about Rs 25,000 a month, after paying off the loan," project officer Ligin KL says with pride.
But if Ligin exudes confidence in the government-brokered scheme, so does Roy, who pioneered the concept of women's taxi services way back in 2007, in the expertise of private entrepreneurs.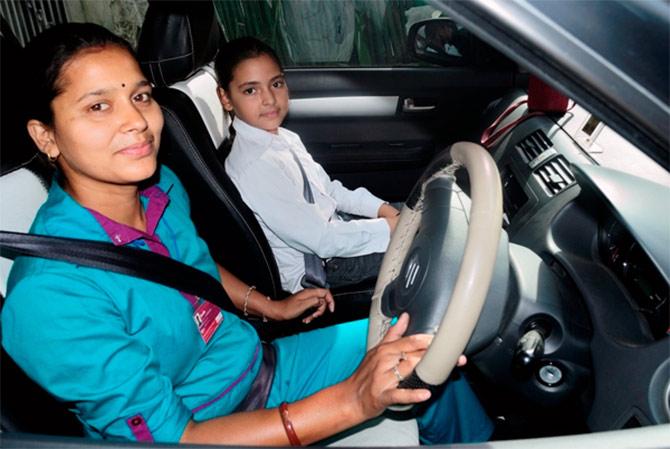 Image: Attrition among women drivers is the main challenge. Photograph, Courtesy: Sakha Consulting Wings in Delhi
They have, she asserts, acquired the difficult skills to train and mentor poor women and at the same time, run "incident-free" operations.
Their cabs would not be in demand, otherwise. "There is no contradiction between empowering women and running a successful cab company - it is actually the only way to do it. Most women who want to become drivers are from low income groups, and they have to be supported at every point."
"The problem," Roy repeats, "is money. Why are investors willing to give hundreds of crores to taxi companies yet to show profits, but not even Rs 10 crore to us?"
It is estimated that aggregators such as Uber, Ola Cabs and TaxiForSure have about Rs 2,000 crore (Rs 20 billion) of private equity and venture capital money riding on them.

IVFA has deployed around Rs 200 crore (Rs 2 billion) in radio taxi service Meru, in which it holds a 75 per cent stake.