Image: Prime Minister Modi met Boeing CEO James McNerney at New York Palace Hotel. Photograph: Mohammed Jaffer/Snaps India
Defence major Boeing on Monday proposed greater business engagement with India, as Prime Minister Narendra Modi promised the US companies to provide friendlier business environment in the country.
In a one-on-one meeting with Modi, Boeing CEO James McNerney said that the company wants to accelerate its engagement with India.
The meeting followed a power-packed breakfast meet Modi had with CEOs of other 11 large American corporations including PepsiCo, Citigroup, Google, Cargill and Carlyle Group.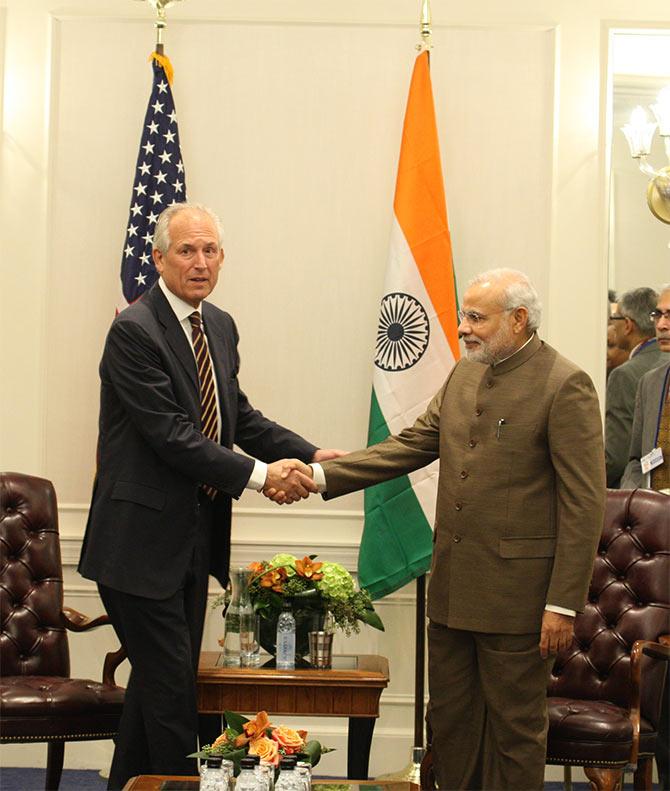 Image: Boeing is a major player in Indian defence and aerospace sectors. Photograph: Mohammed Jaffer/Snaps India
With nearly $87-billion annual turnover globally, Boeing is a major player in Indian defence and aerospace sectors. Its engagement with India is nearly 70 years-long and
Boeing jets are one of the mainstays of the country's domestic and intercontinental commercial fleets.
In June 2011, India signed an agreement with the US government to acquire 10 Boeing C-17 Globemaster III airlifters. The C-17 is the largest defence contract signed by the Indian government with the United States.
The first C-17 arrived in India on schedule in June 2013 and a total of five aircraft have been delivered to the Indian Air Force in 2013. Five C-17 aircraft will be delivered in 2014 completing the contract for 10 aircraft.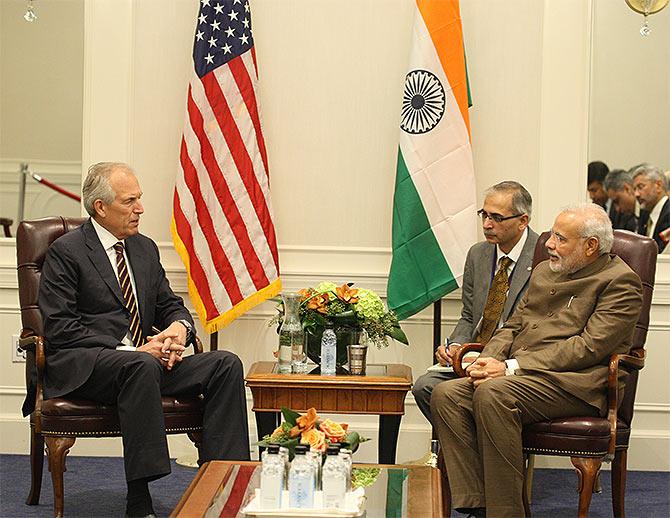 Image: Boeing bullish on India. Photograph: Mohammed Jaffer/Snaps India
Other business leaders having one-on-one meetings with the Prime Minister included KKR CEO Henry Kravis, as also CEOs of BlackRock, IBM, GE and Goldman Sachs.
Those present in the breakfast meeting included PepsiCo CEO Indra Nooyi, Google Chairman Eric Schmidt, Citigroup chief Michael Corbat, Mastercard CEO Ajay Banga, Cargill's President and CEO David W MacLennan, Caterpillar's Douglas Oberhelman, AES' Andres Gluski, Merck's Kenneth Frazier, Co-founder and Co-CEO of Carlyle Group David Rubenstein, Hospira's Michael Ball and Warburg Pincus' Charles Kaye.
These are first extensive business engagements in the US of the Prime Minister, who will also attend business meets in Washington on Tuesday during his second leg of the 5-day visit.