The competition between app-based taxi services has led to a drop in prices and more choices for customers.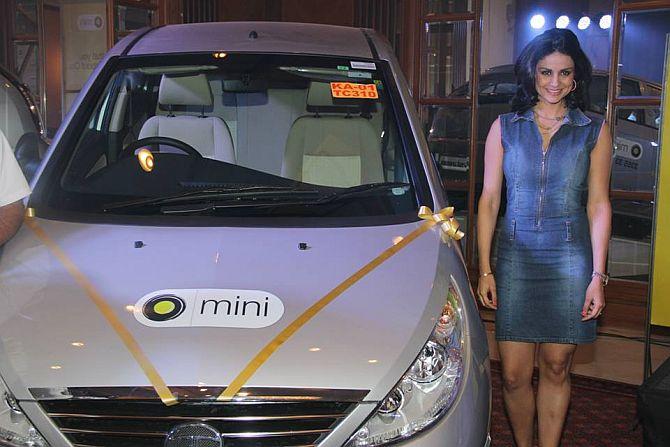 Banker couple Nirav Gajra and his wife, who work in the same office, used their own car to commute until about four months back.
Now, they use an app-based taxi service for the cost benefit it offers.

"We usually choose the ride share option. For a 15-16 km commute, we pay around Rs 150 for two persons one way, if there's no surge pricing. This comes to Rs 300 for both ways," says Gajra.

If he takes his own car, he spends around Rs 200 only on fuel and Rs 80 on parking.
Several factors are driving the move towards car sharing.
"As urban clusters witness greater congestion and the cost of vehicle ownership continues to rise, car sharing is emerging as a credible alternative for consumers," says Anil Valsan, global automotive & transportation lead analyst, director, EY Knowledge.
This change is reflected in a survey done by Ola.
Two years back, when Ola surveyed its regular customers, they said that due to app-based taxi services, the need to own a second car had gone down.
In the past year and a half things have changed. "Many of them now say they don't feel the need to own a car at all," says Anand Subramanian, senior director-marketing communications at Ola.
The competition between app-based taxi services has led to a drop in prices and more choices for customers.
Last year, the option of sharing rides or carpooling was introduced.
In March, Ola introduced a new segment called Micro, priced at Rs 6 per kilometre.
No wonder, of the total taxi market in India, app-based taxi services command 12-13 per cent at present.
"They are growing at 80-90 per cent yearly. Last year, app-based services had just 7-8 per cent of the total market share," says Siddhartha Pahwa, chief executive officer of Meru Cabs. Of every, 100 consumers that take taxis, 50 are now opting for the app-based service providers in urban areas.
In tier-II and tier-III towns, the penetration is 15-20 per cent.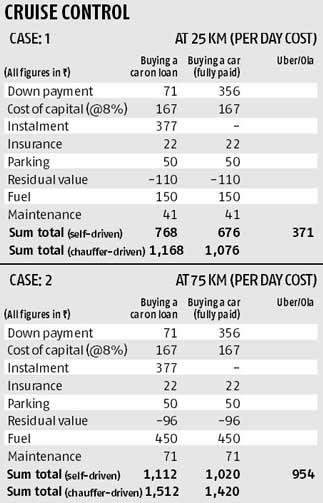 App-based services for short distance: The lesser the kilometres you clock in a day while travelling, the more sense it makes to shift to an app-based taxi service, if you consider the cost of owning a car, the replacement cycle, fuel cost, maintenance and salary paid to a chauffeur. If you travel less than 25 km a day, buying a car does not make sense.
An Uber or Ola taxi will cost you Rs 371, even if a surge in prices is considered (see table).
If you have made an outright purchase and drive the car, you will spend Rs 676 a day - almost 80 per cent more.
However, if the car is on loan and you have a chauffeur, you will spend Rs 1,168 on your commute each day.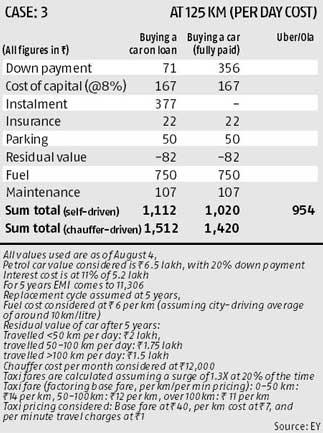 Owning makes sense for longer distances: The economics start to tilt in favour of owning a car if you clock 75 km a day, as seen in the table compiled by EY.
You will end up spending Rs 954 in an app-based taxi service, whereas using your own car will cost Rs 1,020 if it is an outright purchase and Rs 1,112 if bought on a loan.
For a heavy user, driving 125 km a day, owning a car makes perfect sense.
You also need to consider two big factors before deciding between owning a car and shifting completely to an app-based taxi service.
One, keeping a driver would automatically add around Rs 400 to your per -day cost, considering an average monthly salary of Rs 12,000.
Two, if you have taken a car on loan, the interest cost can further change the equation, as it increases cost of ownership.
"While they may make economic sense, one or two bad experiences with app-based taxis can make a person stop relying on them," says Ashish Verma, assistant professor - department of civil engineering, Indian Institute of Science.
Peak time travel: The cost for app-based taxis have been calculated considering the traveller gets a surge of 1.3 times only twice out of 10 times he hires a car.
What if the surge price is more and happens more often? For those travelling less than 25 km a day, it would still be economical.
But, as the distance travelled increases, surge pricing takes away the cost benefit of hiring a taxi.
For those travelling 75 km or more and driving their own car, it's better to buy and use their own vehicle.