SoftBank-backed OYO now 100,000 rooms brand, eyes another 100,000 by Mar 1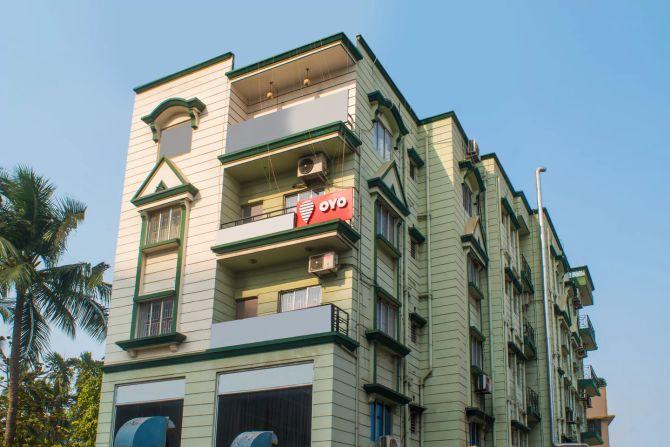 SoftBank-backed hospitality start-up OYO, which began its journey with a single hotel in 2013, has become a sectoral giant with a network of over 100,000 rooms, the first such by an Indian company.
It is adding 10,000 rooms every month and expects to double the inventory to 200,000 by the end of 2018-19. This puts OYO ahead of other players.
Marriott has around 23,000 rooms in the country, while Taj Hotels has around 17,000.
The segments OYO operate, though, are different.
"This is a huge milestone for the hospitality sector in general. It demonstrates the Indian hospitality market has come of age.
"Earlier, there was a general view that Indian hospitality cannot scale up. You saw all the chains struggling to get assets and expand.
"This milestone reinforces the fact that demand for quality living spaces remains high and supply is the only constraint. If you create them, demand will follow," said OYO founder and chief executive officer Ritesh Agarwal.
OYO operates at price points of up to Rs 3,000 per room per night. The company said it was seeing a company-level occupancy of 70 per cent for its 100,000 rooms, spread across more than 5,000 properties.
The company started with the concept of budget rooms, under OYO Rooms.
It moved to a simple distributor model, where it sold a part of the inventory of a hotel as OYO Rooms, while the hotel sold individually on online travel agencies.
Finally, it shifted to an exclusive model where all rooms were OYO-branded. Its next major step was to foray into a premium offering under OYO Townhouse.
It also has presence in homestays under the OYO Home brand. Its latest move is to get into apartments aimed at serving project-based stays of corporate travellers under the Silverkey brand.
OYO's rapid expansion was well-planned, but not without challenge.
"The journey from a few hundred rooms to five thousand rooms is just an execution question. But getting to 100,000 rooms required very different levels of execution and competence is required. We took a long-term view...in early of 2017 we had this milestone of 200,000 in mind and we had been investing for it over last two years," said Agarwal, now 24 year old.
OYO is seeing a per room realisation of Rs 1,650 on an average after the discounts and incentives.
At seventy per cent occupancy and 100,000 rooms that implies annual revenue of Rs 4,200 crore.
"Our run rate is not very far from a billion dollar at an annualised level. With 100,000 keys on a stable state you should be able to deliver that kind of revenue," maintains Agarwal.
OYO is not profitable at a corporate level. In FY17, it made a loss of Rs 325 crore, down sharply from Rs 496 crore in FY16.
Agarwal said the loss will reduce further when FY18 results are announced.
"The good news is that India margin is continuing to expand. We are making 22 per cent in terms of margins at an asset level which is very attractive. If we remove the 2.5 per cent marketing cost it is still very attractive," he said.
The company, which has $240 million in cash and cash equivalent, is in an investment mode and has recently announced its foray into China where it has an inventory of 11,000 rooms.
But will OYO stop at 200,000 rooms? No, says Agarwal.
"We are large as a branded chain but there are 4.3 million unbranded rooms waiting to be converted into a good quality branded chain...that is the big opportunity... India deserves at least one hotel chain with that kind of scale of half a million rooms," he added.
Photograph: Courtesy, oyorooms.com